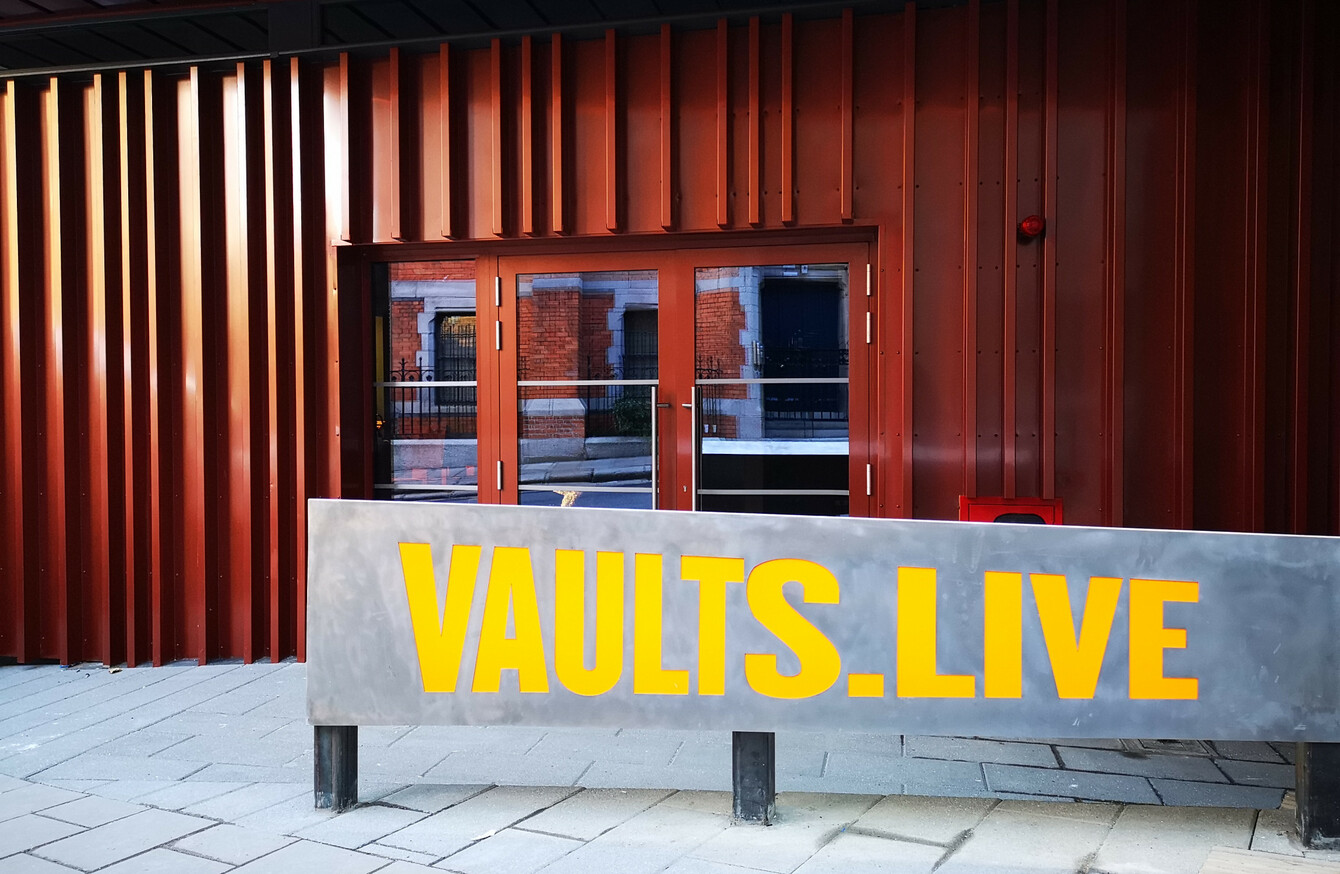 Image: Vaults Live
Image: Vaults Live
THE DUO BEHIND Dublin's newest tourist attraction have described its turbulent opening as "monumentally difficult" and likened the project's brush with examinership to "sudden death".
The Vaults Live – a theatrical experience that depicts Ireland's social history through a 60-minute, interactive performance – officially opened its doors on Friday, four years after TV veterans Paul Blanchfield and Gerald Heffernan first embarked on the project.
The attraction, located at the Old School House building just off Thomas Street in the Liberties area, was scheduled to open during the summer but ran into funding difficulties.
A motion to place its operator, Frontier Entertainment Limited, into examinership was brought by Brookdale Partners, a unit that previously controlled 45% of the company but is no longer involved.
The action stemmed from a dispute between the parties over a 2017 shareholders' agreement and concerns about the project's financial viability.
The company was spared after securing funding from the Belfast-based Lagan family, which sold its eponymous construction group in April for over €520 million.
Speaking about the episode for the first time this week, Blanchfield and Heffernan said the crisis was "incredibly disruptive" and threatened to ruin the Vaults Live brand before it got off the ground.
"There's no two ways about it – it was hugely damaging to us," said Blanchfield, who is chief executive of the attraction.
Heffernan, who produces the live performance and is best known for his work on the hit travel show No Frontiers, added that the examinership ordeal came as a deep shock.
I can't imagine anything more disruptive short of sudden death, to be honest with you.
Lagan family
The €3 million investment that saved the day was secured after a two-week negotiation with Jude Lagan, who is now chairman of Frontier Entertainment.
The Vaults is the Lagans' first foray into tourism, and part of their due-diligence process for backing the venture included seeing a special preview of the live performance.
"I don't know if it was the clincher, but they certainly came out (of the show) with a big smile on their faces," Heffernan said.
The Vaults Live cost €5.5 million in total to complete and the bulk of that spend – around €3.3 million – went into renovating the Old School House building.
Heffernan said the property, which is near popular attractions like the Guinness Storehouse and Dublinia, is in a good location and provided the high ceilings required to build the sets, which cost roughly €200,000 each.
The fit-out was slow due to the age of the building, and it required archaeological excavation and other complex work such as asbestos removal.
Investment
As well as receiving backing from the Lagan family, the attraction eventually secured funding through Fáilte Ireland. However that too wasn't without controversy.
The €1.2 million tranche was only awarded to the company after it issued high court proceedings against the State agency when it had initially denied the application for a grant.
Blanchfield said that throughout the fundraising process, the two founders discovered there is very little appetite among private investors in tourism projects.
"It was a difficulty we had. We invested quite a lot of our money ourselves, but because of the scale of it, we needed some investment to make it happen and it was very, very difficult to find investors interested in the sector because there's no yardstick for it," he said.
"(An investor) can't look at another project because you're looking at Dublinia, which is a trust, or the Guinness Storehouse, which is a multinational … There is no interest in the private sector in investing in a tourist attraction."
The Vaults is targeting 130,000 visitors for its first full year of operation and is ultimately aiming for up to 480,000 per annum. Full-priced adult tickets cost €22 apiece, while family tickets cost €55.
When asked how long it projects it will take to reach full capacity, Blanchfield said: "Our numbers are conservative. We expect to do 310,000 by year five."
Ticket holders walk through six different sets where they interact with an assortment of characters like Saint Brigid, Dracula author Bram Stoker and Molly Malone.
There are four actors for each character – 28 in total in the troop – who are all full-time employees on four-month contracts for either morning or afternoon shifts. There are up to 30 shows a day, each of which can cater for a maximum of 35 patrons.
Corporate events
When asked whether they anticipate that customers will be expected to queue for long, Blanchfield said: "It depends on the demand. When we're fully operational, we expect most of the audience to be walk-ups and not pre-booked."
Blanchfield and Heffernan are hoping to tap into the domestic market to begin with and are in the process of targeting international tour operators to put the attraction on holidaymakers' Dublin itineraries.
As well as providing a gift shop and cafe, the Vaults is also exploring other revenue streams, such as corporate events.
"We have a big capacity here to do corporate events and we're just printing a brochure to do that," Blanchfield said.
"I think we'd be a very attractive proposition … We have the capacity to do that in a really interesting way. We can in certainly circumstances tailor some of the scenes to suit. We can do a B script, which is maybe more adult-orientated which could work extremely well."
Get our NEW daily digest of the morning's most important headlines for innovative Irish businesses.
Written by Conor McMahon and posted on Fora.ie