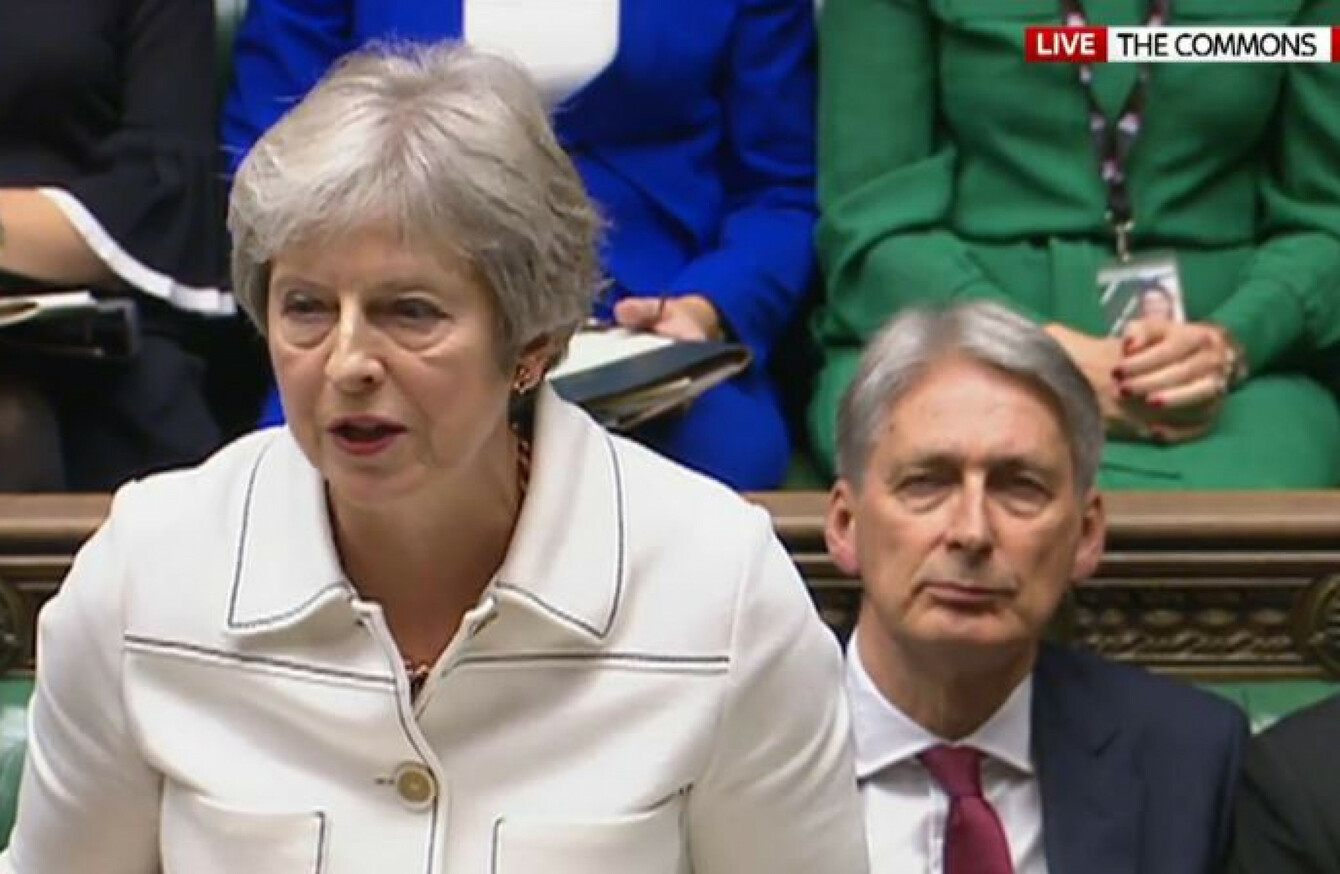 Image: Sky News
Image: Sky News
Updated Oct 15th 2018, 10:35 PM
Brexit
Earlier today, May said that the EU wanted "a backstop for the backstop" as a solution to this: their suggestion was that Northern Ireland would be included in the customs union and single market until a more complete deal with the UK is agreed.
She said that this wasn't acceptable to the UK.
"We cannot agree to anything that threatens the integrity of our precious union," she told parliamentarians.
When the UK leaves the European Union… I'm very clear that there should be no border between Northern Ireland and Ireland… What we want to see in a backstop is that Northern Ireland businesses can export freely to Ireland and the UK. That would be good for Northern Ireland businesses.
During her speech to the House of Commons this afternoon, May aimed to calm concerns about what kind of Brexit deal her government is actually negotiating, saying that she wouldn't accept a deal that would "carve off" Northern Ireland from the UK under a different customs arrangement.
She said that a Canada style deal was only on offer for Great Britain, and not for Northern Ireland, but that it "doesn't guarantee frictionless trade" on the island of Ireland either.
She said that there were a number of customs solutions for Northern Ireland had been explored: including one that would involve customs posts "that would become targets"; one that would offer a level of surveillance that would be unacceptable for the people of Northern Ireland.
She said that they also wouldn't accept a backstop agreement that would leave the entire UK within the customs union indefinitely, or that would restrain it from making trade deals with other countries outside the European Union.
May told the House of Commons that there were only two outstanding issues (prompting laughs from parliamentarians): what territories would be included in the backstop, and whether it would be indefinite or not.
The statement prompted a series of questions, and laughter in some cases.
Labour leader Jeremy Corbyn said that "this really is beginning to feel like Groundhog day": "Another 'nothing-has-changed' moment from the government."
"The Chequers plan is dead in the water," he said as May shook her head.
One parliamentarian questioned why the statement was being given now, and said that for the people of Ireland, "Brexit means borders".
Another parliamentarian questioned whether they would need to extend Article 50 to give them more time to negotiate a deal.
The British premier announced that she would make a statement to parliament this afternoon after reports of an impasse over the backstop agreement for Northern Ireland.
The statement comes before EU leaders convene this Wednesday and Thursday for the European Council summit on Brexit, to discuss the outstanding details to a final deal. The major stumbling block is still the Irish border issue.
According to reports in the British media, the deadlock in talks is a ruse by the UK government in order to push Brexiteers in the Tory party to back a deal with the EU.
The Irish government, meanwhile, denies that a no-deal scenario (which would automatically result in a hard border reemerging on the island of Ireland) is the most likely outcome. Taoiseach Leo Varadkar has said, however that a Brexit deal could be delayed until December.
"We are at a sensitive phase and I know some people were optimistic about an agreement on the withdrawal protocol this week, I have to say I always thought that was unlikely, I figure November or December is the best opportunity for a deal."
'Best of both worlds'
#Open journalism No news is bad news Support The Journal

Your contributions will help us continue to deliver the stories that are important to you

Support us now
Speaking this afternoon in Dublin ahead of a meeting with Taoiseach Leo Varadkar, DUP leader Arlene Foster said that "the whole of the United Kingdom" must leave the European Union together. 
Calling for "a sensible Brexit", Foster reiterated her position that there should be no barriers between Northern Ireland and the UK. 
Unionism is united on that issue, not just in Northern Ireland, but right across the United Kingdom.
Foster said that "the way forward" was to have no internal barriers between Northern Ireland and the UK. 
We send 3.5 times more to Great Britain than we do to the Republic of Ireland.
Following a meeting with Foster this afternoon, Fianna Fáil leader Micheál Martin said that Northern Ireland has the opportunity to get the "best of both worlds" post-Brexit.
(Can't see this video? Click here.)
Staying within the EU customs union while still having access to the UK market makes sense, Martin said, "given the relative underdevelopment of Northern Ireland".
If Northern Ireland could only see it, some of their representatives could only see it, particularly if their Unionists representatives could see it, there is the opportunity to get the best of both worlds. 
The Fianna Fáil leader added that a no-deal Brexit would be damaging and that "everyone you talk to wants to avoid" it.
And I think that includes Arlene Foster
- with reporting from Christina Finn and Daragh Brophy.