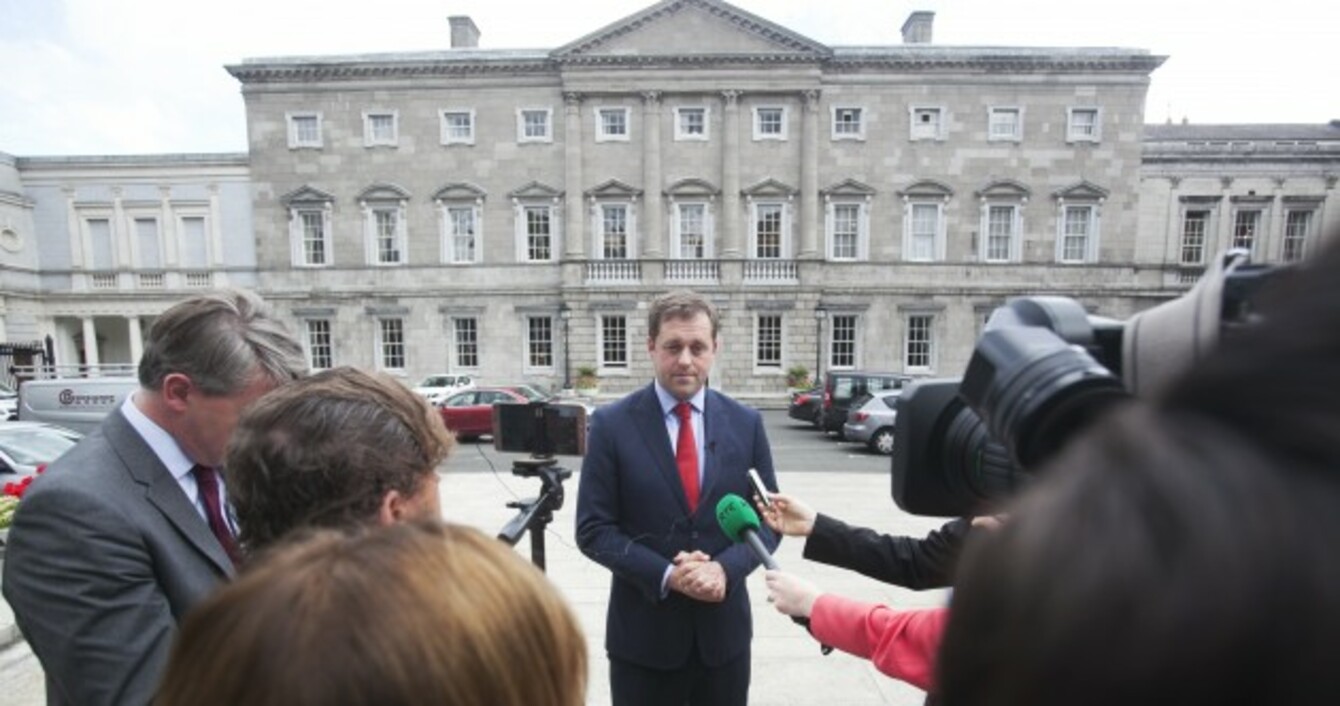 Fianna Fáil's Thomas Byrne
Image: Leah Farrell
Fianna Fáil's Thomas Byrne
Image: Leah Farrell
THE FIRST TIME I interviewed Fianna Fáil's Thomas Byrne was about 10 years ago for a college newspaper.
The article was on the youngest people in the Dáil Eireann, and at the time, Byrne was 30.
"I'm still here, a lot have come and gone since then" Byrne says jokingly, as he grabs a bottle of water and says he is not a coffee drinker.
It's Thursday in Leinster House and it's a particularly busy day.
The LH2000 building (the modern building which holds the committee rooms and Sinn Féin offices) on the Kildare Street complex is filled with more suits than usual.
Nama officials are in the building – ready to defend themselves before the Public Accounts Committee (PAC).
With all the hullabaloo around the PAC, the Oireachtas Committee on Education and Skills, which Fianna Fáil TD Thomas Byrne sits on, has gone under the radar.
Richard Bruton and the ASTI
"The minister [Richard Bruton] could not guarantee that Junior Cert students would not lose the 10% in their English exams," says Byrne.
He's referring to school children being at risk of being penalised by losing 10% of their overall English result over a dispute between the department and ASTI trade union about the curriculum.
Since the Meath East TD was appointed the party's spokesperson on education, he has been going after his government counterparts, calling them out on what he thinks they are doing wrong – which isn't unusual. Fianna Fáil is in opposition, right?
In this new political landscape, with confidence and supply agreements littering the floor of the Dáil, it can be difficult to know who is pulling the strings.
Take water charges for example. This week Fianna Fáil has been called out for "flip-flopping" on the water issue, with Sinn Féin going so far as saying the party had more positions than the Kama Sutra on the issue.
Scrapping water charges 
So, if Fianna Fáil want to abolish water charges (something the party claims it always wanted to do) why didn't it vote in favour of Sinn Féin's motion to scrap the charges once and for all?
The reason we have done it the way we've done it, is it is the only way. You cannot abolish a charge or create a charge actually, unless the government sponsors it, Sinn Féin know this…
I am not sure what the purpose of the motion was? A motion is like Ballymagash town council – it has no effect whatsoever.
Byrne says the public can see the bills have stopped and this, he says, is thanks to Fianna Fáil.
We have done what we said we would do before the election… the bills stopped a few months after what we did… [entering the supply and confidence agreement].
But what exactly did the party promise before the election?
During the election, the party supported both abolishing and suspending water charges. The party also supported abolishing Irish Water. It now supports keeping Irish Water.
When put to him that his party's policy on water has been inconsistent, Byrne follow's Micheál Martin's lead, denying this is the case.
I don't accept that. At times it may not have been as clear as possible, but I don't accept that there has been any change.
Byrne says all the flaws relating to Irish Water were identified last year by his colleague Barry Cowen when the legislation was going through the Dáil.
"Don't forget this, Micheál Martin led a walkout in the Dáil as the water charges legislation was going through – all the opposition came with him, in fact, he was criticised because he was photographed with Sinn Féin at the time… we have had a consistent position on this.
"I have never looked for water charges to come in and I voted against them in the Seanad when I was there, so I don't accept that," he says.
The Meath East TD is fairly certain about one thing – water charges are not coming back.
The bills won't be coming back…water is gone.
We are going to look at the commission when it comes out, but I can't see Fianna Fáil supporting them in this government, they won't be back.
Why is Fianna Fáil supporting the government's commission on water charges?
Byrne says it was part of the supply and confidence agreement they signed up to. In order for the party to see some of its policies implemented, this was the agreement.
In the driving seat 
Fine Gael "are in the driving seat" on the water issue, he says. However, it appears the whole process is a farce.
It's rigmarole. As someone said, there are a lot of different ways to skin a cat and you need a lot of ways to skin a cat when you have a Dáil the way it is. You have 50 Fine Gael, 43 Fianna Fáil, 20-odd Sinn Féin, independents and other parties.

To get consensus you might have to be creative in the way you do things so that different people can save face. The bottom line is the bills have stopped, I don't think they will come back.
Byrne says setting up the commission was most likely a way for Fine Gael to save face on the issue.
Fine Gael probably needed to save face in some respects…
I suppose they wanted to be able to say to their supporters that they had done their part, they have accepted the position will go before a vote of the Dáil and the Dáil is not going to vote for it.
Fianna Fáil makeover
Fianna Fáil had the best election result of any by more than doubling its number of TDs, with 44 elected this year.
As it did in the 2014 local elections, the party outperformed the opinion polls by achieving 24% of the vote compared to many pre-election polls that had it at round 20%.
Byrne was one of the TDs who lost his seats in 2011. He also lost out in the 2013 Meath by-election to Helen McEntee.
Fianna Fáil has tried to change its persona of the 'Galway tent' party of the boom times – but has the makeover worked?
"We have a long way to go and we cannot take for granted the success that we had. It certainly felt good on election day, there is no denying that," says Byrne.
We certainly moved from the Galway tent to the ploughing tent because we had a tent at the championships and it was attended by tens of thousands of people who we were delighted with.
Since 2011, those that remained (many of them younger deputies) have worked to reorient party policies, says the deputy.
We had lost a huge amount of seats… We had great candidates, but we were a bit of a laughing-stock with no female deputies the last time.
Byrne says Martin worked to get more women on board – something Byrne says is vital for the party's survival.
Repeal the eighth
However, the lack of policy on women's issues within the Fianna Fáil party has recently been noted by pro-choice campaigners.
Fianna Fáil is the only party without a specific policy on the issue of repealing the eighth amendment in the constitution.
Byrne says it is party policy that it is a matter for each individual member to decide, but he says there are quite a number within Fianna Fáil who support repealing the eighth amendment.
He says his party would have preferred a judge-led commission to examine the issues and report to the Dáil, but the government opted for the Citizens' Assembly.
"We think Dáil Eireann is a Citizens' Assembly, but sure look – we sort of let that happen. They had the votes for that, so that has happened. That will work, come back to the Dáil and presumably there will be a referendum at some point and that will be a process outside these four walls," says Byrne.
However, he concedes that the Fianna Fáil majority is pro-life.
There will be some members actively campaigning in favour of repealing the eighth and there will be other members actively campaigning against it. I'd say on the whole, probably the majority are pro-life in Fianna Fáil, I think that is fair to say, but there are certainly voices there, strong voices, to repeal the eighth amendment.
Biding their time?
With the Budget approaching there is much speculation about how easily it will sail through.
Byrne says his colleagues Dara Calleary and Michael McGrath are meeting with the Minister for Finance Michael Noonan and the Minister for Public Expenditure and Reform Paschal Donohoe to discuss what Fianna Fáil can get in the Budget.
Despite recent statements from Fine Gael ministers that Fianna Fáil is simply biding its time before it pulls the government down, Byrne says this is not the case.
At the party's think-in Micheál Martin says Fine Gael ministers making those statements need to "cop on".
"We are not biding our time… we're giving it three years, we are not going to pull out of this over that three-year period. Now what they do amongst themselves is their own business. They need to keep it together themselves – if they can't keep it together and it collapses it will be nothing to do with us," says Byrne.
Since taking over the education brief, Byrne has come to loggerheads with Minister of State for Training and Skills over school bus places.
"It was causing my constituents and the people of Ireland a lot of problems. He has made up for it since then trying to work with us to try to come up with a solution to the bus transport crisis," says the father of three.
My view was the government was missing in action on this issue. My anger stemmed from Minister Halligan quite openly and blatantly giving me a guarantee that no one would lose their seat on the bus – he probably knew he couldn't fulfill that – that annoyed me, you can't just go into the Dáil and say something like that and not mean it.
Byrne, who attended the US Democratic Convention this year, says he is an avid follower of American politics.
While he says Fianna Fáil does not have a position on who should win the election, he says personally he has always had a "soft spot" for the Democrats.
While at the convention, Byrne says  he met interesting people and got some new ideas about politics.
In this era of "new politics" where it is all about collective consultation, perhaps Byrne will have some pointers to offer.
When asked about his own political aspirations and if he would one day like to lead Fianna Fáil, he laughs and says:
"We have the most popular leader in the country, so anyone that discusses the Fianna Fáil leadership is off the wall. I am not going to go there," he laughs.