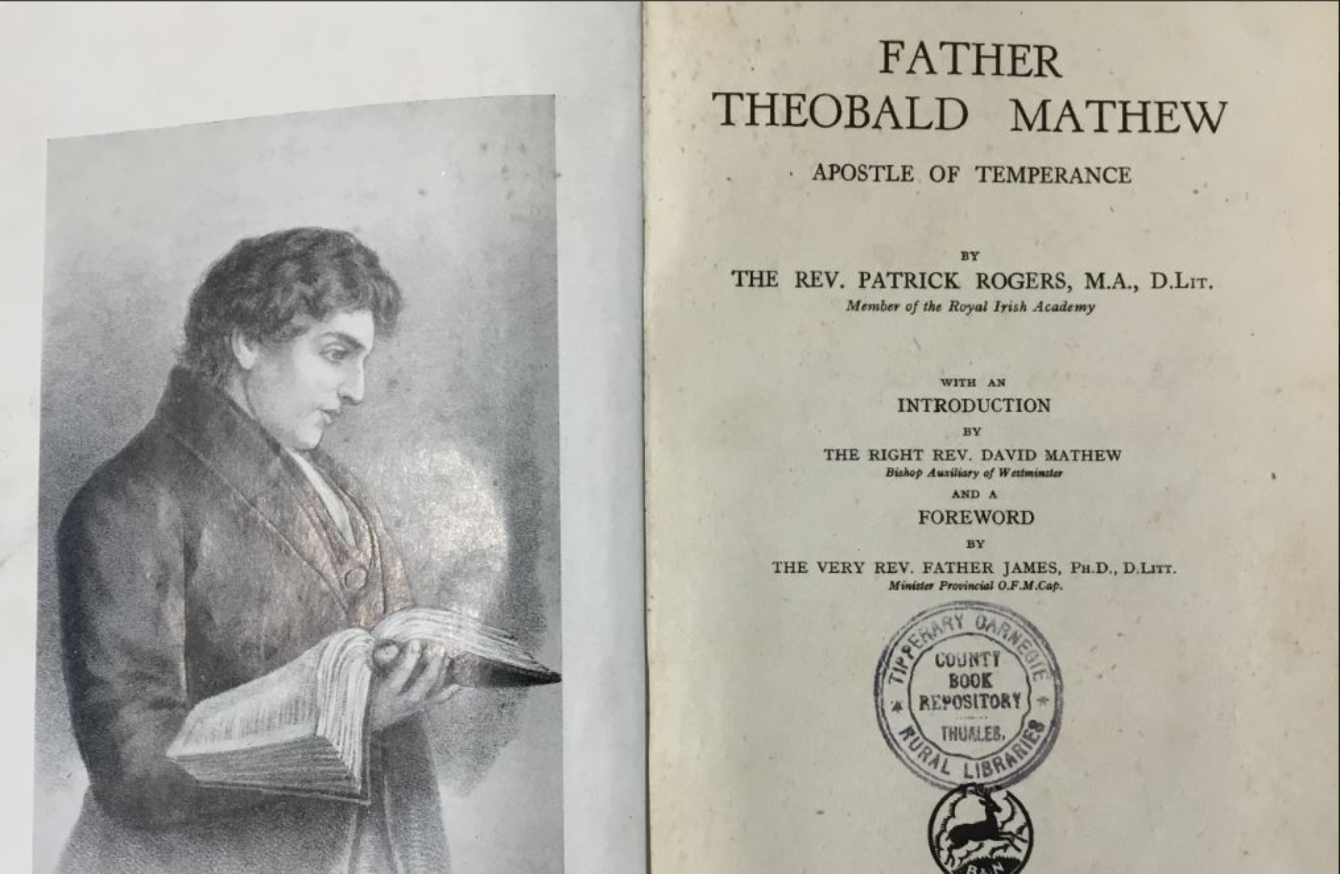 The inside of 'Father Theobald Matthew'
Image: Twitter/@TippLib
The inside of 'Father Theobald Matthew'
Image: Twitter/@TippLib
A TIPPERARY LIBRARY says it will waive the €971.65 fine due on a book that has been returned over five decades late.
Staff at Thurles Library were surprised on Tuesday evening when a copy of 'Father Theobald Matthew' by Reverend Patrick Rogers was finally brought back by a member of the public.
The book, published in 1943, was loaned out on 30 May, 1965, meaning it was overdue for 19,433 days before it found its way back to the library.
Librarian John O'Gorman told TheJournal.ie that because the book was loaned under the old card-based system, which was digitised in the early 2000s, staff were unaware it was missing.

"Somebody found it while they were clearing out a house," he said. "It's often the case that books lie dormant for a long time, but thankfully the person spotted it and gave it back."
O'Gorman also said that although the book is worth "a bit of money", the library was happy to waive the fine.
In fact, it wasn't even the longest time an edition has been missing from the shelves of a Tipperary library.
O'Gorman said: "A colleague in Templemore actually received another book a few years ago, 'Flowers in the House and Garden' by Constance Spry. That one was overdue for 67 years."
He urged readers to check their houses for old library books, particularly as editions which have been out on loan for a long time could be rare.
"We'd be delighted to get some of them back," he said. "We obviously don't want to let people know they're too rare, because they might be encouraged to sell them.
"But people can rest assured that if any particularly old books are returned, we won't charge them the full fine. We'll work something out."