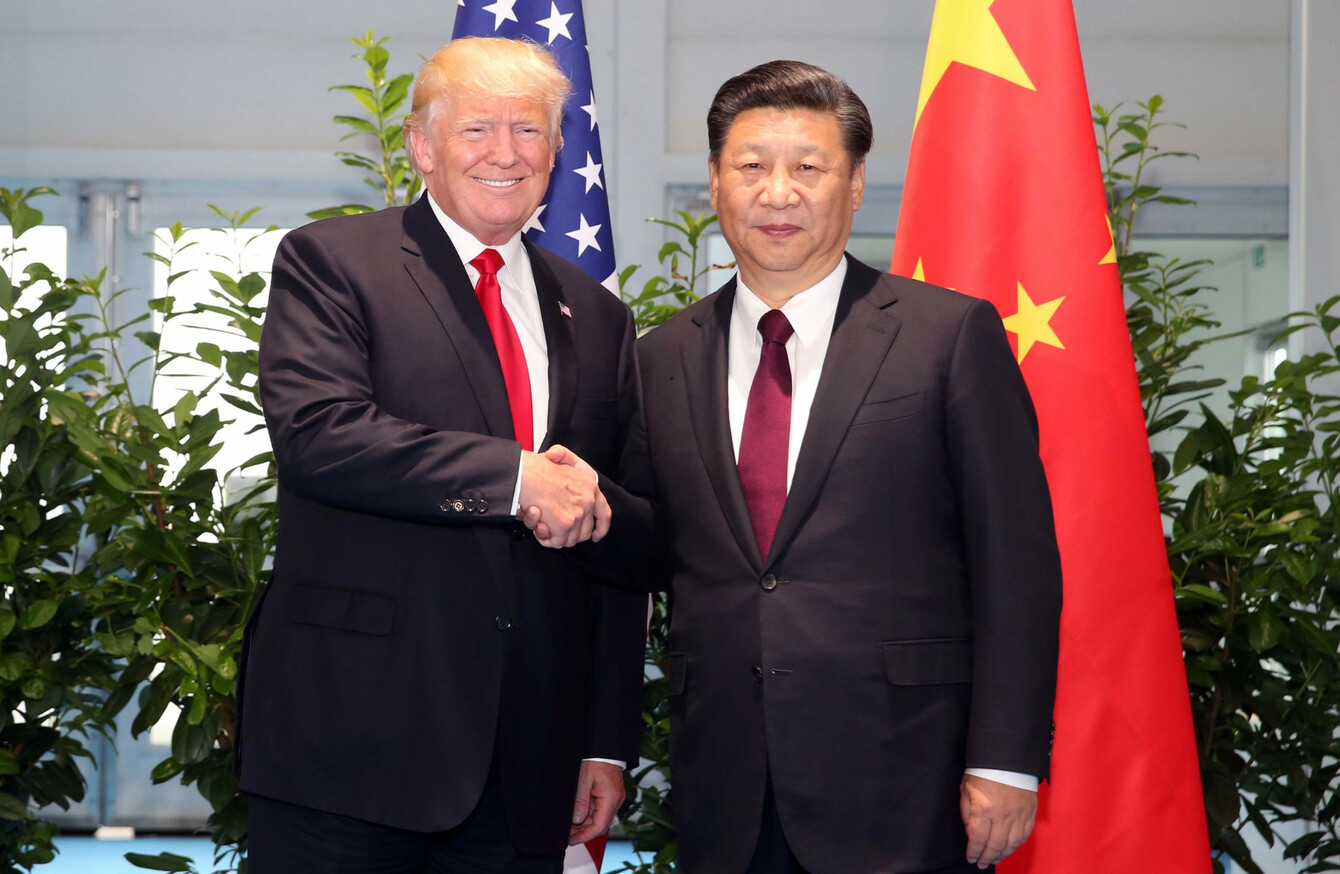 Trump said he has an excellent relationship with President Xi Jinping, but the United States will "no longer be taken advantage of".
Image: Xinhua News Agency/PA Images
Trump said he has an excellent relationship with President Xi Jinping, but the United States will "no longer be taken advantage of".
Image: Xinhua News Agency/PA Images
BEIJING HAS ACCUSED Donald Trump of "blackmail" and warned it would retaliate in kind after the US president threatened to impose fresh tariffs on Chinese goods, pushing the world's two biggest economies closer to a trade war.
Trump said on Monday he had asked the US Trade Representative to target $200 billion (€172 billion) worth of imports for a 10% levy, citing China's "unacceptable" move to raise its own tariffs.
He added he would identify an extra $200 billion of goods — for a possible total of $450 billion, or most Chinese imports — "if China increases its tariffs yet again".
"Further action must be taken to encourage China to change its unfair practices, open its market to United States goods and accept a more balanced trade relationship with the United States," Trump said in a statement.
Last week, he announced 25% tariffs on $50 billion in Chinese imports, prompting Beijing to retaliate with matching duties on US goods.
The US leader warned Friday of "additional tariffs" should Beijing hit back with tit-for-tat measures.
"The trade relationship between the United States and China must be much more equitable," he said in explaining his latest decision.
"I have an excellent relationship with President Xi (Jinping), and we will continue working together on many issues. But the United States will no longer be taken advantage of on trade by China and other countries in the world."
'Extreme pressure'
China's commerce ministry immediately responded by saying the US "practice of extreme pressure and blackmail departed from the consensus reached by both sides during multiple negotiations and has also greatly disappointed international society".
"If the US acts irrationally and issues a list, China will have no choice but to take comprehensive measures of a corresponding number and quality and take strong, powerful countermeasures."
The news hit stock markets in Asia, where Shanghai shed 3% in the morning, Hong Kong lost more than two percent and Tokyo was one percent lower.
Trump is moving forward with the measures after months of sometimes fraught shuttle diplomacy in which Chinese offers to purchase more American goods failed to assuage his grievances over a widening trade imbalance and China's aggressive industrial development policies.
China had offered to ramp up purchases of American goods by $70 billion to help cut its yawning trade surplus with the United States, whereas Trump had demanded a $200 billion deficit cut.
Suspension of military drills
While tension is high between the US and China this morning, President Trump and South Korean officials have made good on a pledge during his summit with North Korea's leader. They confirmed this morning that scheduled joint military drills have been suspended.
"South Korea and the US plan to continue discussions for further measures," the South's defence ministry said in a statement, adding that "no decisions have been reached for other ensuing drills."
Some 17,500 US military personnel were due to take part in the Freedom Guardian drills.
"We are still coordinating additional actions. No decisions on subsequent war games have been made," Pentagon spokeswoman Dana White said in confirming the suspension.
"There is no impact on Pacific exercises outside of the Korean Peninsula."
- © AFP 2018.