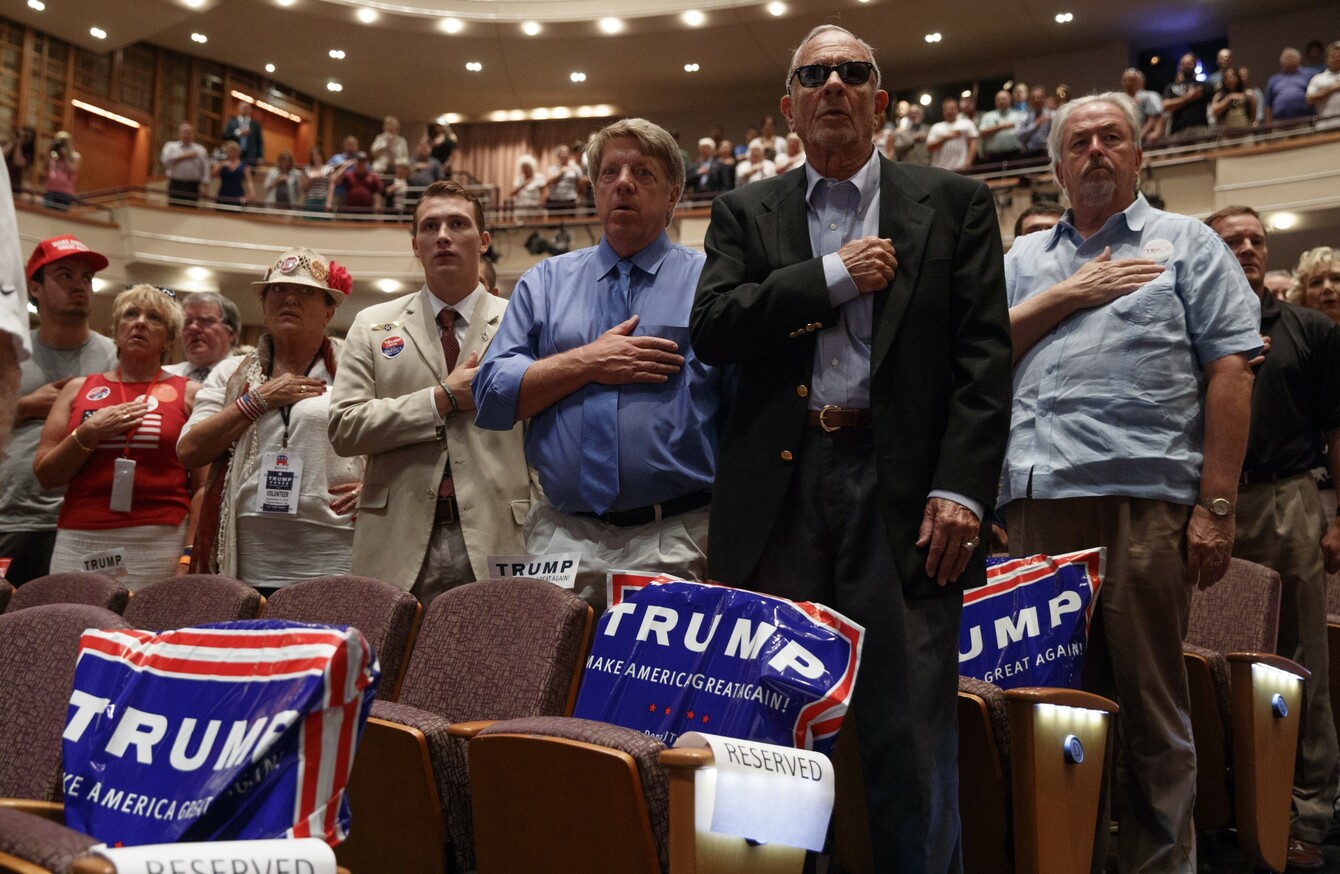 Trump supporters stand for the national anthem last Tuesday in Virginia.
Image: Evan Vucci/PA
Trump supporters stand for the national anthem last Tuesday in Virginia.
Image: Evan Vucci/PA
US PRESIDENTIAL NOMINEE Hillary Clinton has called Donald Trump's supporters a "basket of deplorables".
Speaking at an event in New York, she said they were "racist, sexist, xenophobic, Islamophobic – you name it", the BBC reported.
Clinton's comments about the supporters of the divisive New York property developer were made at an LGBT (lesbian, gay, bisexual and transgender) fundraiser in New York.
"To just be grossly generalistic, you can put half of Trump's supporters into what I call the 'basket of deplorables'," she said.
Unfortunately there are people like that, and he has lifted them up.
Clinton, 68, added that those people are "irredeemable, but thankfully they are not America".
But she said the other half of his supporters were individuals who felt let down by the economy and government and were desperate for change.
They don't buy everything he says, but he seems to hold out some hope that their lives will be different. Those are people we have to understand and empathise with as well.
Trump's campaign said Clinton had insulted "millions of Americans", with her comments.
Clinton's press spokesman Nick Merrill defended her comments, however.
Tax returns
Meanwhile, Republican vice-presidential nominee Mike Pence has published his tax returns, putting pressure on his billionaire boss to do the same.
The Trump campaign said that the candidate "plans to release his tax returns upon completion of a routine audit."
The Clinton campaign quickly fired back. In a statement, it said:
Why won't Trump release his tax returns and what is he hiding?
Analysts say Trump's tax returns will show he is worth less than he claims, that he has paid no income tax in years, and that he is deeply in debt.
Christian heritage
Meanwhile, Trump has also said he would order an attack on Iranian boats if they approached US Navy ships – referring to a number of encounters between US and Iranian naval vessels in the Persian Gulf.
He has also urged the US religious right to vote en masse on election day to defeat Clinton, his White House rival.
Both candidates are seeking to appear presidential and fire up their supporters as the 8 November election day approaches.
Trump was the star at a Washington gathering of grassroots activists, conservative stalwart lawmakers, and leaders in the anti-abortion and religious freedom movements.
He sought to lock up a commitment from the key evangelical and social conservative voting bloc, four years after millions of them stayed home instead of supporting Republican nominee Mitt Romney.
"In a Trump administration, our Christian heritage will be cherished, protected, defended like you've never seen before," Trump said to a rousing ovation.
You have to get out and vote on 8 November. You didn't vote four years ago. You didn't vote.
Trump's attendance at the Values Voter Summit highlights how conservatives want social issues like abortion discussed in the presidential campaign.
Trump is under pressure to convince these activists of his own conservative values, and has largely steered clear of the sensitive issue of abortion, to court moderates.
'Birther' no more?
In that vein, his campaign has taken steps to distance the Republican nominee from his years-long propagation of the "birther" conspiracy theory that Obama was not born in the United States.
"He believes President Obama was born here… He was born in Hawaii," Trump campaign manager Kellyanne Conway told CNN.
Her comments came a day after Trump surrogate and former New York mayor Rudy Giuliani made similar statements.
Trump himself has so far refused to clearly acknowledge the legitimacy of Obama's presidency.
The controversial property developer was the most prominent early proponent of a theory that Obama, the nation's first black president, was not born in the United States and therefore, under the US Constitution, ineligible to be commander in chief.
Trump again embraced the long-debunked "birther movement" in early 2011, eager to push the theory as a way to connect with white conservatives and catapult himself to prominence.
Paying respects on 9/11
Clinton, meanwhile, held a working session on terrorism and national security with a group of experts that included ousted former CIA director David Petraeus, former commander of US forces in Afghanistan John Allen and former National Counterterrorism Center Director Matt Olsen.
After the meeting, she said: "I asked them to join me for a candid conversation about some of the most challenging issues facing our country because I believe that America's national security must be the top priority for our next president.
I support more special forces, enablers and trainers, as needed, intelligence gathering and reconnaissance.
The meeting came two days before the country marks the 15th anniversary of the 11 September terror attacks on the World Trade Center in New York and the Pentagon in Washington.
Clinton, who at the time was a US senator representing New York, will attend the ceremony Sunday at Ground Zero "to pay her respects," a campaign aide said.
- With reporting from AFP.