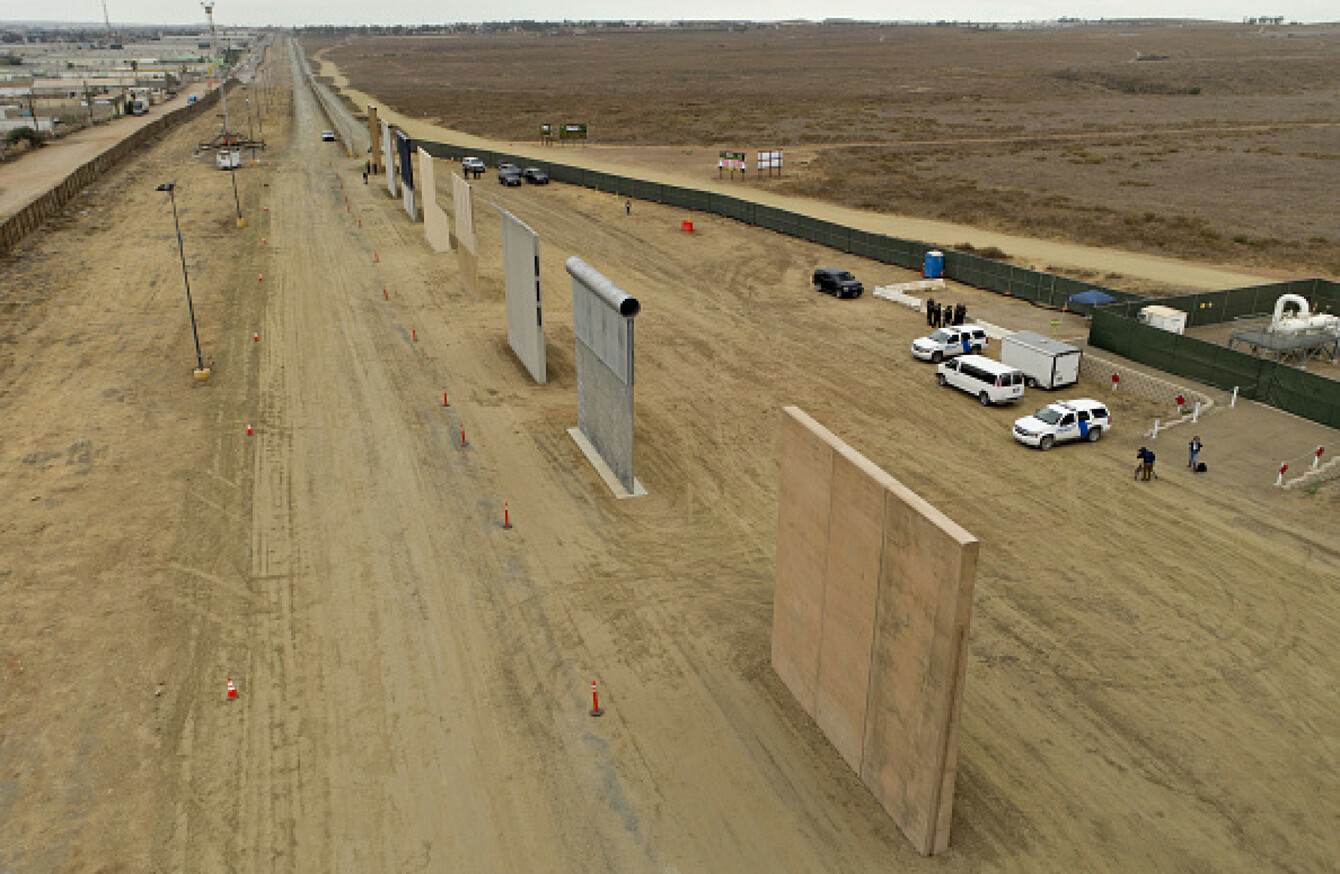 The eight wall prototypes are standing outside San Diego near Tijuana.
Image: Daniel Acker
The eight wall prototypes are standing outside San Diego near Tijuana.
Image: Daniel Acker
PROTESTERS ARE HOLDING marches and rallies ahead of President Donald Trump's first official visit to California.
Trump will visit eight towering prototypes of his planned wall today before addressing Marines in San Diego and attending a fund-raiser in Los Angeles.
Nearly 200 people marched in downtown San Diego, which is on the border with Mexico, to denounce Trump and in particular his crackdown on immigration both legal and illegal.
California is the country's most populous state and a Democratic stronghold.
Trump will arrive in San Diego at 11:30 am (1930 Irish time) and then go to nearby Otay Mesa to view eight prototypes for the wall he wants to build on the border with Mexico.
Ariel Norcross, demonstrating Monday outside the Federal Building, carried a placard that read "No hate in the Golden State."
"I don't want him, his hateful rhetoric, his hateful administration, any of his policies in my state, in my country," said Norcross.
"It's already been a waste of money to build eight prototypes that are not doing anything," he added.
"People will find their way here," he said as he walked in a procession featuring placards denouncing the wall plan and children in Mexican ponchos riding on their parents' shoulders.
"I don't know why he took so long to get here but I think he is realizing that this is the strongest point of resistance, here at the border and in the state of California," protester Ali Torabei said.
After viewing the wall prototypes, Trump is scheduled to give a speech at a military base in Miramar and then head to Los Angeles for a Republican fund-raising dinner.
The largest protest rally will be at a church in San Ysidro, from which you can see the border. Hundreds of people are expected to take part.
Demonstrators plan to erect a large sign calling on Trump to "build bridges, not walls."
But a pro-Trump rally in favor of the wall project is also scheduled.
Organisers on both sides were urging people to remain peaceful after recent scuffles at rallies in Southern California, including brawls at a Dec. 9 rally near where the prototypes stand.
#Open journalism No news is bad news Support The Journal

Your contributions will help us continue to deliver the stories that are important to you

Support us now
The Wall
The prototypes Trump is visiting tower over the existing graffiti-covered border fence near hills on the edge of San Diego, at the border with Tijuana, Mexico.
The eight full-scale models stand side-by-side up to a height of about nine meters.
They are colored beige, brown and gray and some have rounded tops, in varying thicknesses to prevent climbing. One panel has a slanted anti-climbing barrier.
Six US companies built the prototypes, most from reinforced concrete and the remainder from other material. Each prototype section cost more than $300,000 and, according to some estimates, the complete wall could require an expenditure of up to $20 billion.
The US border with Mexico stretches nearly 3,200 km, about a third of which already has some type of barrier or wall.
© – AFP 2018 with reporting by Associated Press