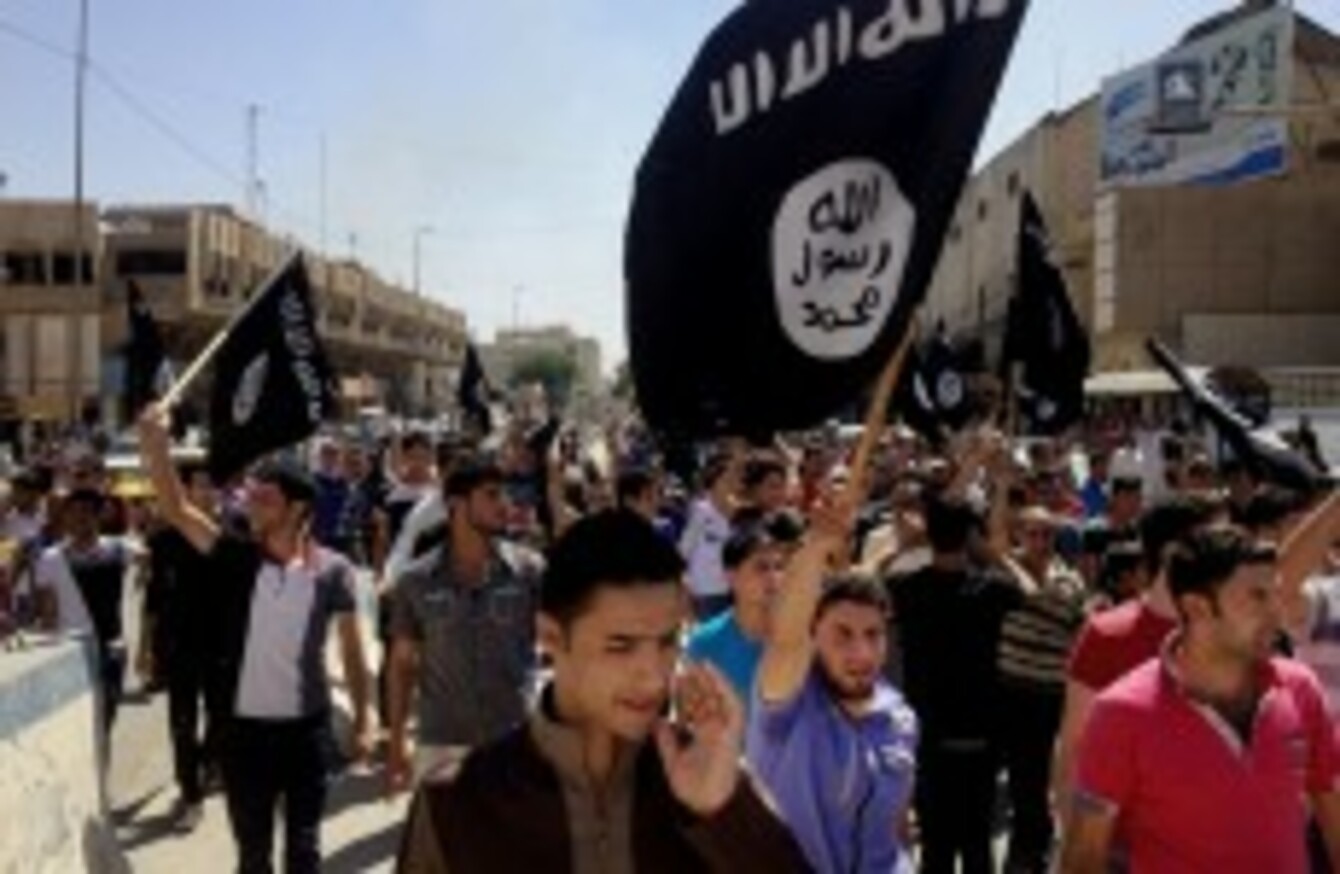 Demonstrators chant pro-Islamic State slogans in Mosul, Baghdad.
Image: AP/Press Association Images
Demonstrators chant pro-Islamic State slogans in Mosul, Baghdad.
Image: AP/Press Association Images
THE UNITED STATES has announced its first sustained deployment of ground troops to Syria, saying a small special forces team would assist the anti-jihadist fight, as major powers met in Vienna seeking a political solution to the war.
The deployment marks an escalation in Washington's efforts to defeat the Islamic State (IS) group, which has tightened its grip on swathes of Syria despite more than a year of US-led air strikes.
Officials said President Barack Obama had authorised an initial deployment of "fewer than 50″ special forces to northern Syria – parts of which are controlled by Syrian Kurdish forces fighting IS — easing his long-standing refusal to put boots on the ground.
"They will help coordinate local ground forces and coalition efforts to counter ISIL," said a senior administration official, using an acronym for the jihadist group.
Washington will also deploy A-10 ground-attack planes and F-15 tactical fighter jets to the Incirlik base in southern Turkey, as part of the ramped up effort.
The announcement came as key backers of Syria's rival sides sought to overcome deep divisions over the conflict, with regime allies Russia and Iran resisting Western and Saudi pressure to force President Bashar al-Assad from power.
Top diplomats from 17 countries, as well as the United Nations and the European Union, gathered in Vienna for talks bringing together all the main outside players in the four-year-old Syrian crisis for the first time.
The West and Gulf monarchies led by Saudi Arabia want Assad to step down, but Moscow and Tehran insist he has a right to play a role in an eventual transition towards a mooted unity government and later elections.
More talks in two weeks 
France announced late Friday afternoon that the talks had ended, with major powers to meet again on the crisis in two weeks' time.
Russian President Vladimir Putin's spokesman Dmitry Peskov had said earlier that the talks were not about whether Assad should go.
"It is not the fate of Bashar al-Assad that is being discussed," he told reporters in Russia.
"Any political settlement is hard to achieve before the forces of terrorism and extremism sustain a significant blow."
Iran's deputy foreign minister Hossein Amir-Abdollahian also strongly denied reports that Tehran was ready to accept a scenario under which Assad would step down within six months, Iranian state television reported.
But Iran nevertheless joined the talks for the first time, in a sign of its growing diplomatic clout months after striking a landmark nuclear deal with world powers.
There were some signs of progress in Vienna, with Russia and Saudi Arabia exchanging a list of Syrian opposition groups with which they have contact, Russian deputy foreign minister Mikhail Bogdanov said, quoted by RIA Novosti state news agency.
And even getting Iran and Saudi Arabia — the Middle East's foremost Shiite and Sunni powers which back opposing sides in conflicts across the Arab world — to sit at the same table was seen as progress.
#Open journalism No news is bad news Support The Journal

Your contributions will help us continue to deliver the stories that are important to you

Support us now
 'Very difficult' 
US Secretary of State John Kerry sat at the head of the table for the meeting, which also included senior envoys from Russia, China, Turkey, Britain, France, Germany, Italy, Jordan, Iraq, Lebanon, Egypt, Qatar, the UAE and Oman.
The Syrian regime and the opposition were not represented at the discussions aimed at ending a war that has claimed a quarter of a million lives.
Russia, which has waged a month of intense air strikes against Assad's armed opponents, has urged preparations for parliamentary and presidential elections in Syria.
The West has accused Russia of concentrating its air campaign in Syria on moderate opposition groups opposed to Assad's rule, although Moscow says it is focusing on defeating IS and other "terrorist" organisations.
Russia said Friday its airforce had hit 1,623 "terrorist targets" in Syria over the past month, including 51 training camps.