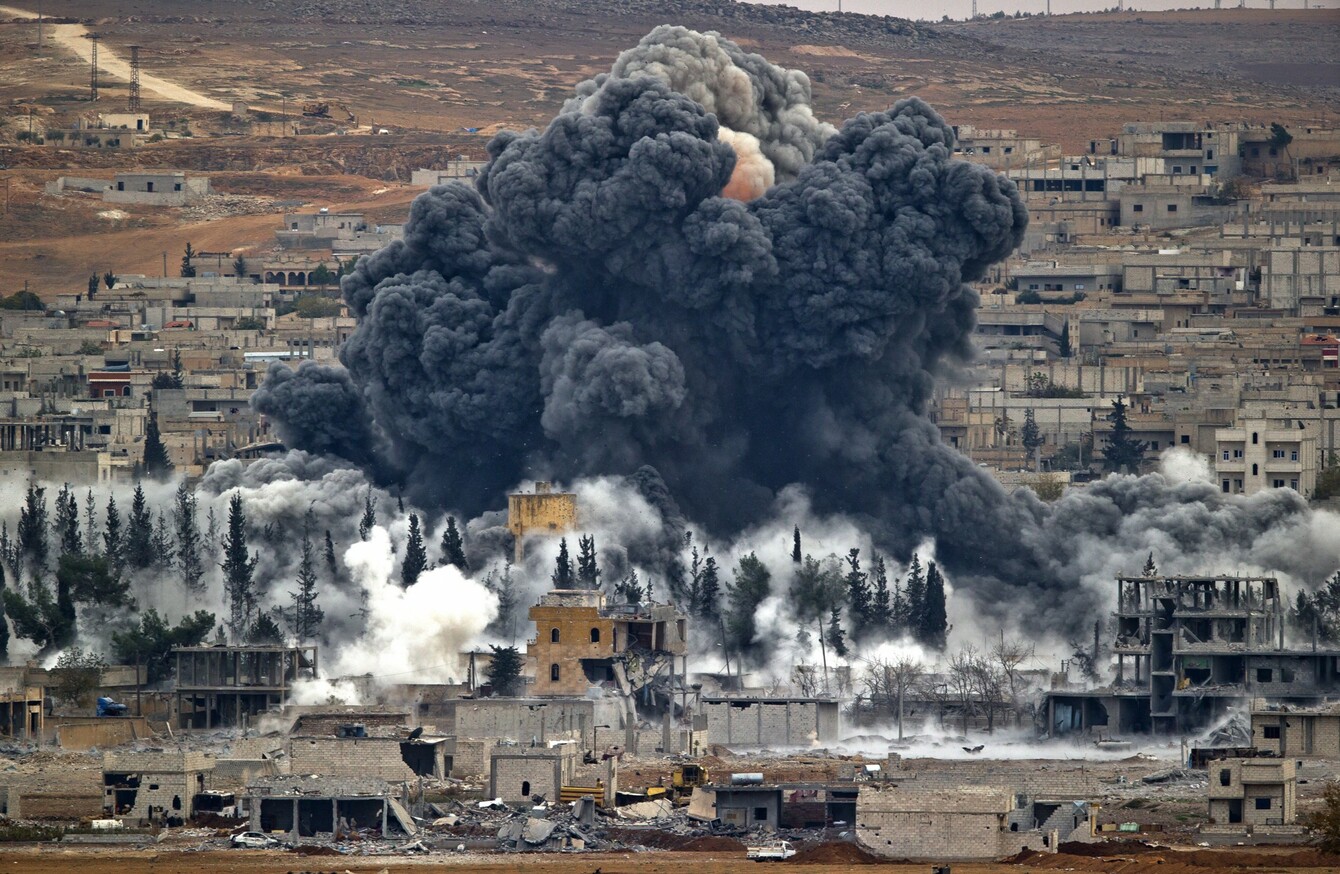 Smoke rises from the Syrian city of Kobani, following an airstrike by the US led coalition. (File photo)
Image: AP Photo/Vadim Ghirda, File
Smoke rises from the Syrian city of Kobani, following an airstrike by the US led coalition. (File photo)
Image: AP Photo/Vadim Ghirda, File
A US AIR strike targeted a "prominent" Al-Qaeda leader in Syria today, the Pentagon said, amid reports a senior leader of the group was killed near Idlib.
Word of the strike came as regional news reports and social media postings said Ahmed Salama Mabrouk, an Egyptian also known by his nom de guerre Abu Faraj, had been killed in Idlib province in northwestern Syria.
"We can confirm that we targeted a prominent Al-Qaeda member in Syria, and we are assessing the results of the operation at this time," Pentagon spokesman Navy Captain Jeff Davis said.
"This is a prominent Al-Qaeda leader."
Meanwhile, the US today suspended negotiations with Russia on efforts to revive a failed ceasefire in Syria and set up a joint military cell to target jihadists.
"This is not a decision that was taken lightly," State Department spokesman John Kirby said, accusing Russia and its Syrian ally of stepping up attacks on civilian areas.
White House spokesman Josh Earnest added:
"Everybody's patience with Russia has run out."
"What is clear is there is nothing more for the US and Russia to talk about with regard to trying to reach an agreement that would reduce the levels of violence inside of Syria. And that's tragic," Earnest said.
The announcement came before a suicide bomber killed at least 14 people in an attack targeting a wedding party in the northeastern province of Hasakeh, the Syrian Observatory for Human Rights said.
Kirby said the Russian and US militaries will continue to use a communications channel set up to ensure their forces do not get in each other's way during "counterterrorism operations in Syria".
But the United States is calling back home personnel who had been sent to Geneva in order to set up a "Joint Implementation Center" with Russian officers to plan coordinated strikes.
And US diplomats will suspend discussions with Russia on reviving a 9 September deal reached between US Secretary of State John Kerry and Russia's Foreign Minister Sergei Lavrov.
Under that protocol, a truce came into effect on 12 September, but it collapsed within a week amid bitter recriminations and a surge of fighting in the five-year civil war.
Washington has accused Moscow of failing to rein in Syrian President Bashar al-Assad's government forces and abetting his strikes on civilian targets.
Moscow, meanwhile, says the United States failed to separate "moderate" anti-Assad rebels from jihadists linked to Al-Qaeda.
"Unfortunately, Russia failed to live up to its own commitments, including its obligations under international humanitarian law," Kirby said.
According to the US spokesman, Russia was "either unwilling or unable to ensure Syrian regime adherence to the arrangements to which Moscow agreed.
Rather, Russia and the Syrian regime have chosen to pursue a military course, inconsistent with the cessation of hostilities, as demonstrated by their intensified attacks against civilian areas.
#Open journalism No news is bad news Support The Journal

Your contributions will help us continue to deliver the stories that are important to you

Support us now
Kirby accused Moscow and Damascus of "targeting of critical infrastructure such as hospitals, and preventing humanitarian aid from reaching civilians in need".
And he repeated Washington's charge that Russia and the regime were responsible for the deadly 19 September attack on a United Nations aid convoy in northern Syria, outside Aleppo.
Response
Russia's foreign ministry said it regretted the decision by the US to suspend the talks, saying Washington was trying to shift responsibility for the failure onto Moscow.
"We regret this decision by Washington to curtail the work of the specialist groups in Geneva, to withdraw their experts and to limit contacts only to the area of avoiding any conflicts," foreign ministry spokeswoman Maria Zakharova was quoted as saying by Russian news agencies.
"Washington simply did not fulfil the key condition of the agreement to improve the humanitarian condition around Aleppo," Zakharova said.
After failing to fulfil the agreements that they themselves worked out, they are trying to shift responsibility on to someone else"
She said that Russia had kept pushing throughout this period for a 72-hour pause to fighting around a key government-controlled road into rebel-held eastern Aleppo.
Russia has been bombing in Syria for the past year in support of leader Bashar al-Assad and is currently backing up a fierce regime assault on the east of Aleppo, that has drawn international condemnation.