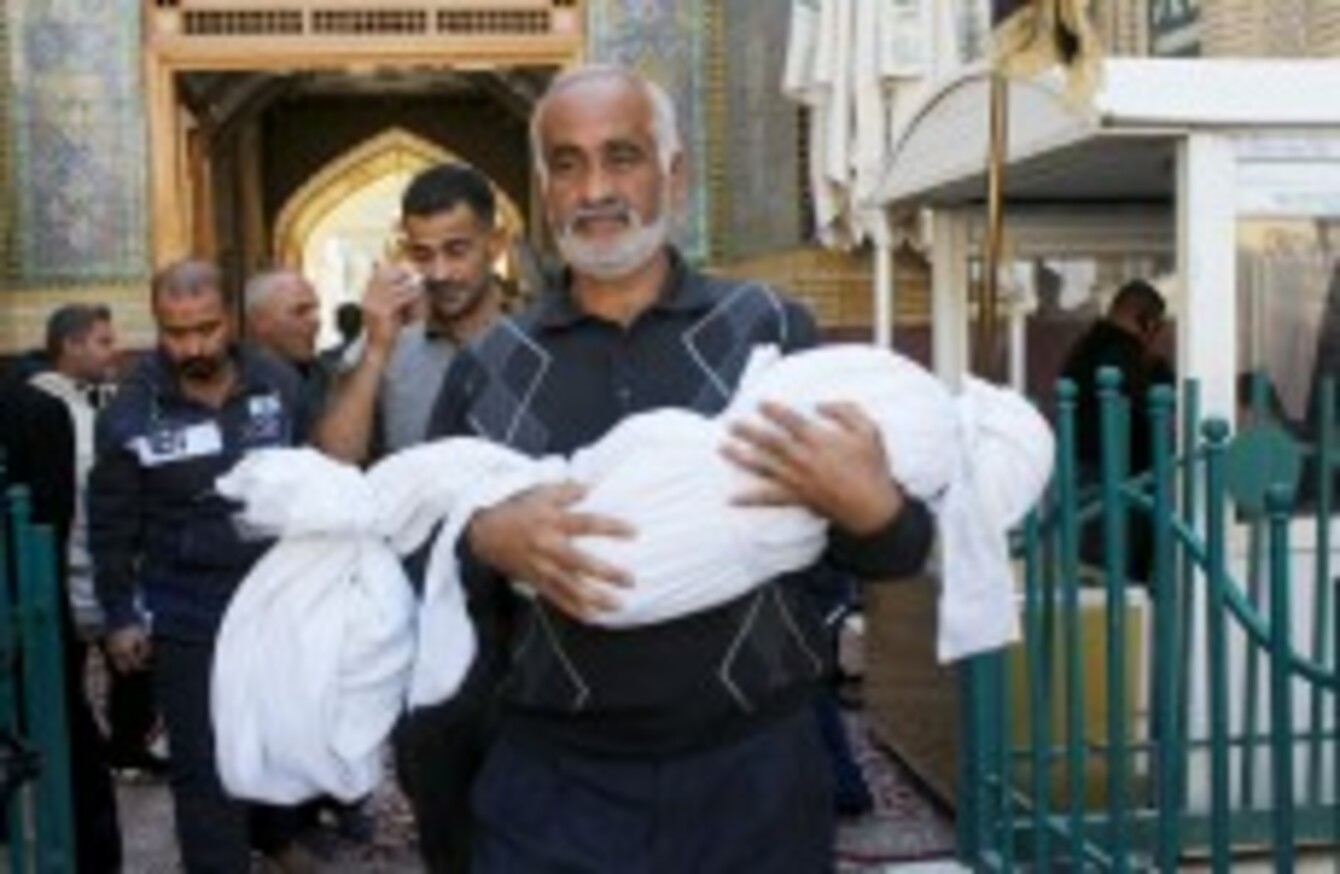 Ali Khalil carries the dead body of his 4-year-old son, Mohammed, who was killed in a bombing in the Shiite holy city of Najaf, 160 km south of Baghdad.
Image: AP Photo/Jaber al-Helo
Ali Khalil carries the dead body of his 4-year-old son, Mohammed, who was killed in a bombing in the Shiite holy city of Najaf, 160 km south of Baghdad.
Image: AP Photo/Jaber al-Helo
VIOLENCE IN IRAQ surged in 2013 to its worst level in five years, fuelled by widespread discontent among the Sunni Arab minority and Syria's civil war, figures released today showed.
Bombs tore through markets, cafes, football fields and mosques, militants assaulted prisons, police stations and other government facilities, and families were killed in their homes.
And while Iraqi security forces carried out widespread operations targeting militants, they have yet to curb the violence, and the mass arrests they sometimes make may ultimately contribute to the problem.
Levels of violence
"One has to go back to 2008 to find comparable levels of violence," Iraq Body Count (IBC), a Britain-based NGO that tracks violence in Iraq, said in a statement.
"In 2008, however, that was a declining total from the much higher levels of 2006-2007, with the second half of 2008 less violent than the first," IBC said.
In 2013, the trend is in the opposite direction, with around two thirds of the deaths occurring in the second half of the year. If current violence levels continue unabated throughout the coming year, then 2014 threatens to be as deadly as 2004, which saw the two sieges of Fallujah (by US-led troops) and Iraq's insurgency take hold.
Death tolls vary widely, but all point to a sharp rise in violence.
IBC said it recorded 9,475 civilian deaths in Iraq in 2013, compared to 10,130 in 2008, while Iraqi government figures indicated that 7,154 people died in 2013 violence, among them security forces and militants, while 8,995 were killed in 2008.
Tolls for intervening years were much lower, sometimes less than half the 2013 figures.
Over the course of the year, militants repeatedly targeted civilians, but were also able to strike targets that should have been highly secure.
The year also saw a number of attacks on Iraqi journalists, with 12 killed in the last three months of 2013.
Factors of violence
Blood stains at the site of a bomb attack near a Sunni mosque in Kirkuk, 290 km north of Baghdad. Pic: AP/Press Association
Two main factors fuelled the sharp spike in violence, experts say.
One is widespread discontent among Iraq's minority Sunni Arab community, members of which say they are marginalised by the country's Shiite-led government and unfairly targeted by heavy-handed security tactics.
Sunni anger has made it easier for militant groups to recruit and operate while eroding the public's cooperation with security forces.
Anti-government protests broke out in Sunni-majority areas of Iraq at the end of 2012 and continued for over a year.
On April 23, security forces moved on a protest site near the northern town of Hawijah, triggering clashes in which dozens died, sparking a wave of revenge attacks and sending death tolls soaring.
On Monday, security forces tore down the country's main anti-government protest camp, west of Baghdad. While clashes broke out in the area, the camp was ultimately removed without the level of violence seen during and after the Hawijah operation.
The civil war in neighbouring Syria has also played a role, with the Islamic State of Iraq and the Levant (ISIL), an Al-Qaeda linked group, mounting attacks on both sides of the border.