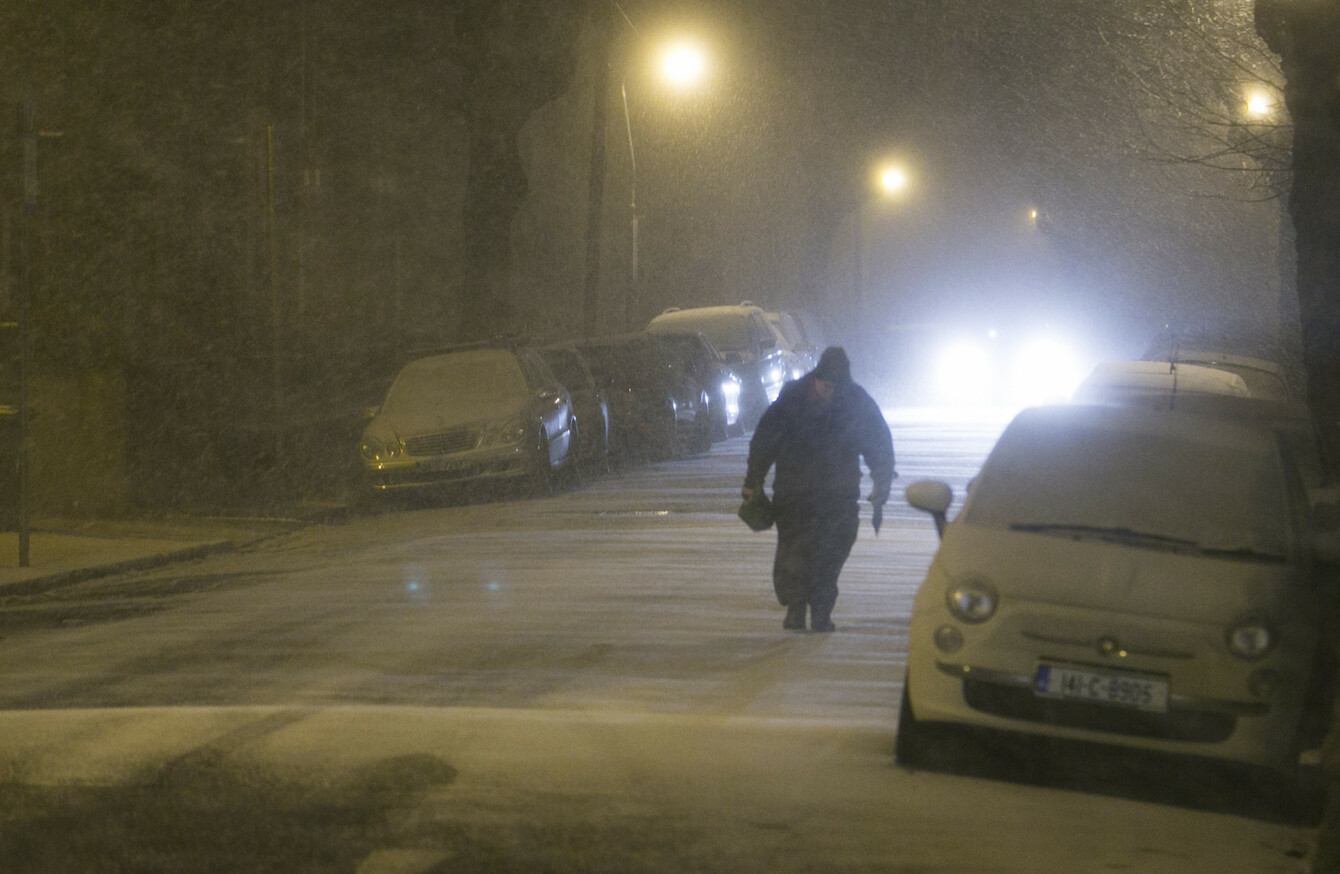 Image: Sam Boal
Image: Sam Boal
Updated at 9.10am
THE PUBLIC HAVE been warned to stay indoors from 4pm today until 12 noon tomorrow as Storm Emma meets the so-called 'Beast from the East'.
At yesterday's National Emergency Coordination Group meeting its chair Sean Hogan said that for reasons of public safety it is advising people should not venture outdoors while the red warning level is in place. The warning was extended to cover the entire country late last night by Met Éireann.
The NECG said that its decision was made because of the "serious and life-threatening conditions" which may be posed by the extreme weather.
The Taoiseach Leo Varadkar warned in a public address that in a blizzard scenario it could be "total wipeout" outdoors, and that between 4pm today and 12 noon on Friday the country is on "red alert".
Minister for Transport Shane Ross said that it is predicted there will be 25cm of snow today and 40cm by lunchtime on Friday, which is an "unprecedented situation".
Met Éireann warned that there will be heavy snow and strong easterly winds across the two provinces from this afternoon, which will cause significant snow drifts in many areas.
"Do not be out there from 4pm tomorrow. This is like Ophelia, it is a different type of safety concern but it is a safety concern," Hogan said.
"If people need to travel they need to consider how they will be home safely by 4pm tomorrow," he added.
He said employers will need to consider whether it will be safe to ask employees to come to work over the coming days.
"We're hoping the damage won't be like what it was with Ophelia but we are in uncertain territory here," said Hogan.
He said that if people are out and about in the weather today they might get disorientated and lost. He noted there were a number of deaths of people outdoors in 2010.
Though roads are being salted and ploughed, conditions will be difficult this morning for people, said the NECG.
In addition, Hogan said that it won't be a case of 'business as usual' after the blizzard ends tomorrow.  The situation has to be assessed and work begun to get the country back running again.
Some shops and post offices have already announced they are closing due to the bad weather.
Minister for Health Simon Harris has confirmed that health service staff won't be penalised for having to take the day off work today.
"Anyone who cannot get to work or whose workplace is closed will receive emergency leave with pay and will not have to make up time," Harris tweeted this morning.
Here's everything else you need to know about the shutdown.
Weather
Evelyn Cusack of Met Éireann said at the NECG meeting that she thinks Storm Emma will continue to bring snow onto the island of Ireland until Saturday.
There will be gale force winds with gusts of about 110km/h once Storm Emma hits Ireland. That means blizzards – dangerous conditions for anyone to be out in.
The snow that is to hit Ireland over the coming days is very dangerous from a visibility point-of-view, she said. It's expected that snow of up to 25cm will fall today and up to 40cm by tomorrow lunchtime according to Transport Minister Shane Ross.
To keep up to date with what's happening keep an eye on the Met Éireann website.
Travel
Bus Éireann and Dublin Bus 
There will be no Bus Éireann or Dublin Bus services running today. Dublin Bus services will be off on Friday too; Bus Éireann said it will review the situation for Friday later on today but warned that 'significant disruption' is likely then too.
The Luas red and green lines are operating full lines this morning, but at a frequency of one every 30 minutes. Services will stop at midday and the company will update customers on whether or not it will run tomorrow later on.
The Luas operator advises people allow extra time to travel and watch its website and Twitter page for updates.
Rail services will operate with delays until around lunchtime.
Irish Rail says services will operate up to lunchtime with the following exceptions:
All M3 Parkway to Clonsilla/Docklands trains are cancelled
There is no Newbridge/Hazelhatch to Grand Canal Dock services
The 06.30 Carlow to Dublin Heuston is cancelled
Cobh/Midleton: An hourly service is operating
Limerick to Ballybrophy via Nenagh: all trains cancelled
Waterford to Limerick Junction: all trains cancelled
The 11.20 Dublin Heuston to Portlaoise and 11.25 Portlaoise to Dublin Heuston are cancelled
There will also be bus transfers between Limerick and Ennis due to a separate local flooding issue.
The final services on all routes are:
Belfast: 12.35hrs Belfast to Dublin Connolly, 13.20hrs Dublin Connolly to Belfast
Sligo: 11.00hrs Sligo to Dublin Connolly, 11.05 Dublin Connolly to Sligo
Rosslare: 07.50 Rosslare Europort to Dublin Connolly, 09.40 Dublin Connolly to Rosslare Europort
Waterford: 11.00 Waterford to Dublin Heuston, 10.15 Dublin Heuston to Waterford
Northern Commuter: 13.15 Dublin Pearse to Drogheda, 12.30 Drogheda to Dublin Pearse
Maynooth Commuter: 12.48 Dublin Pearse to Maynooth, 13.40 Maynooth to Dublin Pearse
DART: final services to be confirmed, expected 13.00hrs approx
Cork: 12.00hrs Dublin Heuston to Cork, 11.25hrs Cork to Dublin Heuston
Tralee: 13.20hrs Mallow to Tralee, 13.05hrs Tralee to Cork
Cork Commuter: 13.00hrs Cork to Cobh, 13.15hrs Cork to Meidleton
Limerick: Connecting Limerick to Limerick Junction services to Cork trains
Galway: 11.05 Galway to Dublin Heuston, 13.00 Dublin Heuston to Galway (special)
Westport: 12.45 Dublin Heuston to Westport, 09.45 Westport to Dublin Heuston
Portlaoise/Kildare Commuter: 12.20 Dublin Heuston to Portlaoise, 12.25 Portlaoise to Dublin Heuston
Western Rail Corridor: 10.00hrs Ennis to Galway, 10.30hrs Galway to Ennis
Services are not expected to resume before 12pm on Friday.
Airports
The runway at Dublin Airport opened earlier, but many flights are cancelled.
"Our snow and ice clearing teams have been working throughout the night in very difficult conditions to keep the runway and airfield clear," the airport said in a statement.
"This continues to be a challenging exercise with our teams working in difficult on the airfield.
"There are cancellations today so please check latest flight information with your airline BEFORE coming to Dublin Airport.'
Compacted snow on the runway at Cork Airport has led to the airport being closed until at least 8am and a number of flights are cancelled
Shannon Airport is fully operational, but is urging people to check with their airline before leaving for the airport.
#Open journalism No news is bad news Support The Journal

Your contributions will help us continue to deliver the stories that are important to you

Support us now
Flights cancelled? Here are your rights.
Hospitals
Patients who have medical appointments or procedures scheduled for today are being advised to contact their hospitals, GPs or health centres to clarify whether they will be going ahead.
The HSE said yesterday:
If you have a hospital, GP or health centre appointment today please contact the facility to ensure it is still taking place.
Do not make any unnecessary journeys and if you need to cancel a scheduled HSE appointment because you are unable to travel, please make contact with the facility to advise them.
The Department of Social Protection has said all medical assessment clinics throughout the country will be closed today and for the rest of the week. Alternative dates will be re-scheduled for customers.
Schools and universities
The Department of Education decided yesterday to close all schools and colleges for two days. In a statement, the department said:
Given the disruption to transport and the safety risks arising, most particularly in relation to the ability to get home safely before blizzard like conditions hit Munster and Leinster, all schools, third level institutions, colleges and centres of further education in red areas will be closed tomorrow and Friday.
In relation to Connaught and Ulster decisions on school closures will be made individually depending on the circumstances in their area. The situation in Connaught and Ulster will be kept under review.
Homeless services
Sixteen people in the city centre and 14 in the Dublin region, were engaged and supported but declined to come into emergency shelter. They will be re-engaged today.
In Kildare, one additional person was accommodated by the Peter McVerry Trust after they called the out of hours emergency freephone number. This brings to 14 the total number of emergency placements provided by Peter McVerry Trust in the county in the past 48 hours.
Here's what you should do if you see a homeless person sleeping rough over the coming days.