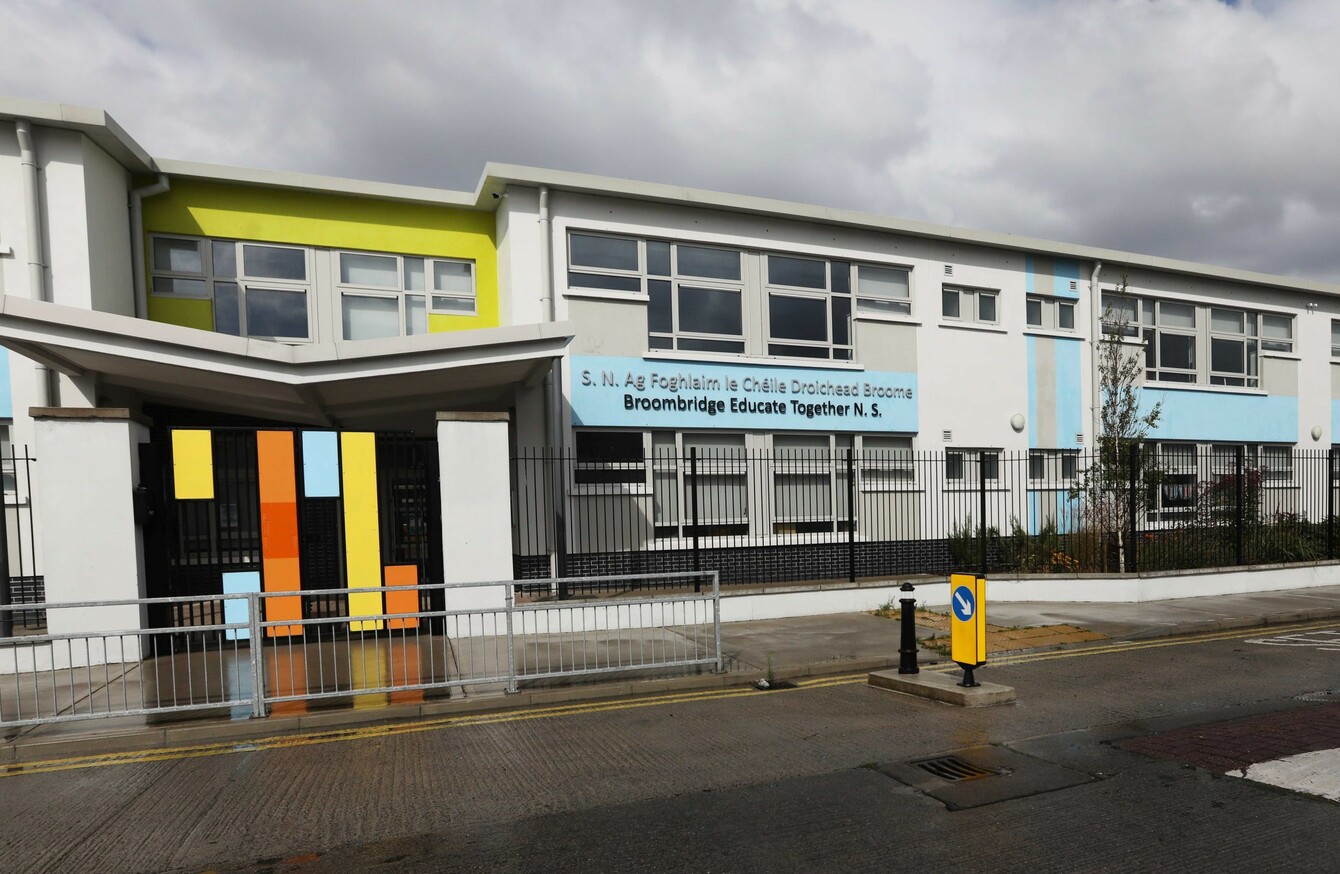 Broombridge Educate Together in Cabra, is one of the seventeen more schools which have been found to have structural flaws.
Image: Eamonn Farrell
Broombridge Educate Together in Cabra, is one of the seventeen more schools which have been found to have structural flaws.
Image: Eamonn Farrell
Updated Aug 19th 2019, 6:00 PM
HEALTH MINISTER SIMON Harris has said there will be "appropriate site supervision" of the construction of a new block at University Hospital Limerick by Western Building Systems.
The firm that built 42 schools which have been found to have structural defects has been awarded a contract to build a new block at University Hospital Limerick.
UL Hospitals Group confirmed that the proposal to provide a fast track ward block at UHL was initiated during 2018.
"Following a public procurement process by the HSE, the successful bidder was Western Building Systems," the group said in a statement.
"Funding to progress the project was subsequently included in the HSE Capital Plan 2019."
When asked about the procurement process today, Harris said people of the Midwest have "rightly highlighted to me how successive governments have promised them extra hospital beds and never delivered" them.
The works getting underway will now to deliver a 60 bed modular extension to University Hospital Limerick, "this will make a really big difference," he added.
Harris added that the awarding of the contract to Western Building Systems is a process that he has no role in.
"Public procurement rules are very clear in relation to European law… and I don't intend to jeopardise this project.
"All procurement is awarded in accordance with very strict rules, but what the HSE can do, and I mean this in a general sense, is obviously make sure there's appropriate site supervision, and that's for any projects that they award a contract to and I have been discussing that with them today and expect that will be in place," said the minister.
Controversy surrounding the firm arose last October over the school buildings, when concerns were raised over potential structural defects at Ardgillan Community College in Balbriggan.
Safety concerns were also raised at Tyrrelstown Educate Together National School, St Luke's National School and Gaelscoil Eiscir Riada in Lucan, which all closed for a period in October into November.
A total of 42 schools built by Western Building Systems were inspected over concerns about potential structural problems. 
Most of the schools received the green light to reopen in full after the mid-term break last year.
Last week, Education Minister Joe McHugh said structural flaws in a further 17 school buildings have been identified, and will require temporary works to be carried out in coming weeks.   
In a statement last week, Western Building Systems took issue with the Department of Education and Skills, stating that it had promised an independent review of the schools building programme. 
Ten months later, we have little further understanding nor have had input into this review process – no terms of reference, no independent chair or investigators, nor any international best practice guidance.
We continue to engage with the Department to better understand the nature and severity of the issues at these schools, however we have serious concerns now over how long such an independent review will take.
The department said an announcement in relation to the review will be made later in the year. 
Tender criteria
In relation to the contract to construct the new hospital block, the UL hospital group said its value was in the region of €14 million excluding VAT. The contract was signed in May this year. It's part of an overall €19.5 million project to deliver an additional 60 inpatient beds at the hospital which also includes an enabling works package.
"The enabling works contract to prepare the site for the new building was awarded to Nautic Building Company Limited," the hospital group said. 
These works commenced on site at University Hospital Limerick towards the end of March 2019. The main design and build works contract was subsequently awarded to Western Building Systems.
This contract is now also underway and progressing well through the design development process. There will be an element of off-site manufacture to be followed by the on-site construction phase for the main ward building itself.
The new ward block is anticipated to be completed by Quarter 3 2020 with the new beds envisaged to be operational in time for winter 2020. The total capital funding cost of this project including works, equipping and professional fees is estimated to be in the region of €19.5 million.
The health minister would not be drawn on the court proceedings underway between the firm and the Department of Education in relation to the school builds today stating that he would not comment on anything that might jeopordise the extension of University Hospital Limerick. 
"If I was standing here picking and choosing who actually builds hospital projects, you'd be asking me what to serious set of questions because obviously ministers and government departments don't have a role in relation to this procurement process. It has to be run in accordance with very strict national and EU laws.
"And and the process has to adhere to those rules. And obviously, for me to say anything about any one company, and could even jeopardise that process. So the contract has been awarded the work is well underway," said Harris.
Western Building Systems, in a statement, said the UHL contract was one of a number of projects it was awarded in 2018 and 2019.
"These tenders were awarded following extensive procurement processes," it said. 
"Decisions to award were based on a range of scoring criteria, including meeting and exceeding client requirements, experience, approach, qualifications and price. 
"Having been awarded these projects, we look forward to completing each to similar and proven satisfaction."
The HSE said the project "will be fully compliant with the building regulations. The HSE has appointed a technical advisor team who are supervising the contractor's design and construction works and who ensure compliance with the contract requirements."
"In addition, the local HSE Estates staff, including engineers and clerk of owrks, will oversee and monitor the construction project," it added. 
With reporting from Conor McCrave