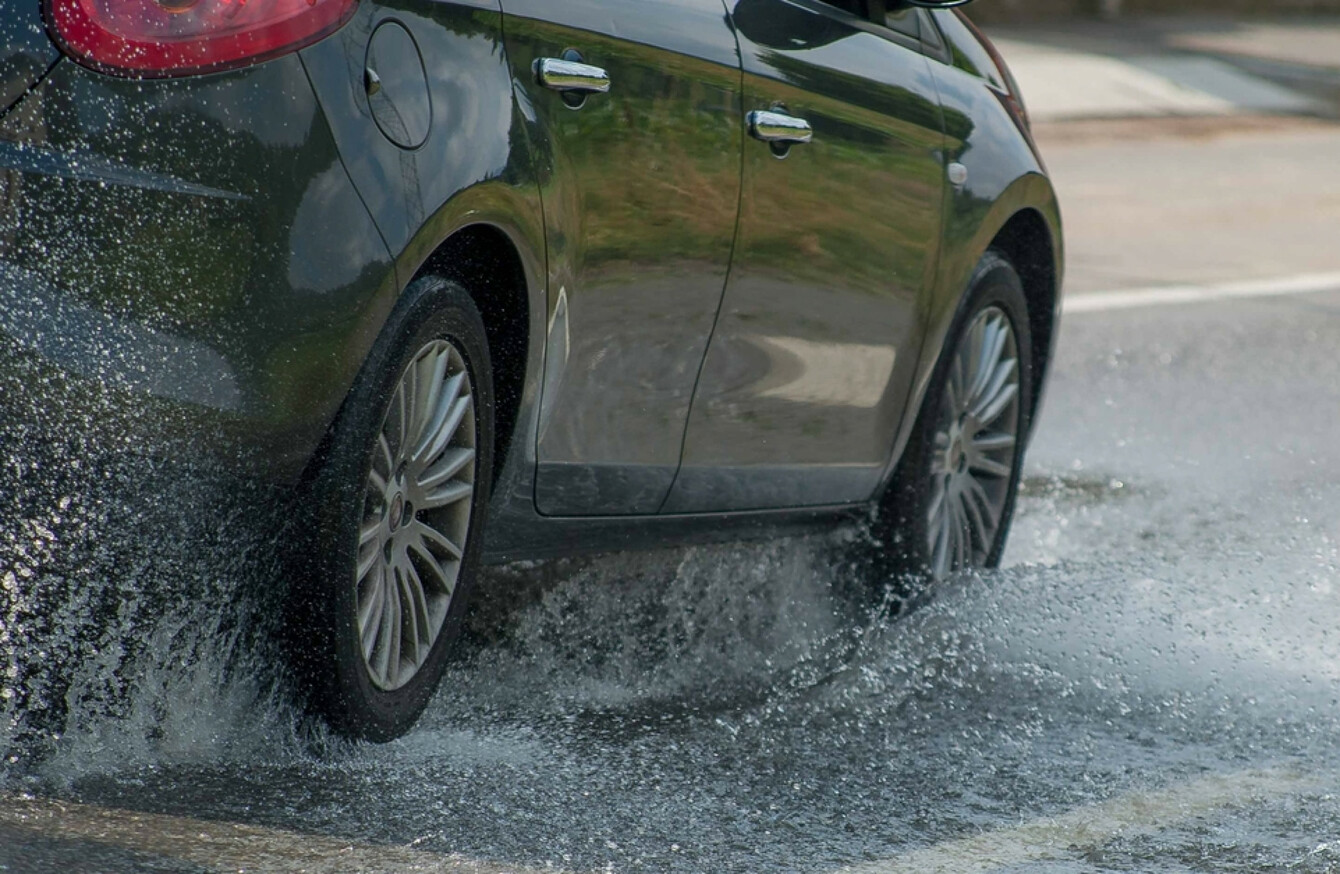 Image: Shutterstock/Pierluigi.Palazzi
Image: Shutterstock/Pierluigi.Palazzi
WITH TORRENTIAL DOWNPOURS last week and more adverse weather on the way here are some tips and advice to help you stay safe on the roads when the wet weather hits.
Listen for weather updates, and plan your travel accordingly. When it rains, more people get in their cars – so leave plenty of time to get to your destination.
Both motorbike riders and drivers should check their tyre pressure and tread depth to avoid skidding on wet surfaces.
Try to stick to main roads as these are less likely to flood. Avoid any roads that are prone to flooding.
Heavy rain often leads to damaged road surfaces, and puddles can hide deep potholes. Look for clues such as loose chunks of tarmac, and if you see them, steer clear.
Out on the road, if visibility is significantly reduced, use your dipped headlights.
Roads will be more slippery than usual and stopping distance is increased. Give yourself more time to react by leaving a bigger gap between your car and the car in front.
Reducing your speed will also decrease your stopping distance and will help the car to pass through large puddles smoothly, without spraying other road users or risking aquaplaning.
On flooded roads, think before driving through deep water and if there is any doubt don't enter it. Driving through any depth of water can be dangerous.
According to GEM Motoring Assist, even just 15cm of water "will reach the bottom of most passenger cars. Above this depth you can lose control or stall the engine because water can be sucked into the exhaust or washed into the air intake."
If you do break down, keep the bonnet shut tight so rain doesn't soak the engine.
If you do have to drive through a flooded road, don't stop in standing water and drive through the deepest section of the flood slowly. When you have passed the flooded area, check your brakes and dry them out as quickly as possible. Do this by lightly pushing on the brake pedal whilst the car is moving.
If you feel the tyres begin to lose traction and slipping, try not to panic. Just ease off the accelerator and avoid braking. Allow the speed to naturally decrease until you regain full control of the car again.
If you know in advance that rain is forecast, prepare your vehicle by checking that your windscreen wipers and lights are working properly. If anything isn't working get it fixed now before the rain arrives.
#Open journalism No news is bad news Support The Journal

Your contributions will help us continue to deliver the stories that are important to you

Support us now