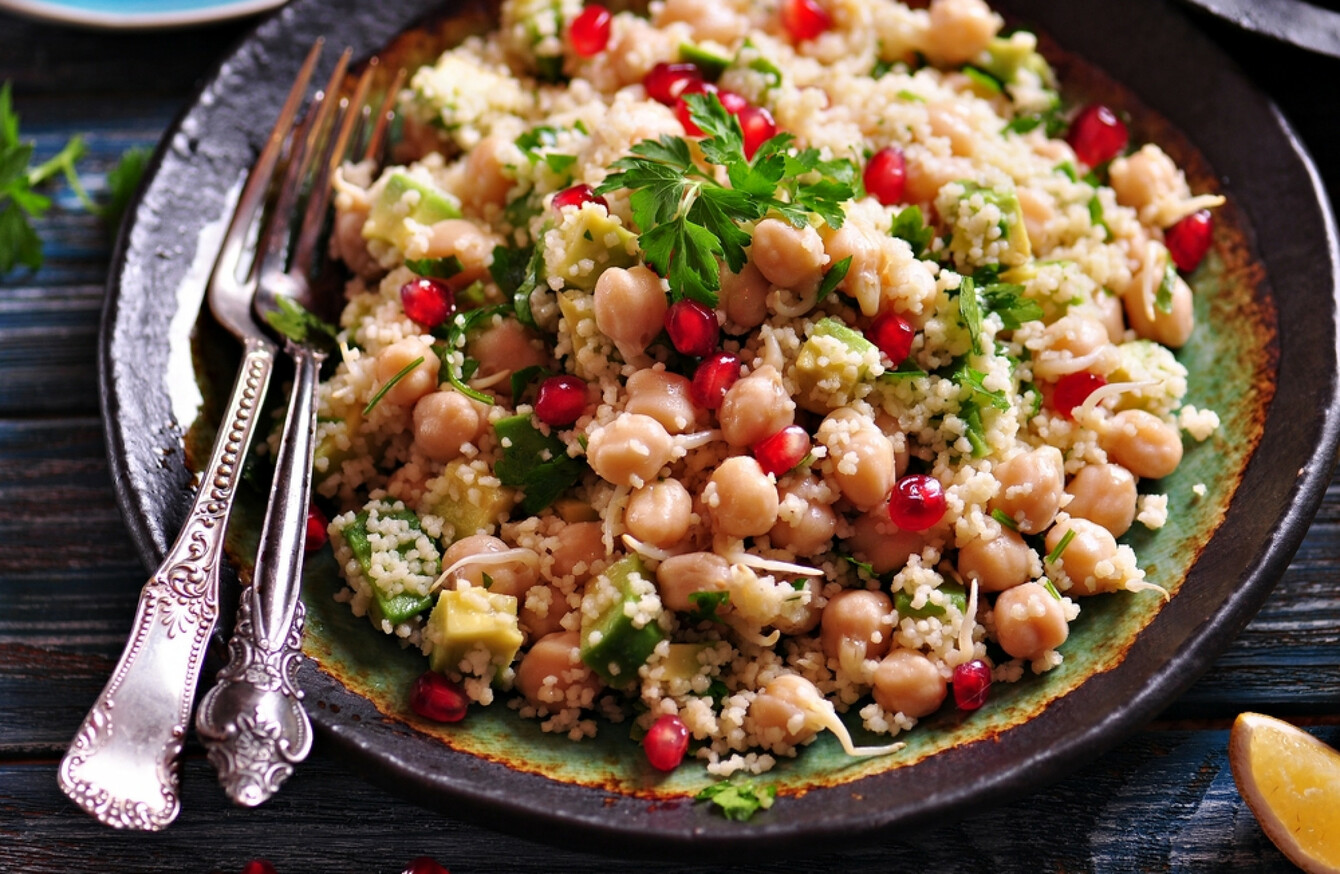 Image: Shutterstock/Chudovska
Image: Shutterstock/Chudovska
ONCE YOU'VE A bag of couscous somewhere in the cupboard, you can easily create a number of delicious meals. It's filling, quick to make, and incredibly versatile – what's not to love? Made from durum wheat, couscous has roots in North Africa and is a staple in North African cuisine.
When it comes to cooking couscous, it's really just a matter of soaking it in boiling water. It can be quite difficult to gauge portions sizes, but as a guide, cooked couscous is double its dried weight. For example, one cup of uncooked couscous will give you 2 cups of cooked couscous. Traditionally served as an accompaniment to stews and tagines, it is wonderful at absorbing flavours and sauces. However, it is equally scrumptious as the main component of a salad. 
One-pan chicken and couscous: This one-pan dish is ideal for a quick midweek supper, or when you want to use up any veggies left over in the fridge. Fry some chicken thighs in a large pan for about 10 minutes, until golden brown. Add a spoonful of garam masala, a sliced onion, some crushed garlic and veggies. (Peppers and courgette work well but feel free to use up whatever you have.)
Pour over a pint of hot chicken stock and simmer for about 40 minutes. Remove the pan from the heat, add two cups of couscous and another cup of hot water if needed. Allow to stand for a few minutes until the couscous is cooked, then serve with some fresh bread on the side.
Moroccan-style couscous: This delicious salad is unbelievable easy to make and can be made ahead in batches. On a baking tray, toss some chopped peppers, onion and aubergine in olive oil and bake for 15 minutes. Meanwhile, measure out two cups of couscous and add to a bowl, along with some ground cumin, cinnamon, turmeric and seasoning. Cover with hot water and allow to stand for 5-10 minutes until the water has been absorbed.
When the vegetables are cooked, add these to the couscous mixture along with a tin of chickpeas, chopped herbs, a drizzle of olive oil and some pomegranate seeds. Serve on its own or top with a baked chicken breast.
Couscous-stuffed butternut squash: This is an impressive supper that can also be vegan friendly. Cut a butternut squash in half lengthways, drizzle with olive oil and bake for 40 minutes until al dente. Meanwhile, cook the couscous as per package instructions, and stir in a spoonful of harissa paste, finely chopped red onion, spinach, pine nuts and goats cheese (unless you're catering for vegans, of course).
When the butternut squash is ready, top with the couscous mixture and bake for a further 10 minutes. Serve with a green salad and drizzle of balsamic vinegar.
Greek couscous salad: This fresh and tasty couscous salad would be perfect for lunchboxes. Prepare the couscous according to package instructions and add in chopped cucumber, red onion, cherry tomatoes and chickpeas. Make the dressing by mixing together olive oil, red wine vinegar, lemon juice, garlic and oregano. Stir the dressing through the couscous mix and top with crumbled feta cheese. Enjoy straight away or save for later!
Cod and couscous parcels: This is a quick meal that you'll end up cooking again and again! Start off by cooking the couscous according to pack instructions. Cut some squares of baking parchment, and place a fillet of cod in the middle of each, then top with the cooked couscous, fresh basil, cherry tomatoes, a lemon wedge and seasoning. Fold over the sides of baking parchment to make a parcel, then bake in a hot oven for about 20 minutes. Serve with baby potatoes and green veg.