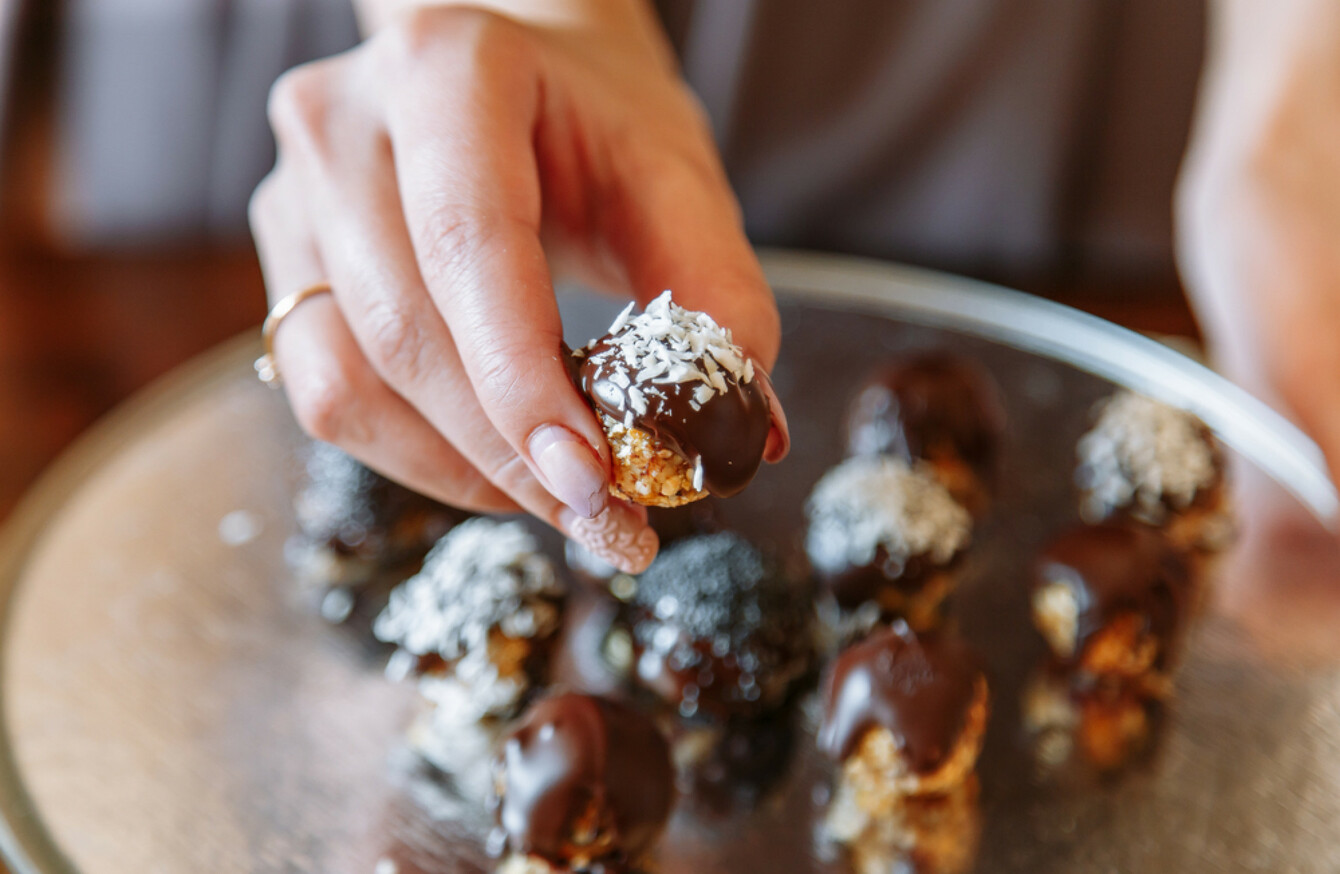 Image: Shutterstock/Elena_Frolova
Image: Shutterstock/Elena_Frolova
A GREAT SOURCE of plant protein, rich in fibre and "healthy" fats, nuts are an essential item for your weekly shop.
Not all nuts are created equal however, and each contains a  different set of nutrients. Almonds for example, are a good source of calcium, while brazil nuts are the richest known food source of selenium, which is important for a healthy immune system. Nuts also vary in terms of fat content: macadamia nuts and pecans rank highly in terms of fat, with pistachios and chestnuts containing less fat than the rest of the nut family.
As well as being a very handy snack to eat on their own, nuts can be added to so many dishes, both sweet and savoury. From energy balls to salad, we've some tasty ways to use up any leftover nuts below.
Homemade granola: Granola is super easy to make at home, and is packed with protein and healthy fats. Add whatever nuts you have leftover to a blender and blitz until the nuts are chopped but not too fine. In a saucepan, melt some coconut oil, honey, and cinnamon. Once melted, add in the nuts, a few spoonfuls of oats, sunflower seeds, flaked coconut and dried fruit.
Spread the mixture onto a baking tray lined with parchment, and bake in a hot oven for about 20 minutes or until the mixture is lightly browned. Allow to cool and break up the mixture, then store in an airtight container and use within 10 days. The serving suggestions for granola are endless; we love ours topped with some natural yogurt and berries.
Nut butter: Cashews, almonds and peanuts are the most suitable type of nuts for a deliciously creamy nut butter. To begin, roast the nuts in a hot oven for about 10 minutes, until toasted and fragrant. Pop the nuts into a food processor along with a pinch of sea salt, and blitz for a few minutes until you're left with a fine consistency- the mixture won't be creamy at this point.
Wait for the mixture to cool down, add in honey and coconut oil, and blitz again for about five minutes. Then add some more honey and coconut oil one spoonful at a time until the mixture is creamy. Stir well, then store in a sealed jar and use within one week.
Nutty couscous salad: Place the couscous in a bowl, pour over chicken or vegetable stock and cook according to pack instructions. Once the liquid has been absorbed and the couscous is soft, add in thinly sliced red onion, chopped cucumber, and halved cherry tomatoes. Stir in some pesto, chopped mixed nuts and top with crumbled feta. A great lunchbox filler, or top with a baked chicken breast for a quick and healthy supper.
Nutty flapjacks: These healthy treats are ideal for lunchboxes or a mid-morning snack. Place equal amount of sugar, butter and honey in a saucepan and melt on a low heat until combined. Remove from the heat, and add in chopped mixed nuts, oats and your flavour of choice (chocolate chips, cinnamon and dried cranberries all work well).
Spoon the mixture into a lined baking tray and press down so that the top is smooth, then bake in a hot oven for about 25 minutes, until golden. Cut into squares while still in the tray, then allow to cool completely. These will keep for about 4 days in a sealed container.
Energy bites: Place nuts in a food processor along with some pumpkin seeds and a large spoonful of oats, and blitz until finely chopped but not too fine. Transfer to a bowl and add in some desiccated coconut. If you like, add in some dark chocolate chips or a spoonful of flavoured protein powder.
Melt some coconut oil, peanut butter and honey over a low heat until just about melted, the add this to the dry mix and combine. Use your hands to roll the mixture in balls, coat with some more desiccated coconut, then chill in the fridge until ready to eat.