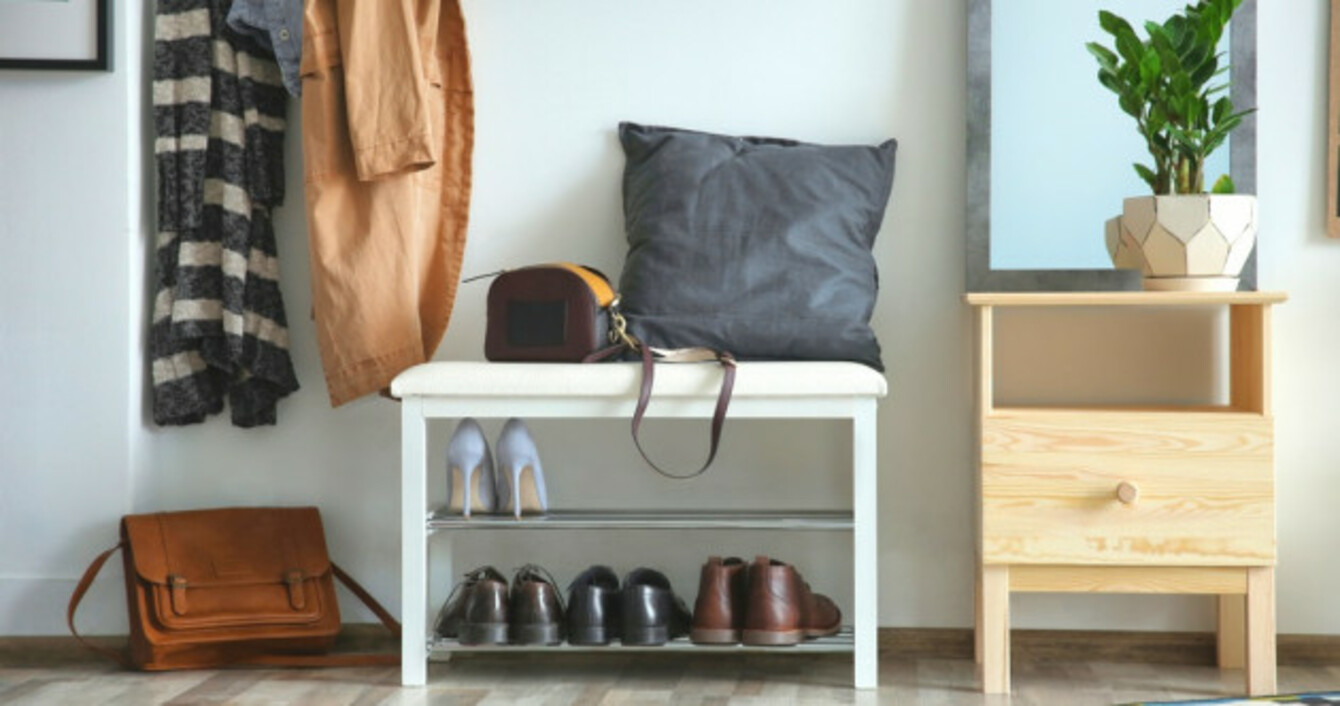 Image: Shutterstock
Image: Shutterstock
WHEN THINKING ABOUT the layout of our home, we tend to stick to a reliable formula.
The living room, for example, is typically centred around the TV and TV unit, complete with coffee table, rug and suite of sofas. Add in a few lights and wall hangings and you're done and dusted.
One area that people tend to struggle with, however, is the hallway. In many homes it's a narrow space, often starved of natural light. As the entry point to the rest of the house, and the space that gets the most footfall, it's a tricky space that needs to function well and look inviting, but rarely does.
It ends up as a dumping ground for coats, shoes, shopping, handbags, post, bundles of recycling that you'll get around to sorting 'later on', the dog's lead, the dog's poo bags…
How can you design the perfect hallway that ticks all of the necessary boxes of function and form, while also satisfying your desire for a stylish entryway? Here are the items I think work well in a hallway – and my guide to finding the right ones for you…
1. The hall stand
Starting with the most obvious of hallway accessories, you have the hall stand. 
What to look for: What you need is a unit that has ample storage. If your space will allow it, go for a chest of drawers (shop in the bedroom departments). If not, something like the IKEA HEMNES shoe cabinet with two compartments and a top drawer will do the trick. Oh, and you don't need to use it only for shoes – just because storage is marketed as having one specific purpose doesn't mean you have to use it that way.    
What to avoid: The current trend is for minimal hall stands with clean lines and at the most one or two narrow drawers. These may look good in magazines, but in a busy household with several people, you simply won't have enough storage.
2. A runner rug
No matter what size your hallway is, a runner rug will make it feel like a welcoming, homely entryway. RugVista is your best bet here, offering a huge range of styles and dimensions at affordable prices.
What to look for: Find a runner that fills the floor space, leaving a little bit of the floor visible on either side. 
What to avoid: Don't buy a rug that's too small and only fills half of the space. Even if it's a nice pattern, your eye won't like it from a Feng Shui kind of perspective. 
3. High-up storage
We always forget to look upwards for storage solutions.  If space is too limited for a hall stand – or you want the minimum of furniture – pop a decent, sturdy shelf at head height on one side.
What to look for: To use the storage space efficiently, pick up a few wicker storage baskets for the shelf, and let those be your dumping ground.
What to avoid: Don't get too excited and fill your hallway with storage at head height. Stick to just one or two shelves – there shouldn't be that stuff much to store in the hallway. 
4. The biggest mirror you can fit in
It's the oldest trick in the book but a mirror will – at least visually – double your space.
What to look for: Instead of playing it safe with a long rectangular mirror, go as big as you can with an oversized round option to fit the wall. These are a current trend and they really work. Meadows & Byrne have some chic and simple options that won't break the bank.
What to avoid: Don't stick up a tiny mirror that you'd find in a small bathroom. This will dwarf the space. 
5. Hallway benches
Benches are a stylish furniture statement that make the hallway more liveable – particularly if you have a lot of people in the house. Plus, uou can add more wicker baskets underneath, hiding the spillover of shoes.
What to look for: A bench with a fabric cushion on top adds texture and more depth to the hallway. I love this beautiful and practical West Elm option.
What to avoid: Don't wind up with a bench that's too big and throws off the whole space. Furniture will always appear much smaller on an open shop floor, so whip out the measuring tape before buying it.
6. The right coat hooks
Accept that a pile-up of coats in the hallway is inevitable and provide a solution that keeps things tidy.
What to avoid: Don't forgo hallway hooks in favour of another hanging area elsewhere in the house. Rarely do we come home, take our coat off and hang it neatly in the wardrobe.
What to look for: Choose a rack with at least four hooks (try Homesense for affordable options). Or consider combining the coat hook rack with the shelf in one handy wall unit. Etsy have some great stylish options.
7. Wall art that doesn't take over
Though not necessarily functional or even essential, wall hangings can add so much personality to a hallway that they should be worthy of your consideration.
What to look for: Aim for a well-planned space. Choose three pieces – photos, abstract prints or graphic quote posters that you like (for this check out iamfy.co) – and frame them all to be uniform in size and style. 
What to avoid: There's a tendency to fill hallways with countless picture frames that take over the walls entirely. This will be overwhelming and cluttered, so go for larger and fewer.
8. A house plant (even if it's fake)
Options for hallway accessories beyond wall are minimal, but a plane is always a safe go-to. Plants add colour and will make your entryway feel more homely. 
What to look for: A chic plant pot on legs will keep things feeling spacious, as the eye will still be able to follow the floor through underneath. See this concrete planter from Next.
What to avoid: If natural light is an issue, your real plant will die, so in this instance go the artificial route. There are lots of really good quality artificial plants available these days that won't scream 'cheap plastic!' as you walk in the front door.
Caroline Foran is an interior stylist, co-founder of GAFF Interiors, author and journalist.