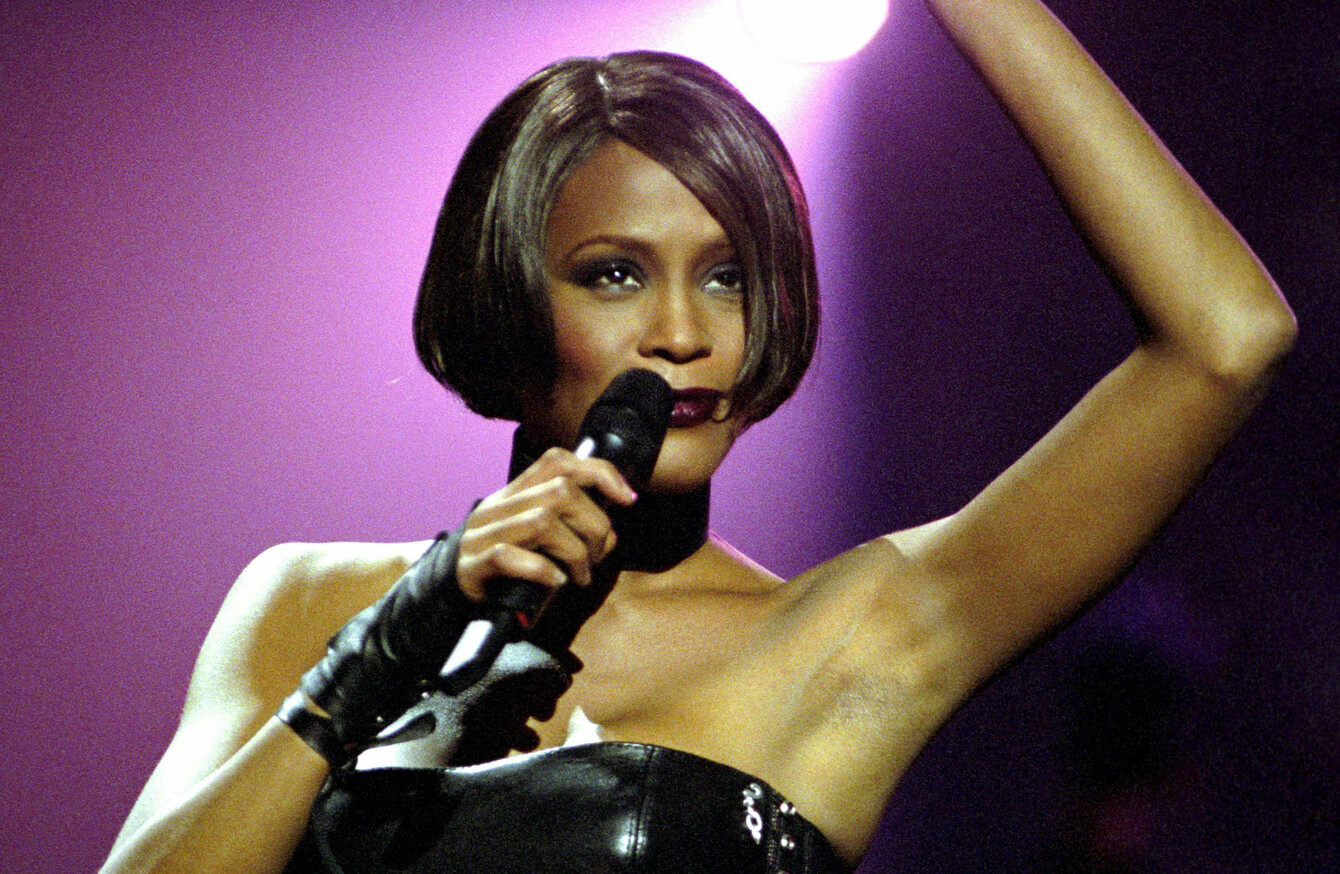 Image: PA Archive/PA Images
Image: PA Archive/PA Images
A NEW DOCUMENTARY has uncovered how singer Whitney Houston was abused as a child – and details the destructive affect it may have had on her life.
The film, Whitney, is directed by Kevin Macdonald (Touching The Void, Last King of Scotland). Though it's the second documentary about the singer in two years, it's the only one to have participation from family and friends. Through speaking to 75 people connected to Whitney, Macdonald uncovered that Houston was allegedly abused by relative Dee Dee Warwick (sister of the singer Dionne Warwick).
The documentary explores how the abuse may have impacted the singer's tragic life. She died at the age of 46 from drowning in a bathtub, after years of drug abuse.
Speaking to TheJournal.ie, Macdonald said that when he was initially approached to make the documentary, he thought: "I'm not that interested in Whitney – what else is there to say, there's been so much written and said about her". But when he met with her agent Nicole David – who represented the singer from 1985 until her death – things changed.
"She said to me, 'I never understood Whitney. I loved her more than anybody else I ever worked with and I never understood her and I never understood why she ended the way she ended'," recalled Macdonald. "So she really wanted me to find that out. So it was that that challenge, from somebody so close to her, was really intriguing, to crack the enigma of her character."
The family wanted some of the gossip around Houston's life challenged, but Macdonald said that they didn't want the documentary to be a "puff piece" or make her out to be an angel.
[image alt="Whitney Houston death" src="http://cdn.thejournal.ie/media/2018/07/whitney-houston-death-5-329x500.jpg" width="329" height="500" title="" class="alignnone" /end]
Whitney Houston's life ended in tragedy, but Macdonald said that the film isn't just about tragedy – it's also about her talent and the impact she made on the music industry.
"She did have – whether consciously or not – she had a musical power that changed the world, between [her rendition of the Star Spangled Banner in 1991] and The Bodyguard and playing South Africa, those things, she had major social impact," he explained.
But she also faced some intense criticism over the years. After becoming famous, she faced a backlash within the African American community, and was accused of whitewashing herself. Al Sharpton, for example, is seen in the documentary brandishing placards with 'Boycott Whitney 'Whitey' Houston' on them.
"Race played such an enormous part of her life. She was probably the kind of person who, if she had her way would have been completely post-racial in a sense, in that's how she saw herself. But actually the world wouldn't let her be that, rightly or wrongly," said Macdonald. He believes that part of Houston "never grew up".
He feels that she wasn't that complicated a person, and understands how her parents' divorce had such an impact on her: "It's because that was the only secure time she had in her life and growing up, being bullied, school, being abused as she was, that actually her family was everything. So when the family explodes, it's devastating."
Abuse revelations
The documentary features clips from home movies of Houston, captured by family members, her make-up artist and others. They show "the real natural Whitney that you don't really see", and they gave Macdonald a new insight into her character.
The film was more than a biography to him. It became "an investigation", a detective story. "The mystery being: What happened to Whitney, who was she?"
Macdonald only found out very late in the process that Houston had been abused. "I started having suspicions that there was some kind of trauma in her life and probably in her childhood relatively early on while watching the archive, and thinking 'this is somebody who's really not comfortable in her own skin'," explained Macdonald.
"She just felt like the person who was very, very vulnerable, very self-protecting. And it kind of seemed familiar to me to [be like] people I'd met who had suffered childhood trauma."
[image alt="'Whitney' Photocall Cannes 2018" src="http://cdn.thejournal.ie/media/2018/07/whitney-photocall-cannes-2018-630x420.jpg" width="630" height="420" title="" class="alignnone" /end]
During the fourth interview with her brother Gary, while they talked about drug abuse, he said that he gets flashbacks to things from his childhood, as he'd been abused. That was a "total shock" to Macdonald, who asked him about whether Whitney had been abused.
While he didn't confirm it, his wife Pat did. Two weeks before they finished the edit, Mary Jones – Whitney's assistant – told Macdonald she wanted to talk about the situation. It had remained unspoken for so many years, with Houston not even telling her therapists.
"She wouldn't talk to her mother about it, it festered," said Macdonald.
To name an abuser or not
The issue for the documentary makers was whether or not to name the alleged abuser Dee Dee Warwick. In the end they decided to. For one, she was dead, but also not naming her could have led to them looking like they were accusing someone else of the crime.
The fact that the Harvey Weinstein and MeToo discussions were happening at that time further pushed them on, said Macdonald.
"It felt like pretty compelling evidence and a pretty compelling reason to out the perpetrator, so in the end we felt that was the right thing to do," he said. The family were very upset about it at the time, but a recent meeting with family members showed him that they were glad they had spoken out.
He said they told him it has set them free in a way – and that they hope it will encourage people to attend therapy, something which can be somewhat taboo in the African American community.
"The impact for the survivors as it were has been really, really positive actually," said Mcdonald. "I think it's painful to lance the boil but once they had done they are all [saying] actually this is the right thing to do."
Any form of journalism is an invasion in people's lives in a way but there has to be a public interest to some degree, the same way as there would be in a newspaper or a website. The idea of making the film was to neutralise all the speculation and the gossip, the tabloid scrutiny.
'A feminist cautionary tale'
#Open journalism No news is bad news Support The Journal

Your contributions will help us continue to deliver the stories that are important to you

Support us now
Speaking of tabloid scrutiny, the documentary gives us a look at Houston's ill-fated relationship with singer Bobby Brown, which Macdonald calls "a feminist cautionary tale" given how much she gave up for him.
He believes her desire for the security of marriage overtook everything else. But he doesn't think Brown "is an evil person". "I think that any normal person certainly today would have said to Whitney: 'Why the hell are you with him?' Which is what all her friends were saying to her: why don't you leave him, you don't need him, he's a total loser, he's bringing you down.
But somehow that's the thing about her psychology that is so interesting. I think in the film you can sort of figure it out, it's not pointed out completely to you, why she feels so determined to hang on to this marriage.
The documentary also details the death of Houston and Brown's daughter Bobbi Christina. "There's an added tragedy when you realise that Whitney always took Bobbi Christina with her and kept her with her because she was so terrified that she would be abused in a way Whitney had been," he said.
In trying to protect her, Bobbi Christina wound up "around adults seeing adult things she should not be seeing".
Whitney Houston was a complicated person, and Macdonald struggled with his feelings about her. "You have to love the person you're making the film about otherwise it's very, very difficult… or at least respect them, and I found it very hard at times, particularly in relation to the Bobbi Christina story, to like her."
He describes making the film as "a very complex journey". "I spent 18 months in the company of somebody who you are fighting whether or not you like them, but in the end I just feel, I do feel enormous compassion for her, because I think she was so lost.
"I think she never really developed a personality beyond what age she was abused at – maybe that's when things stopped for her, her development.
"So if you don't know who you are, as someone says in the film it's very difficult to sort your life out. Maybe that's the sad truth about her."
[image alt="Showbiz Houston/Brown" src="http://cdn.thejournal.ie/media/2018/07/showbiz-houstonbrown-338x500.jpg" width="338" height="500" title="" class="alignnone" /end]
But he hopes that all of the dark times are balanced by the celebration of her talent and rise to success. He describes her voice as "a once in a generation talent which really affected people emotionally, in a way that is so rare in any art form".
He said he believes that Houston used singing to deal with her emotions, and he theorises when her voice started breaking down, that contributed to her feelings of unease.
"It's an interesting thing, watching all the footage of her and you feel she's so uncomfortable, she doesn't really feel like she is at ease in any circumstance except when she's singing. When she's on stage and she's singing she's suddenly comfortable, totally in command and totally fearless but when she's offsage she feels lost."
Another documentary about Whitney Houston, directed by Nick Broomfield, came out last year. Macdonald knew about its release, but points out that none of the 75 people he talked to had been interviewed for that documentary.
"That's why it was worth making this film. Because the people who were there and knew her and loved her are taking part in it. And instead of being more speculation, it's hopefully the truth."
Whitney is out in cinemas this weekend