Chris Tarrant congratulates Pat Gibson, who won £1 million in 2004.
Image: PA/CELADOR/ITV
Chris Tarrant congratulates Pat Gibson, who won £1 million in 2004.
Image: PA/CELADOR/ITV
THE INFAMOUS CASE of Major Charles Ingram – who was convicted of cheating his way to £1 million on Who Wants To Be A Millionaire – has been turned into a new drama series.
The first episode of Quiz – featuring Irish actors Risteárd Cooper and Aisling Bea – aired on ITV last night and is on again tonight and tomorrow.
The show was a phenomenon around the turn of the Millenium as contestants vied to win the top prize, and the format was exported to many other countries.
Only five people won £1 million in the UK version, so let's see how well you'd have done with the questions faced by those who reached that far.
Best of luck!
The infamous Ingram got this one right in 2001 but later had the million stripped from him: A number one followed by one hundred zeros is known by what name?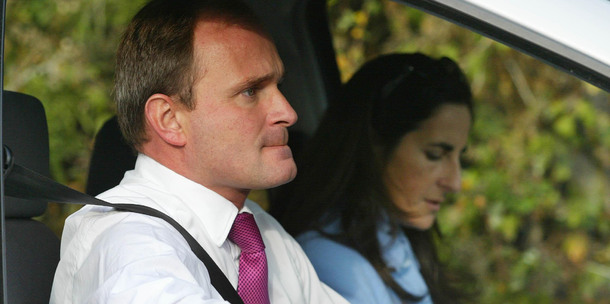 Chris Ison/PA Images


John Carpenter got through to the million question without using any lifelines in the US version. He then phoned his dad on the last question, not for help, but to tell him he knew the answer to: Which of these U.S. Presidents appeared on the television series Laugh-In?
ABC/Youtube


Judith Keppel was the first to win the UK edition by getting this right. Which king was married to Eleanor of Aquitaine?
WWTBAM/Youtube


John Robinson took the money in March 2019 because he didn't know the answer to this: Which of these UK prime ministers never served as foreign secretary?
WWTBAM/Youtube


Just a few months later, Davyth Fear didn't take the plunge on this and took the money instead: Which of these people was born the same year as Queen Elizabeth II?
WWTBAM/Youtube


Rosie O'Donnell won $500k for charity on the US Celebrity version after walking away from this question: Playwright Anton Chekhov graduated from the University of Moscow with a degree in what?
Shooting Star/PA Images


Pat Gibson used 50:50 and phone a friend to get over the line on this and win the million. Which of these is not one of the American Triple Crown horse races?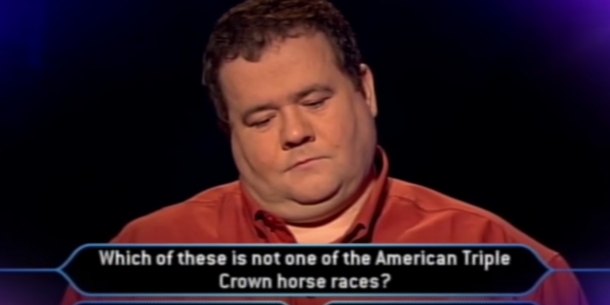 WWTBAM/Youtube


Roger Walker walked away from this million pound question in 2002. Which of these is a butterfly, not a moth?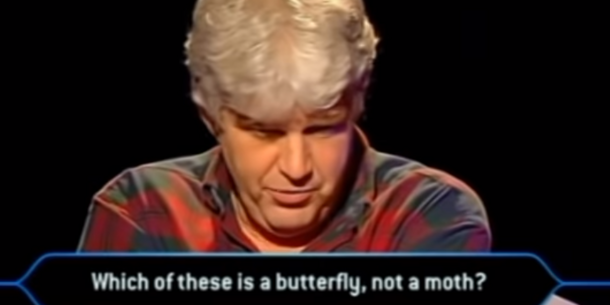 WWTBAM/Youtube


Phil Gibbons didn't fancy this question on the US version in 2000. In the US, the Sony Walkman personal cassette player was originally marketed in 1979 under what name?
Tatiana Popova/Shutterstock


Jamal (Dev Patel) wins the jackpot at the finale of Oscar-winning film Slumdog Millionaire by answering this right: In Alexander Dumas' book The Three Musketeers, two of the musketeers are called Athos and Porthos. What was the name of the third musketeer?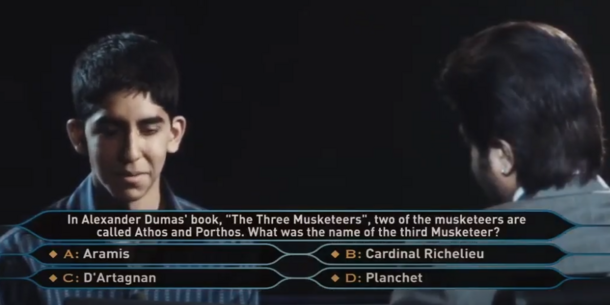 Celador/Film 4 Answer all the questions to see your result!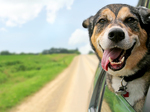 You scored out of !
Top dog
Your cheque is(n't) in the post
You scored out of !
Clever cat
Almost purrfect
You scored out of !
Fintastic
A great effort
You scored out of !
What are ewe doing?
Baaaaaad
You scored out of !
Turtely awful
A shell of a bad effort