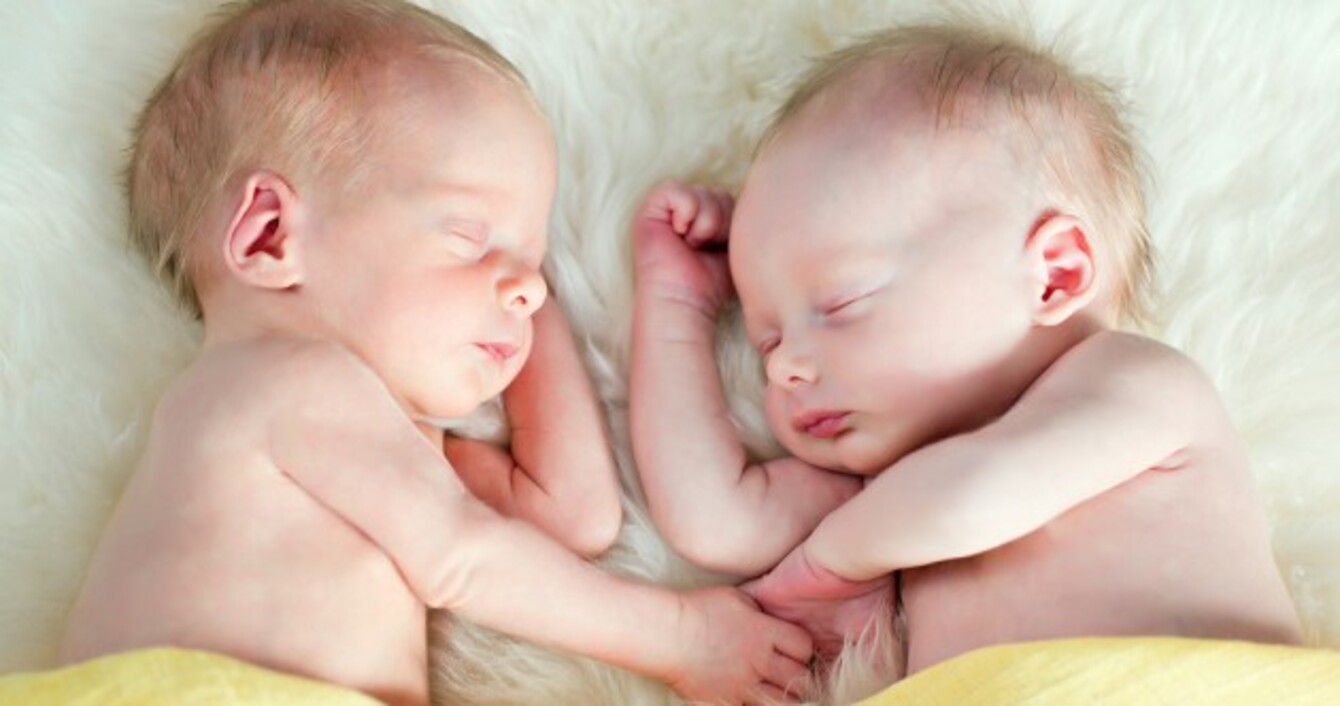 Image: Shutterstock/Ekaterina Shtern
Image: Shutterstock/Ekaterina Shtern
THERE WAS A 36% increase in the birth of twins in Ireland between 2004 and 2013.
Figures from the HSE show that in 2013, there were 2,526 twin births, compared to just 1,849 in 2004.
Every year the number of twin births has risen.
The number of triplet births has also risen from 54 in 2004 to 87 in 2013. This accounts for a 61.1% increase over the decade.
So, why the big increase?
Speaking to TheJournal.ie, Medical Director at Beacon CARE Fertility Dr Ahmed Omar said the number of twin births is not only rising here, but worldwide. 
Assisted reproductive therapies is the main contributory factor pushing multiple births up, said Dr Omar, but studies have shown that twin births in natural pregnancies are also on the rise, mainly due to the increase in the maternal age that women are conceiving.
What's the likelihood of having twins? 
Dr Omar said that in a natural conception the chances of having twins is 1 in 80. However, with In Vitro Fertilisation (IVF) the chance of conceiving twins is 1 in 5.
"One baby at birth is preferable," said Dr Omar, who said that couples might disagree with this.
The reason why there are generally more multiple births is because embryo success was low, so more than one embryo was transferred, sometimes four or five," he explained.
He said that this doesn't have to be the case nowadays.
The success rate has improved dramatically. There have been huge advances in technology and embryo selection, which means the need to transfer more than one embryo has decreased.
The selection process has changed significantly – we now have the ability to incubate embryos and pinpoint embryos with an increased chance of reaching a live birth. Confidence in using single embryo transfers has also increased.
Dr Omar said it is now the role of medical professionals to educate patients that multiple embryo transfers are not always necessary, as while success with IVF treatment in the past was low, studies show there can be a 70% success rate with a single embryo transfer.
He said that couples are under huge pressure to succeed and there are costs to consider too.
However, he said it is important to educate people about the risks also.
The need to transfer multiple embryos has lessened, but we also have to think about the cost to society of twin births – whereby mothers are admitted to hospital weeks before the birth, and babies are spending weeks in ICU due to a low birth weight.The long term effects on the child throughout its life due to premature births also needs to be considered.