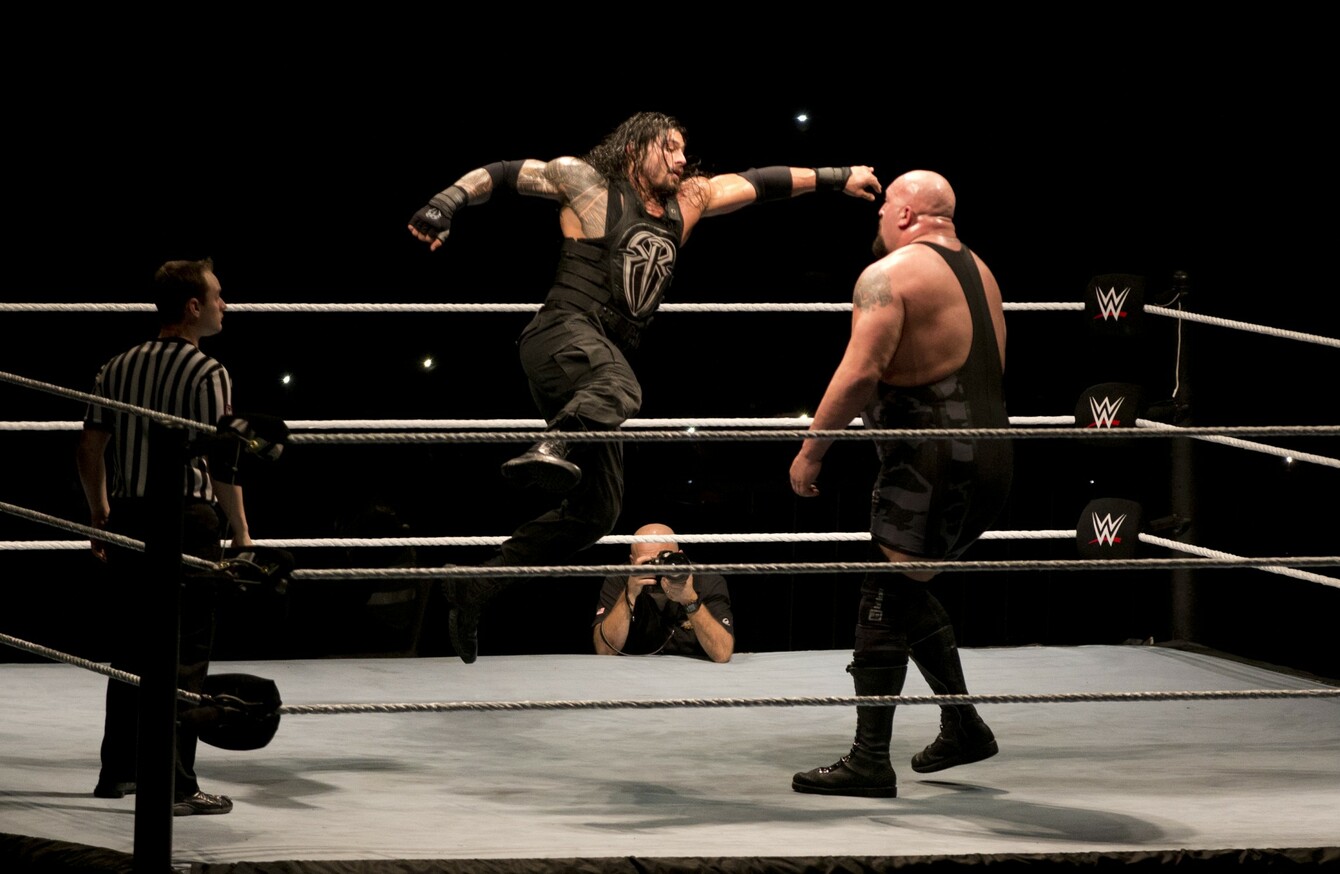 Image: AP/Press Association Images
Image: AP/Press Association Images
EARLIER THIS WEEK, former stars of professional wrestling brought a landmark lawsuit against the biggest name in the industry: WWE.
More than that, the men and women – some who were among the biggest names in the business at one time or another and some who spent their careers "jobbing" (losing) – took aim at the WWE owner Vince McMahon and the entire wrestling industry.
The 214-page complaint which outlines the basis of the case alleges a host of failings on WWE's part.
It says the company ""routinely failed to care for" the plaintiffs' health in "any medically competent or meaningful manner".
The complaint says some of those involved have chronic traumatic encephalopathy (CTE) a condition seen in many American football players, caused by repeated blows to the head.
Industry
But, what may be more serious for WWE and the worldwide sports entertainment industry is a line on page three of the document:
"The wrestling moves that involve the occupational head trauma that causes CTE and associated diseases from the accumulated effects of TBIs are the result of wrestling moves and manoeuvres that were performed "correctly" by the Plaintiffs.
In other words, the head trauma that has resulted in injury is the accumulated effect of many impacts to the plaintiffs' heads that occurred on a regular, routine basis during their WWE career.
By now, most people will know that WWE bouts are staged in so much as the outcome is predetermined. It is a TV show and the wrestlers are merely heavily-muscled performers.
But that line could change everything.
It implies that no matter what, wrestlers are at risk of concussions even if everything goes well.
Wrestlers have for years contended that if everyone "works safe", there are few injuries. But the lawsuit alleges that no matter the lengths they go to, traumatic brain injury is unavoidable.
CTE is tied to repeated brain trauma and associated with symptoms such as memory loss, depression and progressive dementia.
While the lawsuit acknowledges that WWE has been investing in medical studies of CTE with a group called the Concussion Legacy Foundation, headed by former WWE superstar Chris Nowinski, they say the research into wrestlers is lacking.
Despite studying 187 brains for CTE since 2013, (the foundation) has not studied a single wrestler's brain.
"Over 100 wrestlers have died in this time period."
Allegations
#Open journalism No news is bad news Support The Journal

Your contributions will help us continue to deliver the stories that are important to you

Support us now
While many informed fans have long been aware of WWE's reputation as a punishing place to work, the allegations in the lawsuit are sobering.
These include:
Joe "Road Warrior Animal" Laurinaitis claims he suffered at least four major concussions and was powerbombed after returning from back surgery.
Chavo Guerrero Jr describes the WWE culture as "brutal, with near total disregard for his health and safety".
Bryan Clark, who performed under the name Adam Bomb says it was common in WWE and wrestling to be knocked in the head and lose consciousness.
Tony Norris, who was known as Ahmed Johnson, says he was knocked unconscious after being hit with a guitar.
James Harris, the 410-pound man who played a caricature of an African save named Kamala, claims he was required to walk barefoot everywhere. He was later diagnosed with diabetes and lost both feet.
Ken Patera cites an 1987 match in Madison, Wisconsin where his injuries required 450 stitches and eventual surgery, despite no ambulance, doctor, or even ice on site at the performance.
According to Johnny Stamboli ""You kept your mouth shut about injuries, compensation or anything else or you would get heat from the office".
Mike Enos, one half of The Beverley Brothers, claims he got a concussion and "walked it off".
Sylvain Grenier claims he broke his neck "at some point" but wrestled on as "the rule was don't get hurt". He was diagnosed when he secretly asked a doctor, who diagnosed him within five minutes.
Mark Jindrak claims there was no concussion protocol or follow up.
Marty Jannetty asserts WWE sometimes had doctors who mostly distributed drugs. "Generally we had to take care of ourselves, I would help other guys pop shoulders back into place".
JJ Funk alleges his eye fell out after being kicked by another wrestler.
Others say they have severe neurological and physical injuries including dizziness, depression and broken discs in their backs.
WWE response
Of course, WWE is contesting the lawsuit and is hopeful it will be thrown out of court.
This is another ridiculous attempt by the same attorney who has previously filed class action lawsuits against WWE, both of which have been dismissed. A federal judge has already found that this lawyer made patently false allegations about WWE, and this is more of the same. We're confident this lawsuit will suffer the same fate as his prior attempts and be dismissed.
With millions of dollars at stake, WWE will hope they are right.