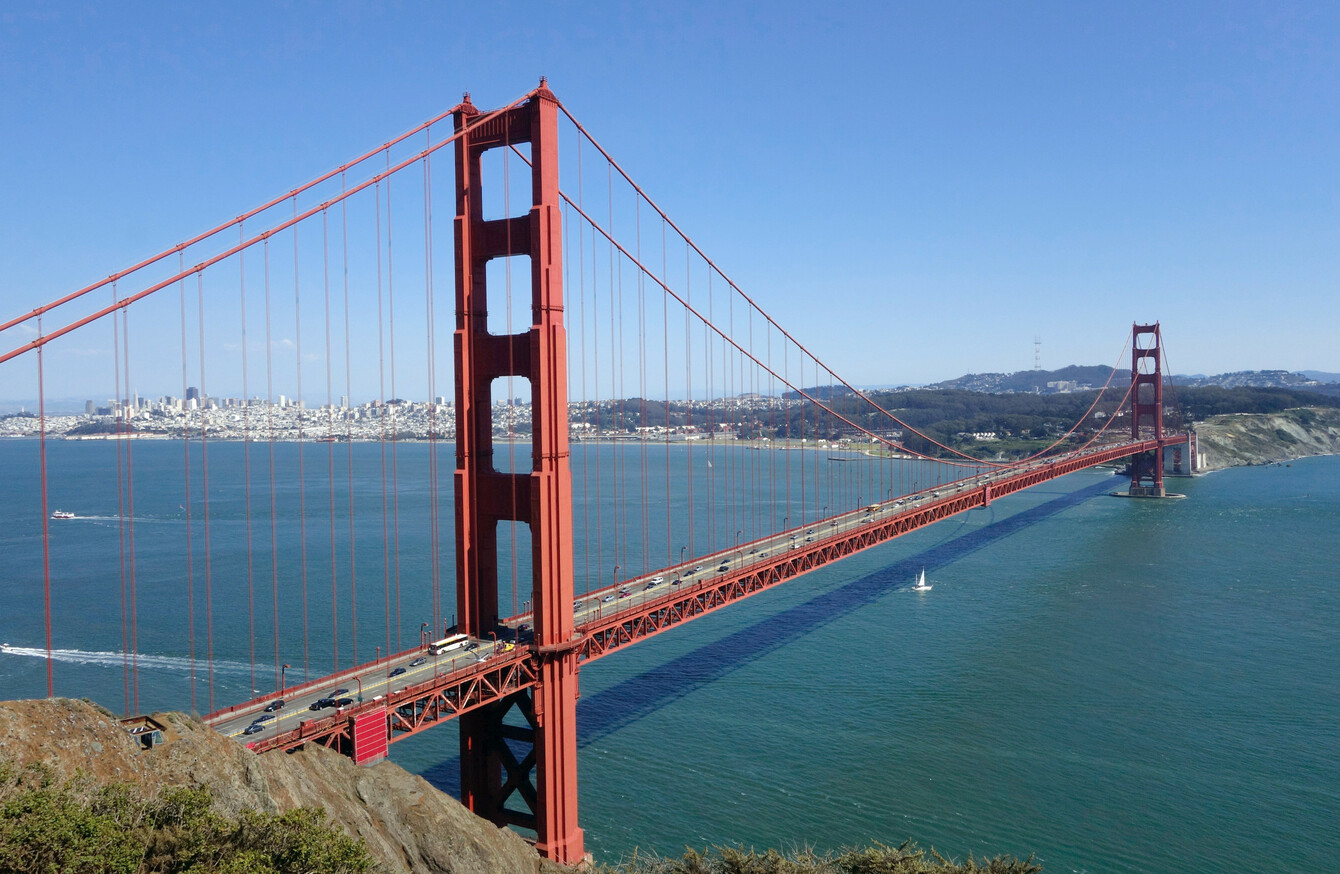 Image: DPA/PA Images
Image: DPA/PA Images
IT IS ONE of the world's most recognisable structures – but did you know the Golden Gate Bridge was overseen by an Irishman?
Born in Loughill, Co Limerick, Michael M O'Shaughnessy, moved to Galway in 1882 to study engineering in what was then called Queen's College Galway. In 1885, he emigrated to America, where he embarked on an illustrious career on railways, mines and irrigation projects in California and Hawaii.
In 1912, O'Shaughnessy was appointed City Engineer for San Francisco, six years after the city's devastating earthquake.
For over two decades he was involved in many iconic projects in the region. He approved the concept of a bridge crossing the Golden Gate Strait and the subsequent design of the Golden Gate Bridge. He led the development of municipally-owned utilities including the city's famous streetcar system and hydro-electric power projects.
An archive of papers belonging to the NUI Galway graduate have gone on show this week.
O'Shaughnessy led the Hetch Hetchy reservoir and power project at Yosemite National Park, which is still the primary water source for residents of San Francisco. One of the dams in the project is named the O'Shaughnessy dam in his honour.
The archive was donated to NUI Galway in 2016 by Bernadette O'Shaughnessy whose late husband was a grand-nephew of Michael O'Shaughnessy.
Its contents include material that documents his time in private practice: a large and fascinating volume of photographs from throughout his professional and personal life, engineering drawings, related reports and correspondence that detail survey work in California, and irrigation design and construction projects in Hawaii.
The Bancroft Library at the University of California, Berkeley, also holds a major collection of archival material donated by his youngest daughter, Elizabeth, in 1992.
University Librarian at NUI Galway, John Cox, said: "Michael Maurice O'Shaughnessy had a very distinguished career in the United States and his work continues to be recognised in San Francisco today. This was evident to me when I visited UC Berkeley earlier this year and learned of the extensive use being made of the archive there. The material donated to NUI Galway complements the Berkeley archive and adds new insights into his family life in particular."
The exhibition has been curated in a joint project between the NUI Galway Library and the College of Engineering and Informatics. In addition, a distinct project to explore the archive in O'Shaughnessy's own words, using his memoir will also be available online.