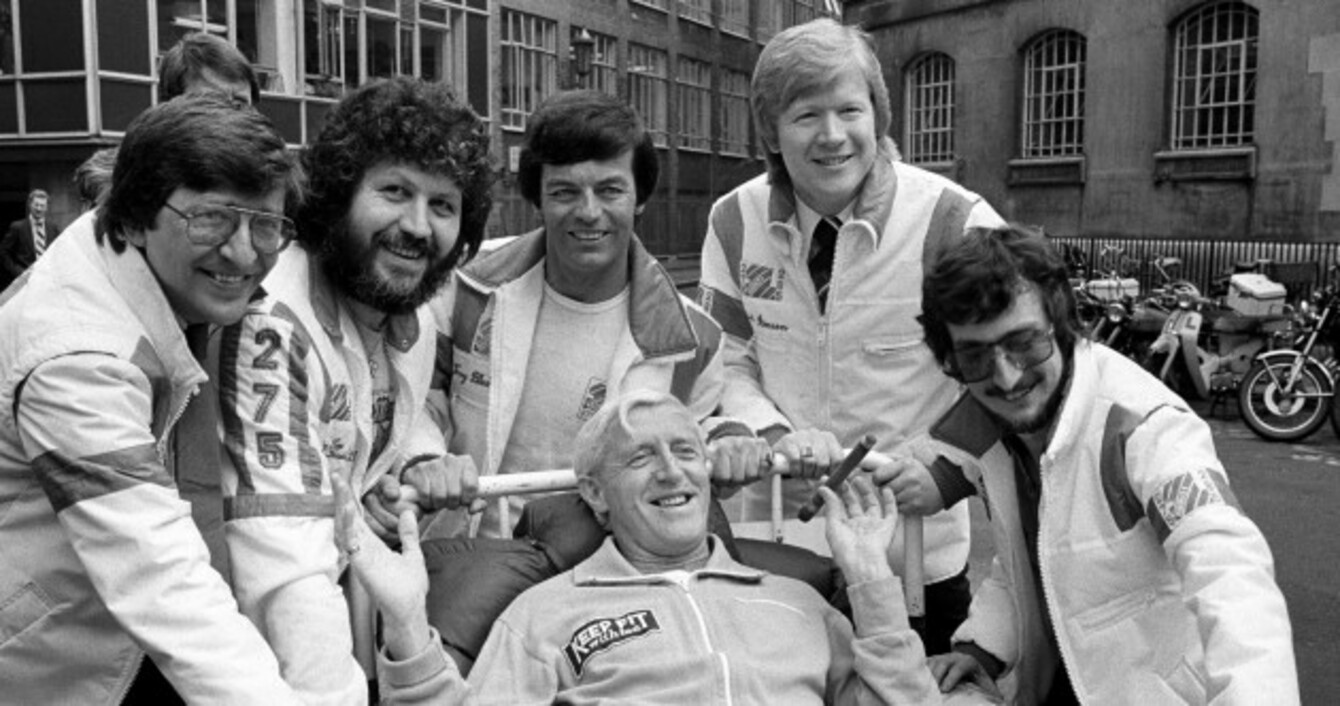 Image: PA Wire/Press Association Images
Image: PA Wire/Press Association Images
NOW UNCOVERED AS one of the most prolific sexual abusers in the UK's history, Jimmy Savile hid his depraved activities in plain sight for his entire lifetime.
Details of his crimes only came to light after his death in 2011 when a documentary aired claims by a number of women that they had been sexually assaulted by the BBC star.
Today, 28 reports detailing the scale of his abuse have been published by hospitals where he was seen as a patron and celebrity.
He raised millions of pounds for various facilities across the country and his numerous ward visits were, as the Leeds report states, seen by many as a "boost to morale".
According to investigators, Savile regularly visited wards and departments at Leeds General Infirmary  - both as a porter and as a celebrity over five decades, particularly the 1960s,'70s and 80s.
Over the years, he became an unremarked-upon presence in the hospital, relatively unnoticed by staff and management, generally perceived as part of the Infirmary 'family' owing to the longevity of his relationship with them.
His visits would mostly be unannounced and could occur at any time of the day or night. He was considered to be popular with patients but would also chat with staff.
It was this familiarity, this taking his presence for granted, that enabled his sustained and unquestioned access, including to the most vulnerable individuals in the hospital, to continue.
One witness said that he "sort of basically had the run of the place, you know", while another added, "He had a passport to go anywhere".
During the late 1960s and 1970s, Savile had wide-ranging access across the Infirmary and there was little evidence of any challenge or controls of his whereabouts.
He achieved this through grooming of certain groups, such as giving gifts to the porters, and becoming accepted by understanding different subcultures in the hospital.
What he achieved was invisibility. A powerful trait that provided him with opportunities to abuse.
On occasions, he would help give bed baths to patients and regularly visit the mortuary. As a volunteer porter, he would pick jobs that would bring him into contact with the young and vulnerable.
"He'd [Savile] just turn up, 'Right, what's on the board?' [on which there was a list of patients waiting for a porter], and he would go and get a patient, he would choose his own," one witness recounted..
That is how he did it, if a patient were ready to go it would save going back to the ward, and he would take his pick. Nobody questioned it.
Thirteen of his Leeds victims had abusive encounters while he worked alone as a porter.
As part of the unfettered access, Savile was also allowed to use car parking spaces for the overnight parking of his campervan, where some of the offences occurred.
"He had access to offices, to on-site residences and to other restricted areas via his relationships with the Head Porter and other senior managers in the late 1960s," reads the report.
"This access remained unchallenged for the entirety of his association with the Infirmary."
Savile had three offices allocated to him from 1992 to 2011 and up to the 1980s used the hospital as his postal base. A member of staff even helped him with his correspondence. This arrangement was reinstated as late as the 1990s.
A sex pest and a good fundraiser
Today's report into goings on in Leeds looked at how other staff members viewed Savile and investigators came across disparate views.
The staff in the wards "tolerated" him because of his celebrity and popularity but many saw him as a "nuisance, a disruptive presence in the clinical areas and a sex pest".
Among senior managers, though, he was seen as a "force for good, a great and positive publicist, a morale booster and a welcome fundraiser".
Altogether, sixty instances of abuse were uncovered by the recent investigations in Leeds, with victims aging from five to 75 years old. The incidents took place between 1962 and 1999 in various locations, including the wards, the offices, a nearby café, Savile's campervan and his mother's home.
The investigation shows that while he acted "mostly alone", there were some occasions where he was assisted by a small number of individuals thought to be employees.
He was "most active" in the 1960s and 1970s, when he was at the height of his celebrity.
The report's authors looked at the impact of celebrity in the time period, noting that it was different to what we experience today, especially in terms of profile and longevity of those who appeared on television.
"With only three TV channels, and no internet or social media, there was less choice and a greater collective engagement with fewer TV programmes," they write.
"Because of his TV and radio profile, and the huge and enduring popularity of programmes like Top of the Pops and Jim'll Fix It, Savile had a far longer career as a famous person than many of today's fleetingly famous celebrities."
Savile also used his close proximity to famous singers and pop groups to gain attention from teenage girls. The investigators note that in a time when 'Beatlemania' was everywhere, teenage girls were "overcome by the emotional intensity of their desire to see and have contact with their idols".
They believe that this is accompanied by a particular vulnerability, which still persists today when examining the adulation of young singers, such as One Direction.
Savile understood the power of his celebrity and used it, honing in on that vulnerability and later using tactics of humiliation and intimidation.
"He knew that if he was photographed running a marathon for charity, or launching a particular fundraising campaign, publicity would follow," the report states.
"Generally such publicity was uncritical, respectful and superficial, and this type of publicity followed him throughout his career."
Today, hospitals are run very differently but the reports still have recommendations about security and control, with particular attention on high-risk areas and secured areas.
Leeds Teaching Hospitals NHS Trust confirmed that VIPs and celebrities do not have open access in and around the hospitals.
"They are registered at every visit and accompanied at all times," it said in a statement today.
Tighter controls can help but society also need to understand the perpetrators of such horrific abuses.
Support group CARI has drawn parallels between Savile and many other offenders whose victims they have treated over the past 25 years.
"He shares the same features as most offenders; namely, is a pillar of the community or family, charming, persuasive but with a ruthless streak and never, ever admits guilt," explains CEO Mary Flaherty.
"Victims are often not believed, young, disabled and whole families and institutions are groomed to silence. It is also a little-known fact that a single offender will abuse multiple victims – sometimes across generations."
She points to the nefarious Fr Oliver O'Grady who has admitted he did not know how many boys and girls he had sexually abused. And to Domhnall Ó Lubhlaí who has been dubbed Ireland's Jimmy Savile because he had used a respectable organisation as a valuable hiding place.
She also noted that Savile's most recent offence was 2009, just five years ago.
"There remains in Irish and UK society a tendency to assume that sexual abuse is primarily a historical problem."
But it is still in our midst. The recent harrowing Longford case, where a woman and her neighbour abused her young daughter, is just one example. There, Judge Tony Hunt said that what was particularly distressing was that the abuse did not come from "other eras".
His parting words were that nobody should be complacent about child abuse and neglect.