Clouds of steam spewing through a crevasse in Vatnajokull glacier, near Grimsvotn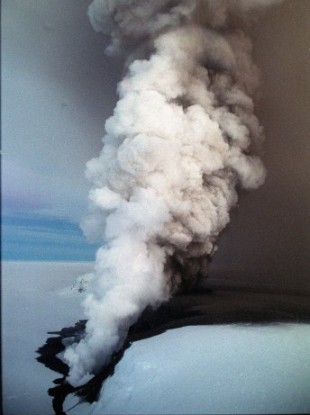 Clouds of steam spewing through a crevasse in Vatnajokull glacier, near Grimsvotn
ICELAND – AND THE rest of Europe – are on volcanic/ash cloud watch again. When meltwater began flooding from the glacial lake in the crater of Grimsvotn volcano on Iceland's biggest glacier Vatnajokull yesterday, geological officials began to fear it might be about to erupt.
The country's Civil Protection Department are keeping a close watch on the situation as Vatnajokull lies on a number of volcanic hotspots, including Grimsvotn volcano. A statement from the department today read:
A meeting was held on the Science board today in light of the latest events in Iceland. Earthquakes, eruptions and glacial river floods were on the agenda. Grimsvotn were a special item on the agenda because of a flood that started on Sunday. Glacial river floods have started eruptions in Grimsvotn before, the last one being in 2004…
While Iceland is declaring only the lowest stage of alert, "the so-called stage of uncertainty", we at TheJournal.ie like to keep our readers prepared for anything.
Firstly, familiarise yourself with the area with this slideshow: