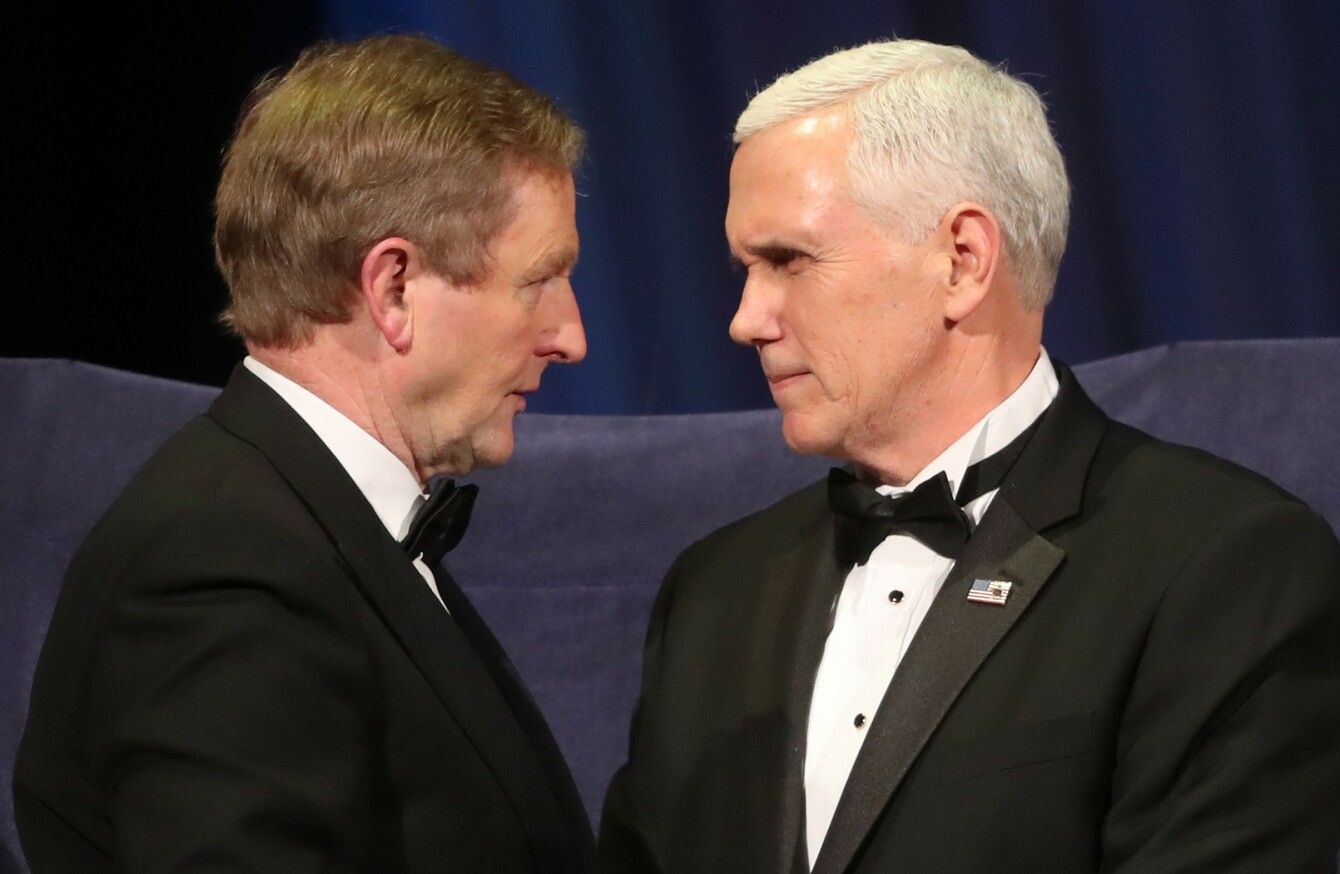 Image: Niall Carson
Image: Niall Carson
Source: TheJournal.ie/YouTube
— With reporting from Christina Finn in Washington DC
TAOISEACH ENDA KENNY spoke about US Vice-President Mike Pence's Irish roots at a black-tie dinner last night.
Pence was presented with an elaborate family tree and with the original roll book from the Co. Sligo school where his grandfather was enrolled in 1912.
Addressing the crowd at the Irish Funds Gala in Washington, Kenny said, "I know Vice President Pence has been a regular and diligent visitor to the old country, to our country, to Ireland.
He's spoken beautifully about his trips to Ireland as a teenager, helping out on the family farm in Sligo, the family public house in Clare – that's where he gets the music. Clearly these experiences have stayed in his heart in a distinguished career both in Congress and as Governor of Indiana.
Kenny added, "Vice President Pence has joined a distinguished list of Irish Americans who have occupied the highest political offices in this country and we take special pride in the fact that for the first time in the history of this great republic, one Irish American has succeeded another Irish American in the office of the Vice Presidency of the United States."
Source: TheJournal.ie/YouTube
Pence said, "I literally carry Ireland with me everywhere I go."
He spoke about how on one of his first trips to Ireland he was allowed to help in the bar and he told an old woman in the pub that he was related to the family that owned the pub. He said:
She looked at me and said, 'You don't have to tell me son, you've got a face like the map of Ireland.'
Pence also hinted to Trump coming to Ireland for a visit, saying:
I bring greetings tonight from my friend, the leader of the free world … and to the Taoiseach I would say, as he will find out, a guy who likes to play golf in Ireland.
Kenny said he has plans to bring up the Irish undocumented with Trump when he meets the US President today.
Over the days of our visit we will raise with Congress and President Trump himself that the necessary work will be done for undocumented to be allowed to come in from the cold and feel the warmth of this great country and relieve the burden of having to life in that limbo land.
The two men will come face to face in the Oval Office, less than a year after Kenny accused him of using "racist and dangerous" language. Kenny has ruled out an apology to Trump.
TheJournal.ie's political reporter Christina Finn will be bringing you all the latest updates from Enda Kenny's visit to Washington this week, including his meeting with US President Donald Trump on Thursday.
Stay up-to-date by following @ChristinaFinn8, @TJ_Politics  and TheJournal.ie's Facebook page.