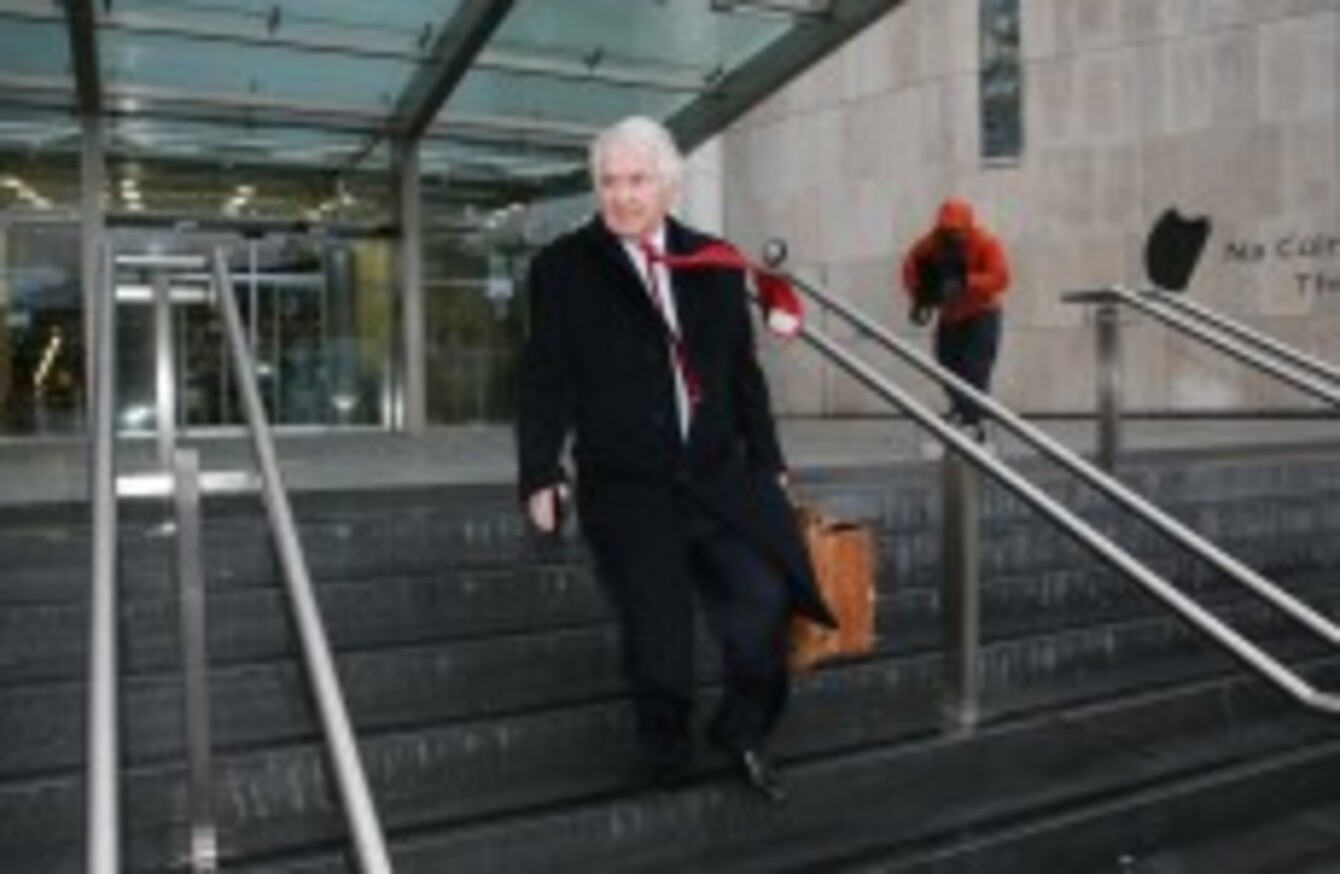 Image: Sasko Lazarov/Photocall Ireland
Image: Sasko Lazarov/Photocall Ireland
PATHETIC FALLACY – A literary device for attributing human emotion to aspects of nature.
If we're stuck in a 19th-century novel about Ireland, the howling winds and streaming rain could stand for the country's feelings about the financial and economic crisis.
The demise of Anglo Irish Bank being central to the entire plot.
At the Dublin Circuit Criminal Court, legal teams, a judge and jury is trying to come to a conclusion about what happened at the failed institution.
Three former senior executives are on trial, accused of offences under the Companies Act. Seán FitzPatrick, Pat Whelan and Willie McAteer have all pleaded not guilty to multiple charges of providing unlawful financial assistance to 16 people buy shares in the bank.
Whelan also faces seven more charges of being privy to the fraudulent alteration of a loan facility letter.
We're getting through the list of witnesses quite quickly with just less than one-fifth of the 103 already taking the stand. Over the past five days, here are some of the most interesting things we've heard in the Criminal Courts of Justice.
Quinn was quite enamoured with Anglo
Once Ireland's richest man, Seán Quinn told the court that he believed Anglo Irish Bank was a "marvellous institution" and that he doubled down on his investment because he thought it was "an opportunity".
During his evidence, he also said that he admired the bank's ability to make profits with low overheads.
He recalled being "absolutely furious" when he was asked to reduce his shareholding, built up through contracts for difference (CFDs). Eventually, he turned on Anglo, blaming it for a total loss of €3.2 billion.
"I was a fool to believe them," he told the SC for McAteer.
There was a lot of shock about Quinn's CFD shares
"It was one of those moments that you will never forget in your life," said Michael O'Sullivan, former divisional lending director when being cross-examined by counsel for Pat Whelan about the moment he found out about Quinn's shareholding in Anglo through CFDs.
He agreed with the lawyer's sentence: "This was a very dangerous position. It could destabilise the bank."
Earlier, he said he described the meeting with Drumm and Whelan during which he found out about Quinn's level of shares in the bank.
"We had a good relationship with them, it was a huge surprise, not something I expected."
He said the CFDs, by then, were a "major concern".
On 10 and 11 July 2008, a solution to the problem was reached. That's when the Maple 10 joins the story. [RTÉ Liveblog]
Deals with the Maple 10 were agreed in Portugal and France
Joe O'Reilly. (Image: Photocall Ireland)
On Tuesday, the trial heard from two members of the so-called Maple 10. One of them, developer Joe O'Reilly, detailed a meeting he had with Pat Whelan and David Drumm in a restaurant in Faro, Portugal.
He said that he was told that the bank was looking to unwind a position with a major shareholder.
"David Drumm did most of the talking. He said that a significant shareholder had a number of shares in contracts for difference and that was causing some turbulence that was driving the share price down."
O'Reilly said that he was presented with documentation that would authorise a loan from Anglo for "up to €60 million". The loan would be then used to purchase 1 per cent of the bank's shares.
The man behind the Dundrum Town Centre said that he had "not particularly" had any experience buying shares previously and had never bought Anglo shares before being approached by Whelan and Drumm.
He noted that he had never been asked to put his own money into the shares.
Drumm and Whelan also flew to Nice, France to meet with a third member of the infamous Golden Circle.
According to developer Gerard Maguire, he had offered to come back to Ireland to discuss the share troubles but that the pair insisted they would fly to him for a meeting.
During that meeting, Maguire said he asked whether the deal being discussed was legal and if the Central Bank knew about it.
He claimed he was given positive answers on both of these points.
He bought the shares at a price of €4.40 on 16 July 2008 . Anglo loaned him about €45 million to buy 10.2 million shares.
Identical letters were sent to the Maple 10
Lorcan McCluskey (Image: Photocall Ireland)
Unusual. Uncomfortable. Not normal.
These were just some of the ways the Maple 10 affair was described by witnesses this week.
Former associate director Lorcan McCluskey gave evidence that he had been called to Whelan's office and asked to prepare ten identical loan facility letters. He said he was given the pricing and terms of the letters and recounted that some of the letters were for those named as the Maple Ten.
It's never happened before, it's never happened since, so it's very unusual," he said, referring to the preparation of identical loan facility letters.
The 'Maple 10′ were referred to as the '10 Heroes'
A letter originally drafted in July 2008, but with handwritten amendment suggestions marked on it three months later, was shown to the court on Wednesday.
The document proposed changing the terms of the loans from Anglo to the Maple 10. On it, someone had written:
Ten heroes Rec SAT 11/10/08.
According to McCluskey, that someone was Pat Whelan. The former associate director says he first saw this updated letter in October 2008 and refused to sign it because it would weaken the bank's position.
A number of changes to the terms of the €60 million loans were suggested, including changing them from recourse to non-recourse.
The Financial Regulators were 'very very very' positive
According to former employee Brian Gillespie, the bank wasn't the only entity that believed the Golden Circle were the true heroes of the situation.
The Financial Regulator's office was 'very very very' positive about the Maple 10 deal, he told the court. He was recalling conference calls held between Con Horan from the Financial Regulator's office and Morgan Stanley.
During his testimony, the former head of compliance confirmed that 'Maple' was a codeword given to the deal by Morgan Stanley. [RTÉ]
It's a tough time for the jury
The eight women and seven men of the jury were told this week that they will get a break for Easter between 15 April and 22 April.
However, the judge has warned them not to go too far. "I wouldn't advise you to book any holidays," he said, because if the trial is near the end, they might just keep going. [RTÉ Liveblog]
Reporting by Paul Hosford and Rónán Duffy