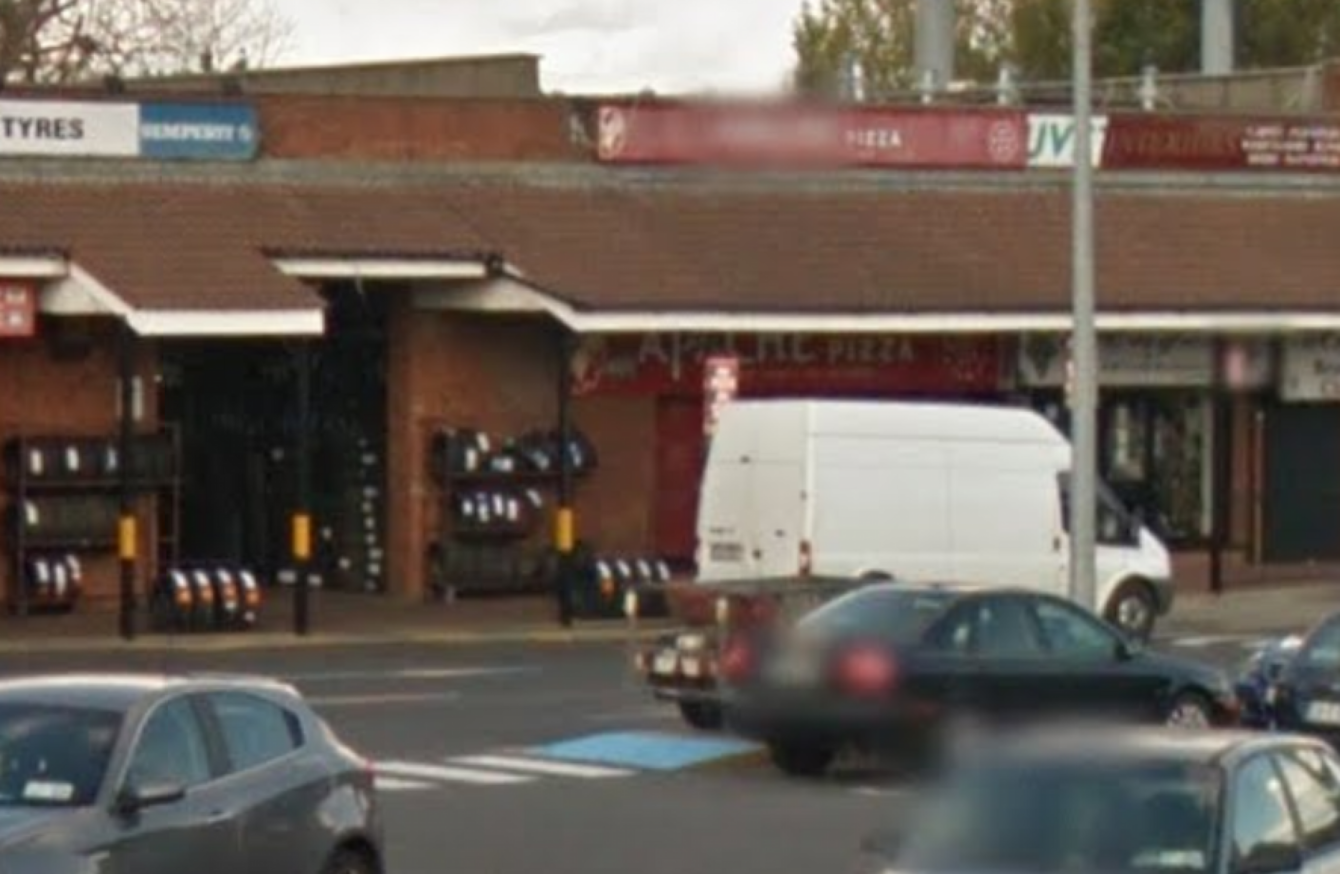 Old Bawn Shopping Centre
Image: Google Street View
Old Bawn Shopping Centre
Image: Google Street View
A MAN WHO robbed an Apache Pizza outlet with a chainsaw-wielding accomplice was acting completely out of character to pay off a drug debt and has since left Dublin for Mayo, a court has heard.
Craig Dempsey's DNA was discovered on a blood-stained till and on an Adidas hoodie that was discovered in wasteland in Tallaght by gardaí in the wake of the robbery of the restaurant last year.
A total of €2535 was taken from the pizza outlet, Garda Niall Russell told Dublin Circuit Criminal Court yesterday.
Craig Dempsey (25) with an address in Allenton Road, Tallaght, Dublin pleaded guilty to robbing Apache Pizza in Oldbawn Shopping Centre in Tallaght on 6 September 2015. His co-accused remains before the courts.
Dempsey also pleaded guilty to robbing a Spar store at Old Court Shopping Centre in Ballycullen and producing a broken bottle in the course of the offence on 20 July 2015. He will be sentenced on 4 April next year.
Garda Russell told Lisa Dempsey BL, prosecuting, that a staff member was preparing to close the restaurant in the early hours of the morning when Dempsey and another man carrying an electric chainsaw ran into the store shouting "money, money".
The other man turned the chainsaw on while Dempsey jumped over the counter and threw the till on the ground.
The pair then fled with the till and were spotted by a taxi-driver making off into nearby wasteland. Gardaí searched the wasteland and found the till and hoodie, before Dempsey was recognised from CCTV footage. He was arrested two weeks later. He has three previous convictions, including one for burglary.
Defence barrister, Sorcha Whelan BL, said Dempsey had a cocaine drug debt at the time of the offence. He has since moved from Dublin to Mayo to live with his sister and her family, the court heard.
"He has moved away to get away from the negative influences of people he grew up with in Tallaght," Ms Whelan said. She said Dempsey had got involved in the local boxing club in Mayo and helped out with his sister's children.
The court heard Dempsey's father died of lung cancer three years ago and his mother was suffering from late-stage emphysema. He also found the body of his four-month baby nephew who died from cot death. This had a profound effect on him, Ms Whelan said.
She said Dempsey had stopped taking cocaine, but is still using cannabis.
Judge Melanie Greally accepted Dempsey was remorseful and was acting out of character at the time of the offences. But she noted he had failed to engage with the Probation Service as he was previously ordered to do.
While appreciating why Dempsey moved to Mayo, she expressed concern that he was "sticking his head in the sand".
She put the matter back to give Dempsey one last chance to engage with probation services in Mayo and to provide urine analysis, telling him: "Your fate is in your hands."
"The alternative, and it's not an alternative I relish, is to put you back in prison in Dublin in the company of all the people who brought you to the point you're at," she said.
Comments have been disabled as legal proceedings are ongoing.