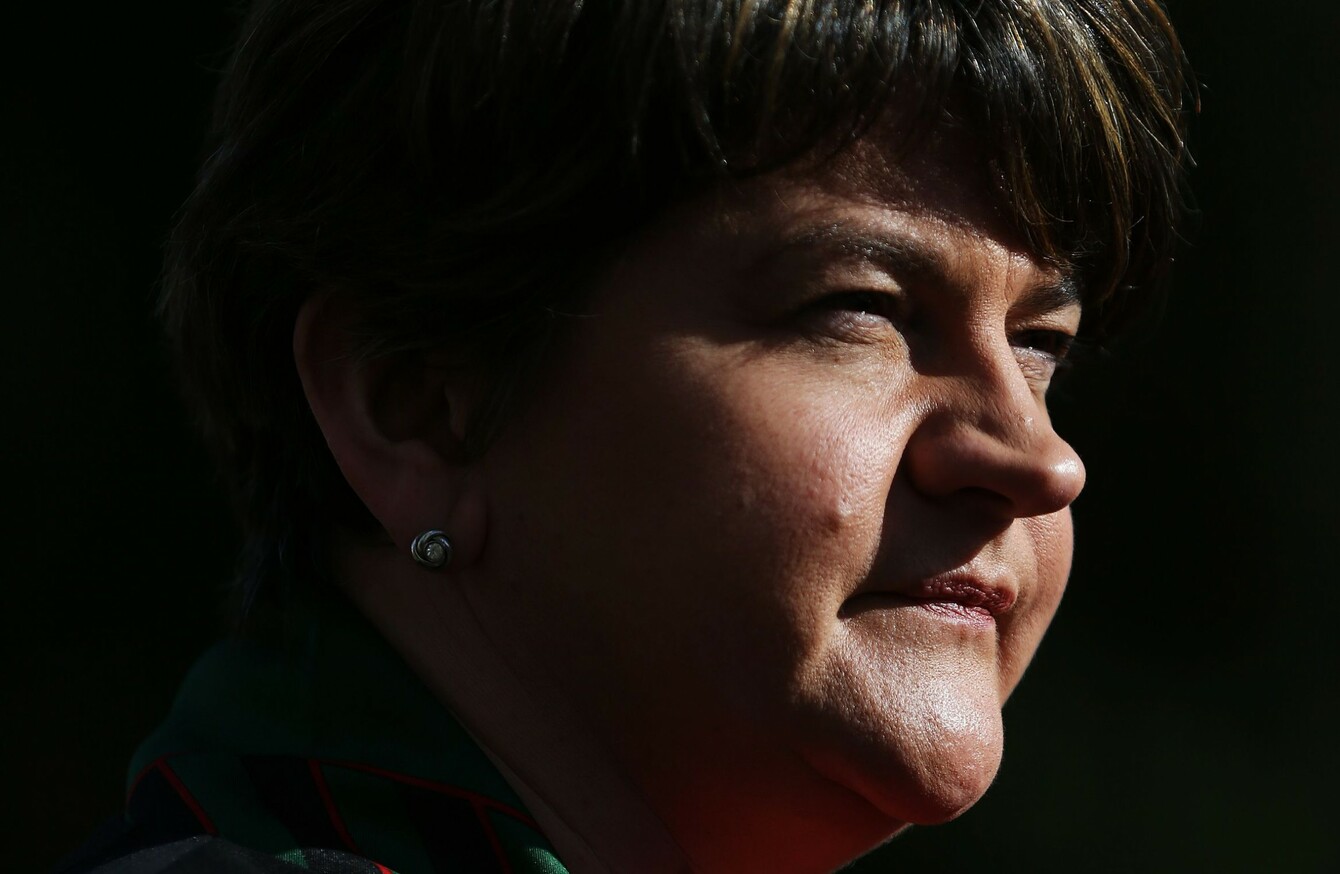 Image: PA Wire/PA Images
Image: PA Wire/PA Images
IN THE MIDST of an election, the beginning of Brexit talks and a lot of talk around a united Ireland, Arlene Foster has signaled a peace-offering to Irish language activists.
Previously, the Irish language had been used as a political tool to inflame both nationalists and unionists, with Sinn Féin's demand for an Irish Language Act and the DUP's refusal causing difficulties during efforts to form a Northern Ireland Assembly.
But this week, DUP leader Arlene Foster and a number of her colleagues set time aside to meet with Irish speakers in an attempt to learn more about the concerns of activists.
Yesterday, Irish language group Conradh na Gaeilge went to Stormont to meet with the DUP's David Graham, Chris Stalford and Edwin Poots.
After attending a gaelscoil in on Wednesday, Arlene Foster made said that she was "on a journey" of learning more about the language outside of the context as a political demand.
Context is very important, because [the Irish Language Act] had become a political demand.
But as we talked about its culture and identity, I felt that it would be good to step back and actually listen to people who love the language and want to use it in their everyday lives.
This jars with previous comments Foster had made on the Irish language, where she said that there would be no point in bringing in an Irish Language Act because it would only encourage Gaeilgeoirí 'to come back for more'.
Bowing down to Irish brigade
But for all that progress, there's still tensions that this is giving in to nationalist demands.
Today, TUV leader Jim Allister told BBC's The Nolan Show that Arlene Foster was "genuflecting to the Irish Language Brigade".
When suggested that Foster changing her views on the Irish language was a mature and grown up thing to do, Allister said that it was a grown up thing "to keep your election promises".
They said that under the DUP there would never be an Irish Language Act, and yet here we are a few weeks later.
In January of this year, the Assembly's Communities Minister Paul Givan withdrew funding for the Líofa Irish language bursary fund, which was worth about £50,000 per year.
The fund allowed at least 100 students from disadvantaged areas to attend a Gaeltacht in Co Donegal, and led Gerry Adams to call the move "an ignorant decision taken by an ignoramus".
That decision has since been reversed, but it did prompt protests by Irish language speakers, as it seemed to prove the use of An Ghaeilge to irk Sinn Féin.
Talks to form an Assembly in Northern Ireland have been postponed until after UK elections, which will be held on 8 June.