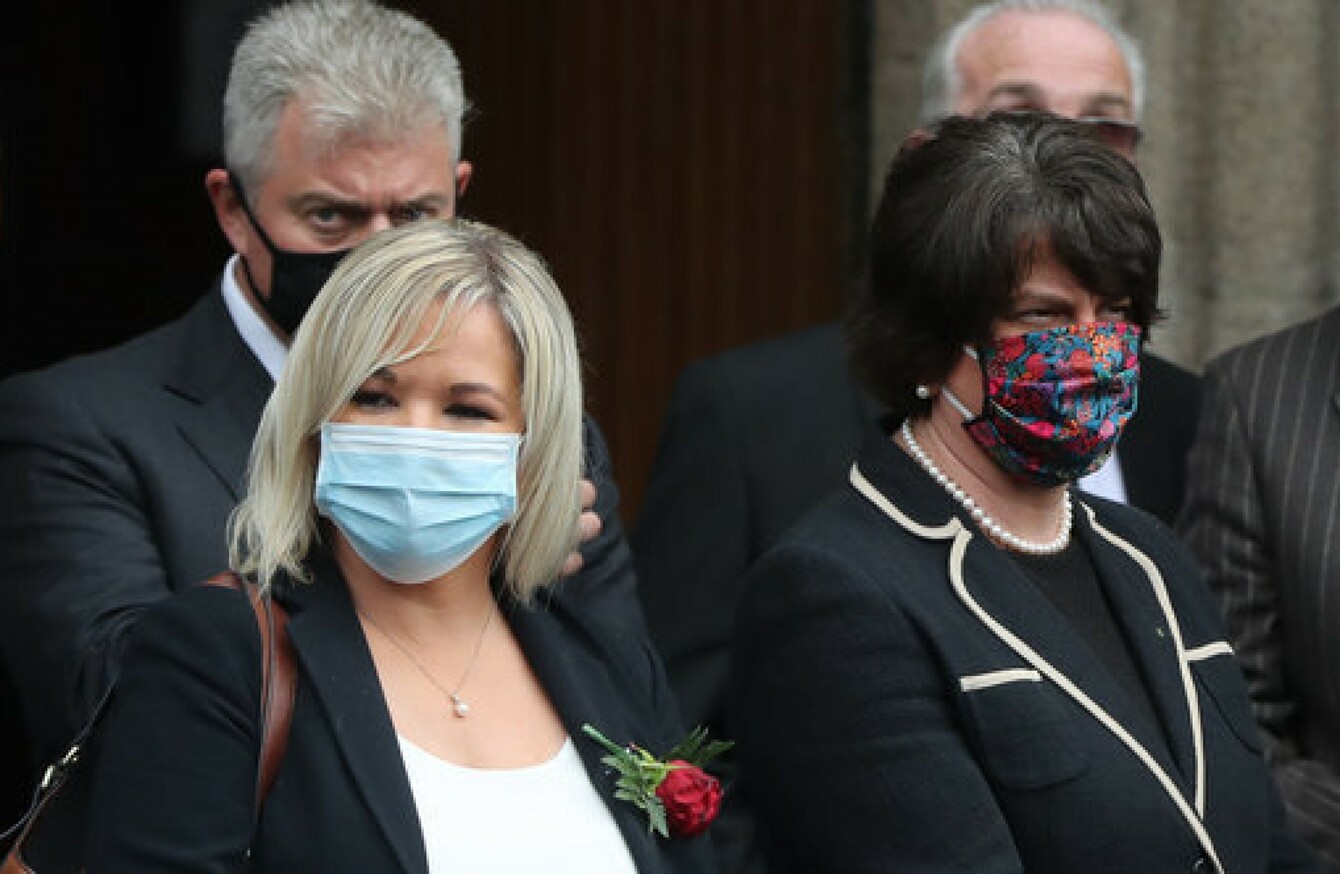 The First and Deputy First Minister have faced a difficult few weeks.
Image: Niall Carson
The First and Deputy First Minister have faced a difficult few weeks.
Image: Niall Carson
THE LEADERS OF Northern Ireland's largest two parties have faced a torrid few weeks.
Not only has the Covid-19 crisis escalated dramatically, but there is a growing sense of dissatisfaction at the leadership of both Arlene Foster and Michelle O'Neill.
Even while Northern Ireland has been transfixed by the ever-worsening coronavirus infection rates – placing it among the worst in Europe – a political sideshow has been proving something of a distraction. 
In recent weeks, the DUP leader Foster has been forced to watch as senior members of her party have acted in open defiance of the decisions of the Executive she heads up. 
It was only last month that East Antrim MP Sammy Wilson was lambasted for not wearing a mask on the Tube in London.
In response, Foster said that "everyone is subject to the law and everybody is equal under the law".
It was that incident that renewed speculation about the precarity of Foster's position.
As Belfast News Letter journalist Sam McBride asked at a briefing by the First and Deputy First Minister: "Is it not the case that quite honestly you're simply too weak as DUP leader to be able to enforce any sort of discipline on him? He can do whatever he likes no matter what impact that has on your message."
Foster denied the accusation, but weeks later the question has emerged again following some unwelcome interventions Minister for Agriculture, Environment and Rural Affairs in the North Edwin Poots. 
Poots, an experienced DUP politician, spoke out last week to express his opposition to tough new Covid-19 restrictions just agreed by the five parties in the Executive.
#Open journalism No news is bad news Support The Journal

Your contributions will help us continue to deliver the stories that are important to you

Support us now
Speaking to the BBC, he detailed his "grave reservations" about the policy just announced by his own party leader. 
"We can't live in an eternal lockdown, people need to live their lives, we have to get to a point where life can continue," Poots said. 
We know a lot more about Covid now than we did back in March, we know who it largely affects, people who are vulnerable and the elderly."
Critics said that such comments would only add to confusion around public health messaging, but Poots was defended by senior DUP colleagues.  But the row only escalated from there.
Poots later said that Covid-19 was more common in nationalist areas than unionist areas, prompting widespread condemnation.
A denial quickly followed, as Poots said in a statement that he had not and never would "attribute the spread of Covid-19 to religion". 
He said his words had been "distorted and twisted". 
Foster was not particularly critical when asked about the issue. 
"We have huge issues to deal with, the clarity was there in his statement," she said. The lack of repudiation or indeed consequences for Poots has raised questions about Foster's leadership – and not for the first time. 
Foster, a former Ulster Unionist, was a perhaps unusual choice to replace Peter Robinson as DUP leader in 2015. But her handling of the botched RHI scheme and the 'cash for ash' inquiry raised more fundamental doubts about her competence. 
The party's mishandling of Brexit, which eventually saw the party betrayed by Boris Johnson over his decision to accept a border in the Irish sea, only piled further scrutiny on Foster. 
The latest acts of insubordination have only sought to remind people of the vulnerable position Foster now finds herself in. 
Northern Ireland political commentator Alex Kane thinks that Foster is in a "terribly difficult situation". 
"I'm nearly surprised she's survived this long," he told TheJournal.ie. 
If there's a no-deal Brexit – widely held to be a disastrous prospect for Northern Ireland – Kane expects there to be further pressure on Foster. 
"Her authority has clearly been damaged and she has enormous external and internal difficulties," he said. 
"At time of crisis, leaders shouldn't be hanging on."
Sinn Féin
The internal divisions besetting the DUP are one thing. But Sinn Féin hasn't been immune from its own difficulties in the North. 
A recent poll by the Belfast Telegraph and polling company LucidTalk found that Michelle O'Neill received the lowest rating as party leader, with the SDLP Colum Eastwood coming out on top. 
Only 22% of voters polled thought she was "good", compared to the 47% who backed Eastwood. Foster receive 36%. 
Kane believes that the results would have come as a "shock" to O'Neill and Sinn Féin. 
Many will draw a link between the controversy over the Bobby Storey funeral in June, which saw O'Neill in attendance, alongside Sinn Féin leaders and dozens of supporters, at an event that appeared to break public health guidelines. 
At the time, public anger blazed for days and created a serious breach in the Northern Ireland Executive – one only bridged as the coronavirus crisis worsened in September. 
And while O'Neill is – unlike Foster, perhaps – in little danger of any internal challenge from her party, Kane said that the poll has some wider significance if Sinn Féin is to create a broad coalition of support ahead of a poll on Irish unity. 
Simply put, the centre ground of Green Party and Alliance voters need to trust Sinn Féin if any poll is to be successful. 
"It's just the fact from being regarded as a safe pair of hands, there's a sense she isn't quite as safe," Kane said. "The areas she needs to reach out to aren't as biddable as she imagined them to be."
More importantly, the Storey funeral was a missed opportunity, Kane believes, for O'Neill to stand up to the party's old guard. 
"That's the sort of thing that would have made the others prick up their ears," he said. 
That sense isn't mirrored in Sinn Féin. Some party representatives who spoke to TheJournal.ie instead pointed to the difficult task facing the Northern Ireland Executive at the moment – from the pandemic to the ever-present danger of Brexit.
It was also suggested that the poll was a sign that people were beginning to see the difficulty facing Sinn Féin in governing as part of a five-party coalition.  
Nonetheless, this isn't the first time there has been indications of internal dissent in Sinn Féin. In November 2019, MLA John O'Dowd challenged O'Neill for the position of party vice-president – an unusually public sign of divisions inside the typically disciplined party.
Attitudes to women
Yet it is also undoubtedly the case that female politicians receive greater scrutiny than men. Northern Ireland, where three out of the five main party leaders are female, is no exception.
Politics professor at Trinity College Dublin Dr Gail McElroy said: "In some senses, it is a symbol of progressiveness and how things have changed."
McElroy said that there is some evidence that female leaders generally face higher standards from members of the public. 
"The characteristics that voters want in a leader is decisiveness and competitiveness and strength. Women leaders are assigned gender stereotype traits," she said. 
"They're in a double bind in that they have to be competitive and strong, but then also penalized for incongruity."
In practice, the latest research suggests that female leaders have shorter honeymoon periods and approval ratings drop at a higher rate. 
While this research is limited, largely because women in high office or senior political roles is relatively new, one recent study put it succinctly – while voters aren't hostile to female candidates "they reserve their highest reward for women who can both do the job of a politician and that of a wife and mother"
"If women have the characteristics that voters and other public officials prize, they likely have too little time to actually take on the job," the study said. 
And while Mary Lou McDonald currently heads up the most popular party in Ireland, she seems to be the exception at the moment. 
Either way – given the scale of the crises facing the recently restored Northern Irish government – no leader is likely to be pushed out just yet. But that doesn't mean the events of recent weeks aren't significant.