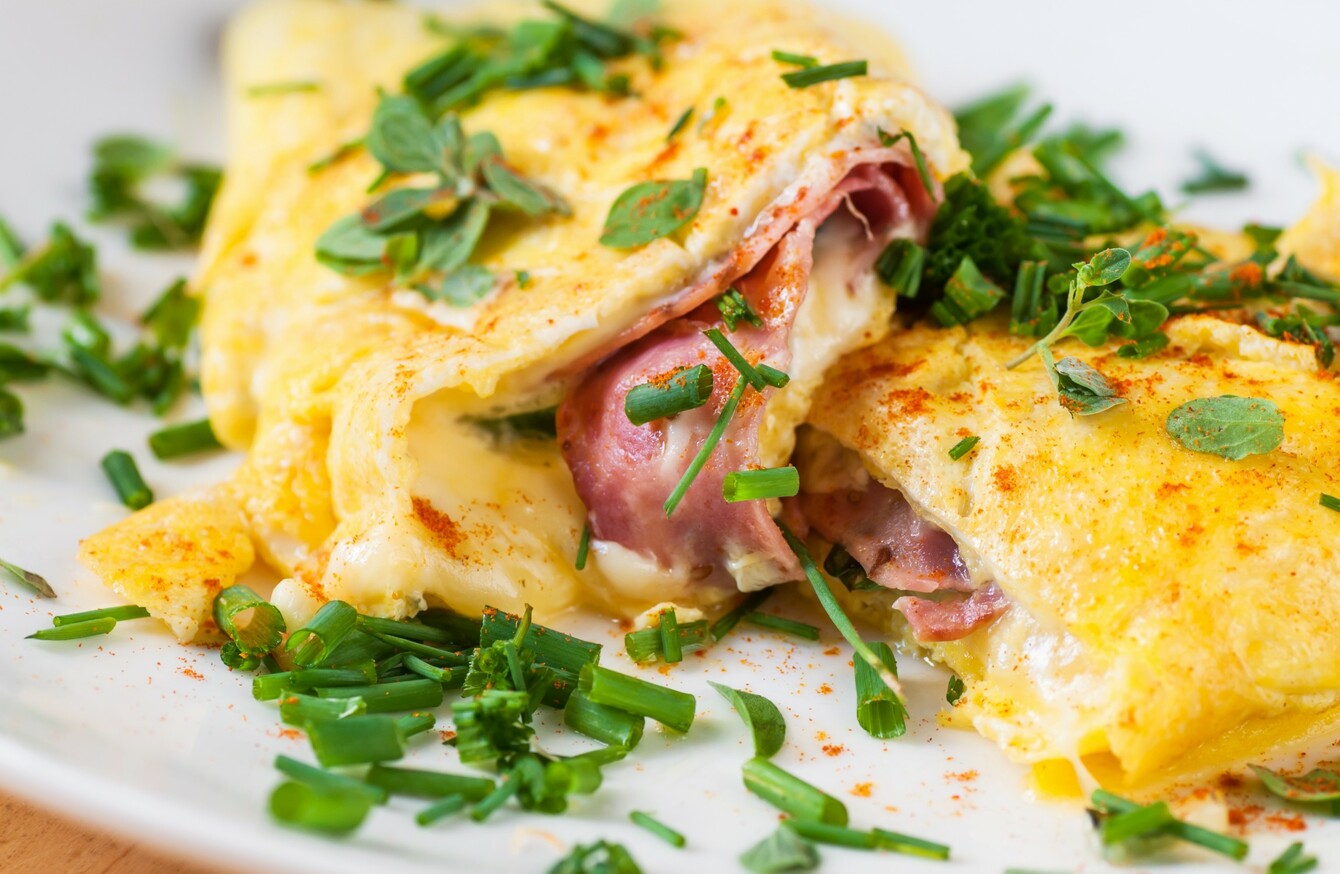 Image: Shutterstock/hsunny
Image: Shutterstock/hsunny
EVERY HOME COOK has their own kitchen hacks, cheats and traditions, and we want to know yours.
Each week as part of our Kitchen Secrets series, we ask readers to share their cooking tips and go-to-food and drink ideas. From the secret to quick-and-easy dinners, to the best way to scramble an egg, we set a new question every seven days.
This week, we asked Ireland's home cooks for their favourite ways with that comfort-food classic: the omelette.
What's your go-to omelette combo?
Next week, we'll be asking for readers' best make-ahead dinners for the freezer – and we want to hear yours. Email us on food@thejournal.ie – and you could see your response in the magazine!
Keep it simple: I do love an omelette, but a nice simple one! It's important to use fresh, free range eggs, they just give such a better flavour. Add a good knob of butter, diced onions, grated cheddar (mature if possible), tear up some cooked ham, add diced peppers if you have them. When it's nicely browned underneath, I put a bit more grated cheese on top and put it under the grill to brown. Serve with some salad, gorgeous!
- Olly Keegan
Sub mushrooms for the cheese: I have got back into making omelettes recently and now make them by separating the yolks from the whites, beat them separately and meld them back together before cooking… they come out so fluffy!
Fillings are always simple: chopped baby tomato, chopped ham and salami and grated cheese with a pinch or oregano, salt and pepper to season! My preference is replacing the cheese (I'm not a cheese fan) with sliced mushrooms. I personally love it served with some smoked back bacon… but cooking the bacon slows down an otherwise quick and handy meal!
- Ross Boxshall 
Crumbled black pudding: Eggs are so nutritious, but I don't like the taste of them so I am always making different omelettes to mask the flavour of the eggs! Simple red onion flavour or chopped fresh herbs are great. Crumbled black pudding is really tasty or a simple grated mature cheddar. Here is a video!
- Fiona Staunton
Cheese and just cheese: Less is best in my book. Take a hot pan and swirl around some oil, remove any excess with kitchen paper. Add butter and pour in your lightly beaten eggs. With a spatula start bringing in the sides, this quickens the cooking and creates folds for the toppings, in this case cheese.
While the omelette is still "wobbly" take it off the heat, sprinkle with grated cheddar cheese, chopped chives  and a twist of black pepper. No salt as the cheese is usually salty enough. Fold in half and slide onto a plate. Serve with a tomato and cucumber salad. Now what could be quicker? A delicious meal in less than three minutes. Miss Casey my Home Economics teacher,  Holy Faith Convent, Killester, 1975 would be proud! Enjoy.
- Angie Nolan
Tomato, mozzarella and basil: I love making omelettes – so quick, filling and versatile. I try to pick fillings that cook quickly or barely need cooking at all. As it's still (kind of) summer I'll use tomatoes, mozzarella and fresh basil; ham, cheddar cheese and baby spinach with a pinch of nutmeg is also a great option. And if I'm feeling fancy it's goat's cheese and caramelised onions.
- Donna Connolly