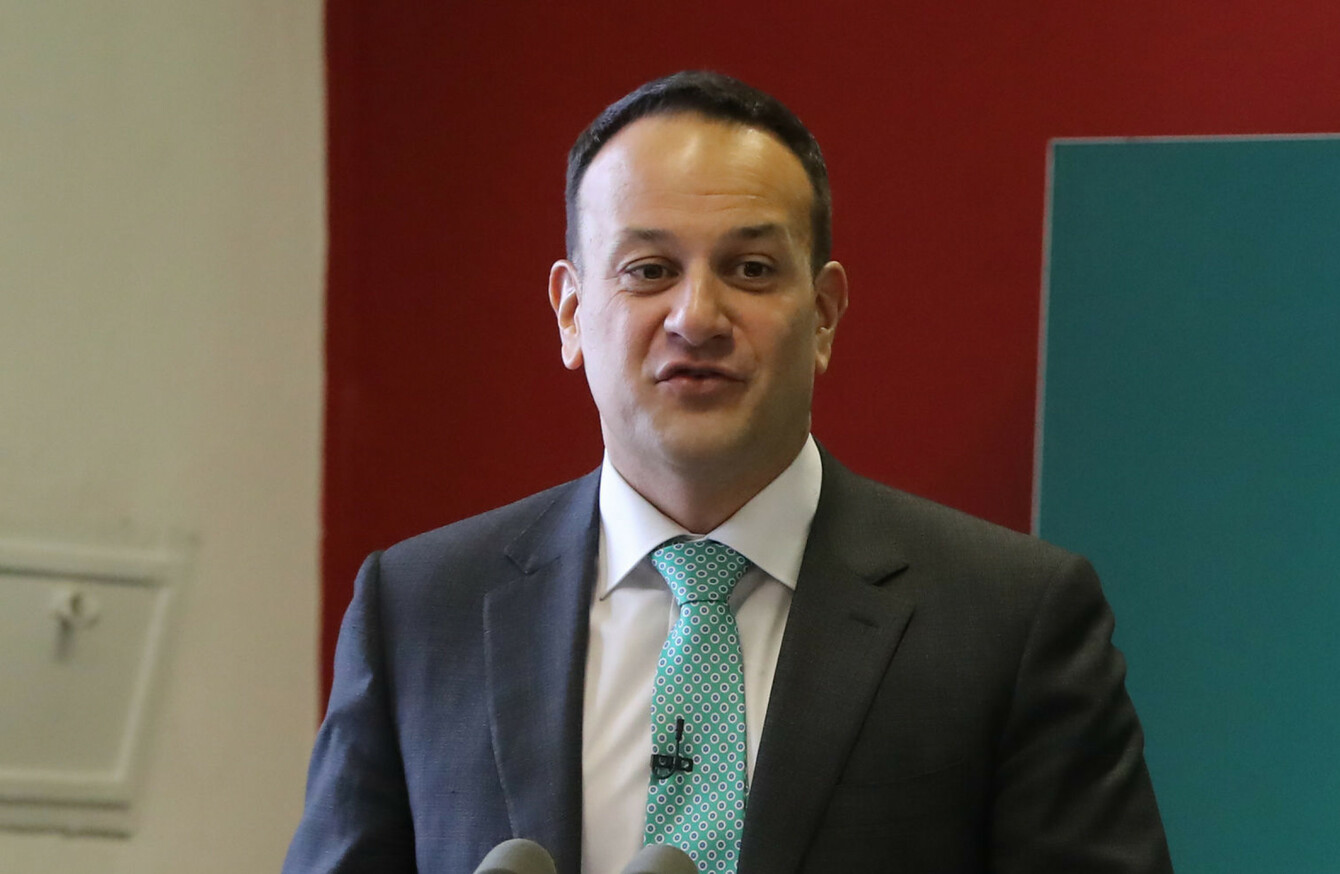 Image: Niall Carson
Image: Niall Carson
Updated Nov 26th 2018, 1:00 PM
TAOISEACH LEO VARADKAR has said whether the UK holds a second Brexit referendum is a matter the country would have to decide for themselves. 
He told reporters in Dublin today that he did not want to speculate on the prospect of a second referendum, stating that he respects the decision the British people made to leave the EU. 
Whether the UK holds another referendum is something the British public will have to conclude themselves, rather than have "outsiders pushing" it, said Varadkar. 
He reiterated the points he made in Brussels yesterday, stating: 
"It is this deal or a no deal scenario."
The Taoiseach was also asked to outline what contingency plans are in place for a no deal Brexit. He said he did not envisage there would be such a scenario, but added: 
"We are preparing for two scenarios. One is call the central case scenario which is pretty much the deal that's been done. The second is a hard Brexit, cliff-edge, no-deal scenario.
"In many ways, it's the same thing, it's just a graduated response upwards. We are making those preparations. But we need to be realistic here. There's no country in the European Union that can be fully prepared for a cliff-edge, no-deal Brexit. That's why it makes sense to agree to this deal."
He added that the EU Commission has in recent weeks been releasing the measures that would need introduced, such as changes in aviation regulation.
Varadkar also said that Sinn Féin politicians who refuse to take their seats at Westminster should consider resigning their seats. Sinn Fein argues that its members were elected on an abstentionist policy, and will not take the oath of allegiance to the Queen. 
The Taoiseach said there is an "option now of resigning their seats and allowing people in those constituencies decide whether or not they want to have a say when this vote comes to Westminster".
"Bear in mind there are 18 MPs in Northern Ireland, eight of those 10 including Lady Sylvia Hermon are in support of what the UK government are proposing. But seven of those eight because of Sinn Féin aren't going to show up," he said. 
Speaking earlier today, Tánaiste Simon Coveney said there is no second deal on offer to the British government if the House of Commons votes down the Brexit deal agreed between the UK and the EU. 
No second deal on offer 
Speaking on RTE's Morning Ireland, Coveney said it was made very clear to leaders at the summit in Brussels yesterday that a deal has been reached, and a second deal is not on offer. 
He said UK Prime Minister Theresa May now has to make it very clear to her parliament that the deal will give her country an "orderly, managed Brexit". 
"There is no second deal on offer if the UK decides to reject this," he said. 
A contingency plan will have to be put in place in the case of a no deal Brexit, said Coveney, however, he ruled out the prospect of a hard border in a crashout Brexit scenario.
He acknowledged that it would make it a lot more "complicated" to avoid a hard border if the withdrawal agreement is rejected. 
Coveney said it would be "very foolish" not to use the solution which has taken both sides over two years to negotiate. 
Speaking at a press conference after all 27 European Union leaders endorsed the Brexit deal at a summit in Brussels yesterday, Taoiseach Leo Varadkar said:
"There isn't a plan B. The truth is what we have here is the best deal that is available both for the United Kingdom and for the European Union.
"We have a backstop in place but we all agree that that's an insurance policy that has to be there, but would only need to be invoked under certain circumstances."
DUP leader Arlene Foster has said that Prime Minister May will need to remove backstop provisions in the Brexit Withdrawal Agreement if she is to count on her party's support. 
Coveney pointed out today that the agreement signed up to includes some of the same provisions agreed to by all parties in December of last year, including the DUP. 
#Open journalism No news is bad news Support The Journal

Your contributions will help us continue to deliver the stories that are important to you

Support us now
The deal
The agreement sealed yesterday prepares for Britain's smooth exit from the European Union on 29 March 2019, and sets out a vision for "as close as possible a partnership" afterwards.
It covers financial matters, citizens' rights, provisions to keep open Britain's border with Ireland and arrangements for a 21-month post-Brexit transition phase.
The lengthy, legally enforceable divorce deal is accompanied by a short political declaration setting out hopes for future ties, including security, trade and migration.
Following yesterday's summit, the focus now shifts to the UK Prime Minister who is beginning an intensive campaign to sell the Brexit deal to her parliament. 
May is expected to convene her Cabinet and update parliament on the newly-agreed Brexit deal today.
But she faces a big battle to win MPs' approval ahead of a vote next month, with many opposed to the deal, including some in her own party.
"We can back this deal, deliver on the vote of the referendum and move on to building a brighter future," May will tell the House of Commons, according to excerpts of her planned remarks released by Downing Street. 
"Or this house can choose to reject this deal and go back to square one.
"It would open the door to more division and more uncertainty, with all the risks that will entail," she will warn lawmakers.
She will now embark on an intensive nationwide campaign promoting the plan — and the dangers of no-deal — ahead of the vote by lawmakers on or around 12 December, according to reports.
"I believe our national interest is clear," she will tell MPs Monday.
"The British people want us to get on with a deal that honours the referendum and allows us to come together again as a country whichever way we voted."
With reporting by AFP