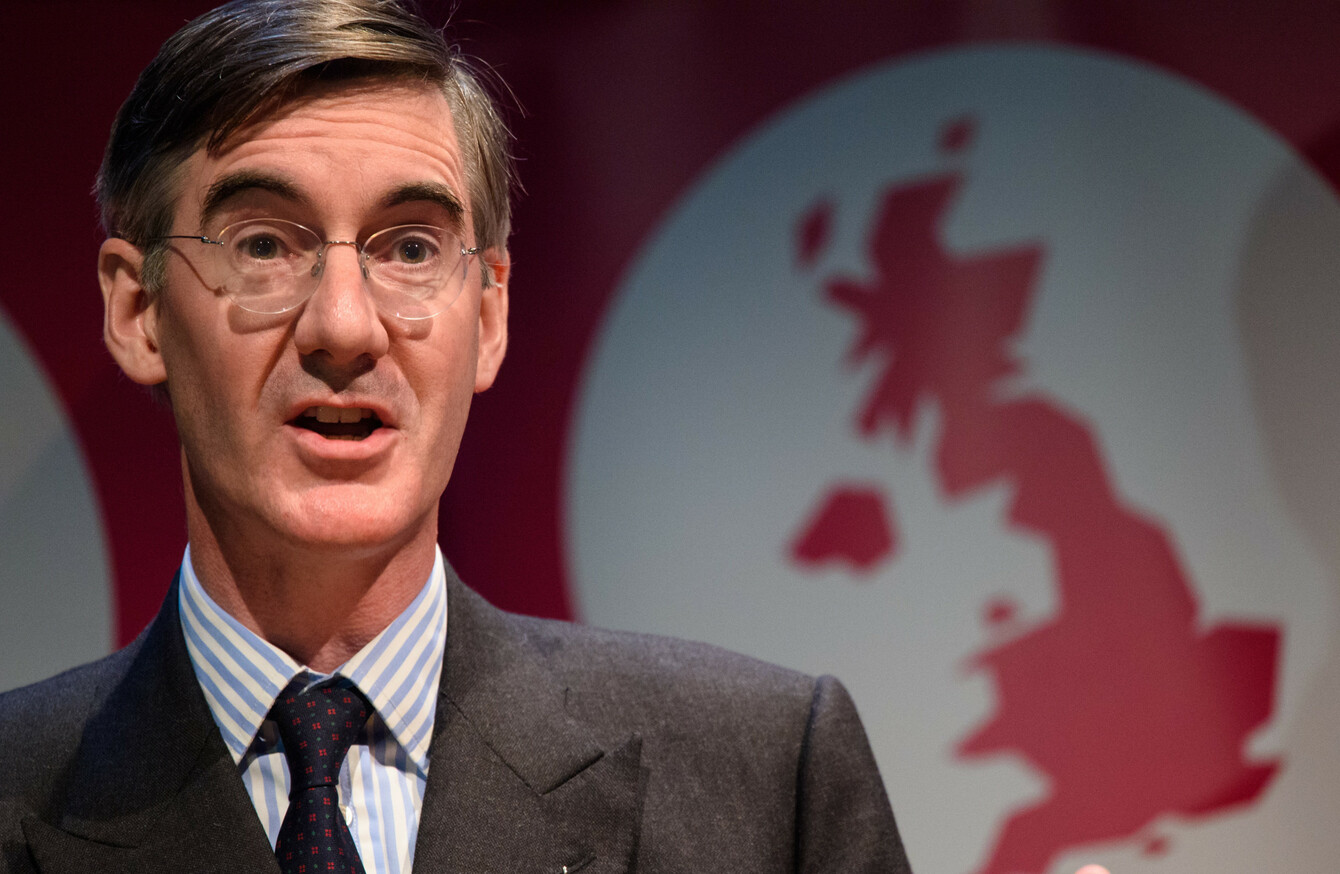 Jacob Rees-Mogg has called the reported deal "unacceptable"
Image: PA Images
Jacob Rees-Mogg has called the reported deal "unacceptable"
Image: PA Images
BRITISH PRIME MINISTER Theresa May faces a backlash from leading Tory Brexiteers following a reported deal with the European Union to avoid a hard border on the island of Ireland.
Reports this evening suggested that Britain has finally agreed a draft Brexit deal with the EU that would see a temporary UK-wide customs arrangement with specific rules for Northern Ireland.
However, negotiations have not yet concluded and May must still get the reported deal through her Cabinet, which meets tomorrow, and then the divided House of Commons.
After news of the deal emerged, former foreign secretary Boris Johnson, who quit the government in July over May's strategy, said he would not support the deal.
"This is a quite incredible state of affairs," he told reporters this evening.
"It will mean that we will have to accept rules and regulations from Brussels over which we have no say ourselves. It is utterly unacceptable to anybody who believes in democracy."
'Matter of concern'
Johnson also criticised the deal for the power it would give Ireland over Northern Irish affairs, saying Dublin would have more say over the Stormont executive than London for the first time since partition if it goes through.
Another leading Brexiteer in the Conservative Party, Jacob Rees-Mogg, called the deal "deeply unsatisfactory".
"It is a failure of the government's negotiating position and a failure to deliver on Brexit," he told BBC, adding that he hoped that MPs will block the deal when it is put before parliament.
Former Brexit minister David Davis was also critical of the plan, calling it the "moment of truth".
Meanwhile, Sinn Féin leader Mary Lou McDonald said the agreement must give legal effect to a 'cast iron' guarantee that would protect Irish interests and the Good Friday Agreement.
"While we await the publication of this document, it is a matter of concern that some are presenting the backstop agreement as temporary," she said.
"Brexit is for the long-term and what is required is a durable, permanent and legally robust agreement that safeguards Irish interests and ensures there is no hard border on the island of Ireland."
Taoiseach Leo Varadkar is expected to hold a special Cabinet meeting tomorrow to consider the reported draft Withdrawal Agreement.