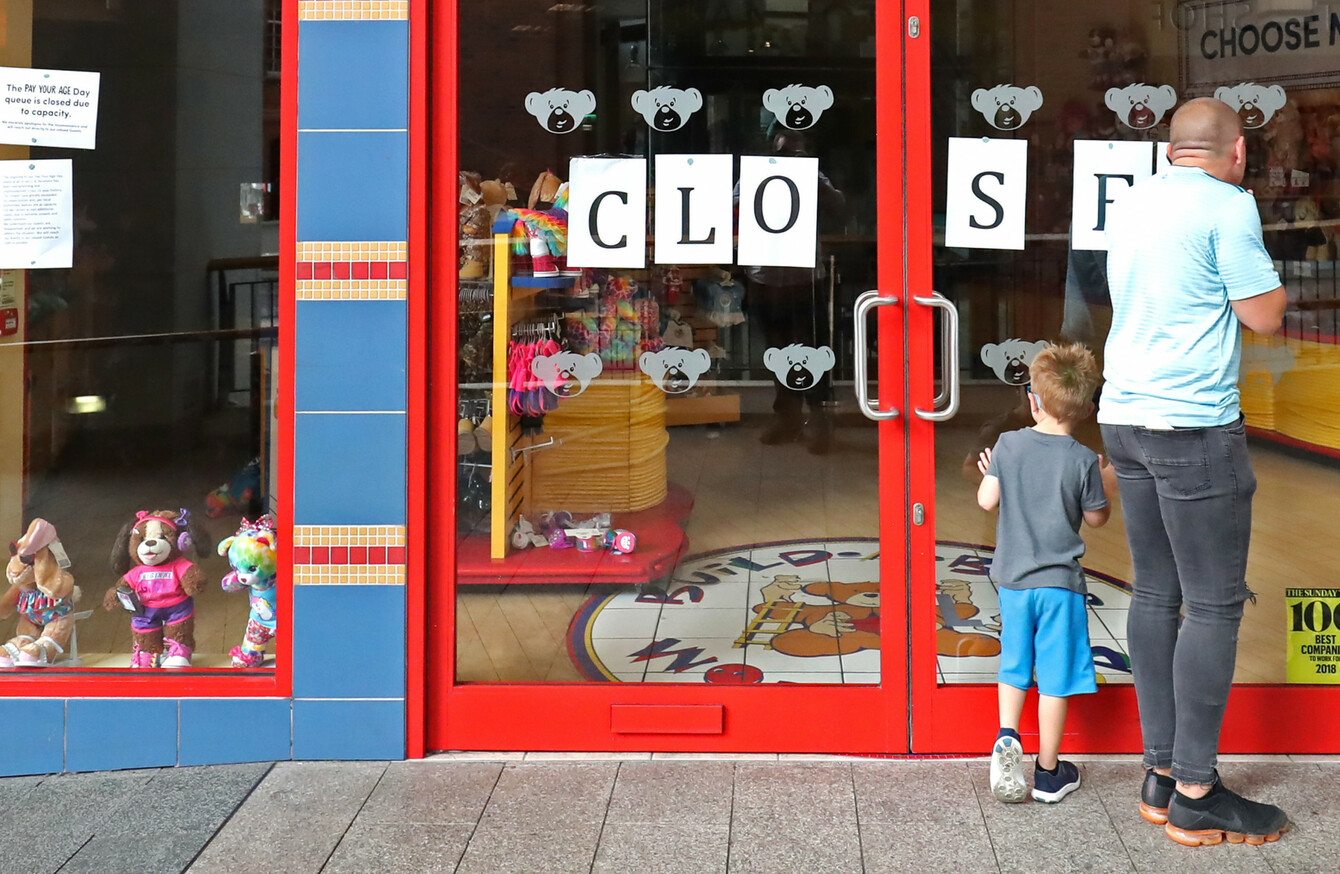 Passersby at the closed shop in Belfast
Image: Niall Carson/PA Images
Passersby at the closed shop in Belfast
Image: Niall Carson/PA Images
CUSTOMERS WERE LEFT disappointed at the Build a Bear branch in Belfast today, after unprecedented demand during a special sale left the shop forced to close.
The retailer, which sells teddy bears that can cost as much as €50 with accessories added on, was running a "pay-your-age" day where parents could buy a bear for the same price as the age of their child.
Across the UK, shops experienced such a high level of demand that many had to close.
The Belfast branch witnessed long queues for the bears from early, and said that is closed "due to capacity", amid reports of violence at the shop in Victoria Square shopping centre.
The PSNI said that it attended the scene just after 12.30pm today to "maintain order". It added that no offences were detected at that time.
In a statement to Sky News, a Build a Bear spokesperson said all of its UK locations have experienced an "overwhelming and unprecedented response".
She said: "The safety of our guests and associates is our top priority.
The crowds have greatly exceeded our expectations and, per local authorities, queues are at capacity and we cannot accept additional guests due to extreme crowds and safety concerns.
"We understand our guests are disappointed, and we are working to address the situation.
Mother tells of her family's frustration as Build-a-Bear in Belfast closes after being overwhelmed by customers responding to a sales promotion. We'll have more on @BBCEveEx. pic.twitter.com/AKmhuB4GrK

— BBC News NI (@BBCNewsNI) July 12, 2018
One mother told the BBC: "[There's] very much disappointment on the three children's part, yes. Absolutely. They're obviously not very happy and the cost of them at a normal price, I wouldn't be paying for them, so they'll not be getting any.
Well obviously they weren't prepared. And if they have been prepared they would've had provision put in place in order to cope with it. We definitely will not be back and if this is what's going to happen the next time that we're looking at something like this…
One father said the shop was closed because "people were being violent to staff".
Another mother said her daughter was "crying because this is what we specifically came for and it's closed".
The bargain teddy bears caused a stir around the UK today, with long queues reported at a number of other stores.
NEWS: A police officer is helping deal with the queue after huge numbers gathered outside @buildabear in the @whiteroseleeds. More @BBCLeeds @BBCLookNorth @jonnymcguigan pic.twitter.com/bgI2GCNUcl

— Charles Heslett (@CharlesHeslett) July 12, 2018
The build a bear shop in metrocentre is having an offer lmao it's crazy what people will do to save a few quid 😂 pic.twitter.com/XAe4FuLxco

— bron (@bronjour_) July 12, 2018