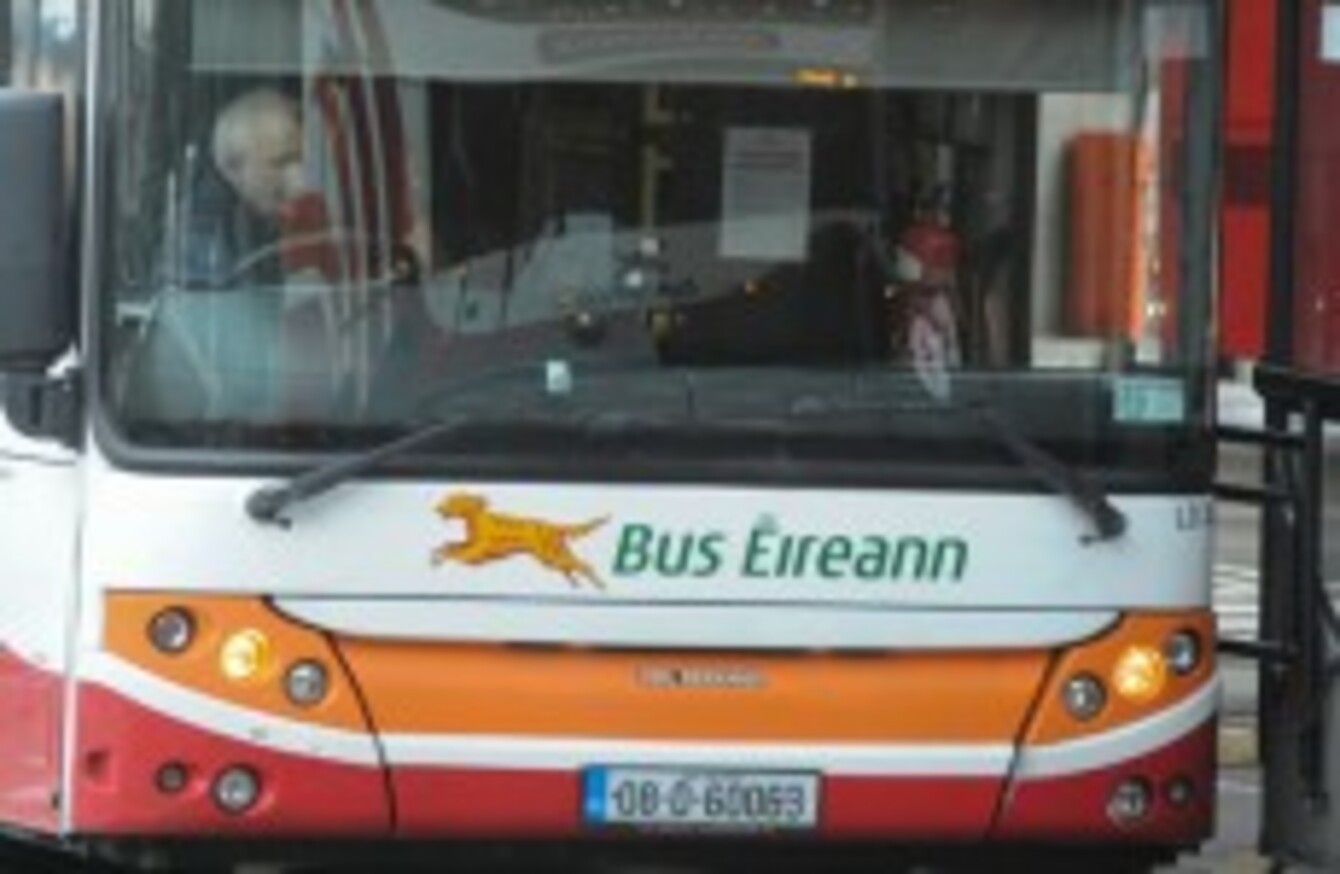 Image: Barry Cronin/PA Wire
Image: Barry Cronin/PA Wire
Updated: 14:44
EXECUTIVES AT BUS Éireann now face pay cuts and a longer working week under new proposals agreed upon at talks between management at the company and trade unions.
The intensive talks ended this morning and an agreement was reached on how the company can make savings of some €5 million.
SIPTU said today that several issues at the centre of the dispute which provoked a two-day strike have now been resolved including the restoration and protection of shift premiums for employees working unsocial hours.
Pay cuts for executives and directors
Union organiser Willie Noone said the overall financial burden on workers has been reduced and that senior management will now, for the first time, have to assist with the recovery of the company's finances.
The Labour Relations Commisson agreement, seen by TheJournal.ie, includes a reduction in sick leave for executives from four days to three, a step back of one point no their pay scale and an increase in the number of hours in their working week from 36 to 39.
In line with all other groups, they will be required to contribute cash savings and non-graded executives not covered by collective agreements will also now be expected to contribute at double the rate.
The total additional cash contribution from this will amount to €330,000 or 6 per cent of the total cash savings. The agreement points out that additional non-cash contributions of €700,000 will be made by the productivity associated with additional hours and reductions in holiday entitlement.
Salaries for chief executives has already been reduced by 14 per cent in line with the Croke Park agreement in recent weeks but the agreement said they will now be cut further and directors will see a fall of 20 per cent in their pay.
Other changes in the agreement include:
A reduction in sick pay for all employees from four days to three;
Payments for working on rest days, including Sundays, will now be set at €1.25 an hour for the first two hours and €1.50 thereafter;
Slight reductions in annual leave for some positions;
A drop in pay scales for clerical staff and foremen;
An increase in working hours from 36 to 37 for clerical staff;
For inspectors, cooperation with the use of hand-held technology across all grades and use of technology associated with revenue protection and smart card technology.
Spare drivers will be particularly hit under the new proposals with the discontinuation of payments for non-working rest day overnights and the flat days pay for the first rest day away from the home depot. They will now be paid a rate of €33.43 before a reduction of 20 per cent in overnight payments.
Protection of jobs and the future of Bus Éireann
Noone said a crucial element of the agreement ensures that all terms of pay and conditions of employment that currently exist will be restored on 1 January 2015 if these proposals are accepted.
Earlier today Bus Éireann said that the range of cost-saving measures  proposed will help to protect the jobs of its 2,500 employees and the future of the company.
Under the new agreement Bus Éireann said it will no longer be implementing the Labour Court Recommendation that it put in place €5 million in costs savings from terms and conditions deemed critical for the company's viability. However it said the proposed measures will deliver "at least the same level of savings".
If ratified, the agreement will start on 1 June this year and run until January 2015.
Welcoming the announcement today Minister for Transport Leo Varadkar said it was an "important breakthrough" and that he hoped it would be sufficient to resore the company to financial health.
"Since the proposal will now go to staff members for their consideration I will not be making any further comment, and give them space to consider it," he said.
Bus Éireann said services will operate as normal today and going forward and thanked unions and the Labour Relations Commission for their contribution.
Plans to ballot members at the sister companies, Dublin Bus and Irish Rail, have now been deferred.