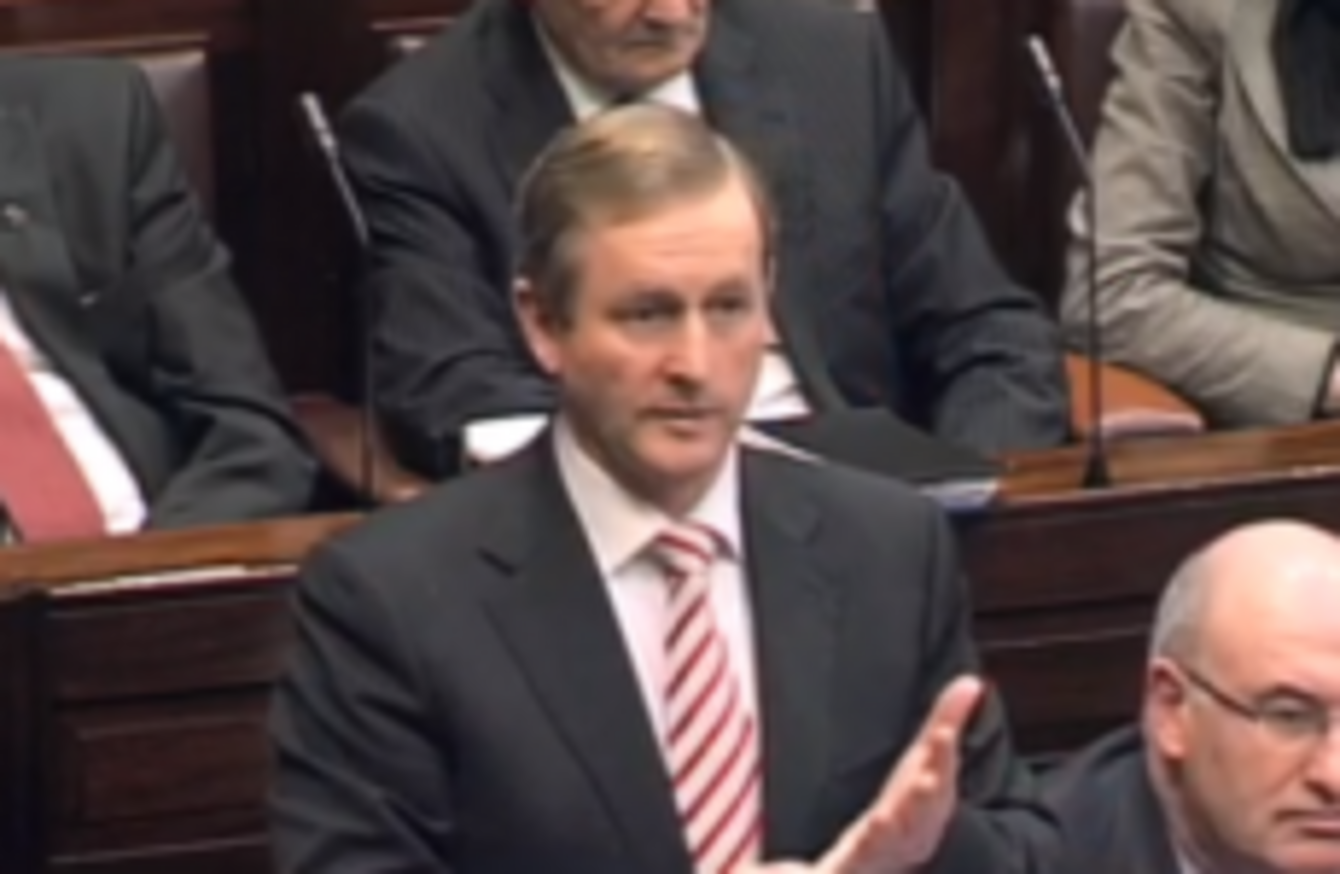 TAOISEACH ENDA KENNY has suggested that the government will not be ordering an independent review into RTÉ's Frontline presidential debate.
Speaking in the Dáil this afternoon after the matter was discussed at Cabinet this morning, Kenny reiterated the independence of the Broadcasting Authority of Ireland in overseeing broadcasting – and indicated that the government would not try to instigate a review.
This morning's cabinet discussion came after independent candidate Seán Gallagher wrote to communications minister Pat Rabbitte urging an independent review following allegations that RTÉ had encouraged an audience member to ask a critical question of Gallagher.
Kenny told Fianna Fáil leader Micheál Martin that Rabbitte had responded by underlining the independence of the Broadcasting Authority of Ireland as the sole authority in charge of regulating broadcasting in Ireland.
"He informed Mr Gallagher that if new evidence emerged… that the Broadcasting Authority, through their compliance committee, would ensure an expeditious review," Kenny said, noting that RTÉ had disputed the claims of the audience member, Pat McGuirk.
"If there is evidence there, that committee is the proper place to deal with that comprehensively and expeditiously."
'Bogus tweet'
He added that Rabbitte had forwarded Gallagher's letter to the BAI for its consideration, and explained that the chairman of the Oireachtas communications committee, Fine Gael TD Andrew Doyle, was writing to the chairman and director-general of RTÉ to discuss the BAI's review of the broadcast of the 'bogus tweet' during the same Frontline debate.
"I would hope that following the transmission of the letter from the Minister to the Broadcasting Authority of Ireland that if, in their view, there is anything new in this… that that will happen expediently," the Taoiseach asserted.
Kenny agreed with comments from Martin that it was vital for the greater public to have confidence in the impartiality and role of the national broadcaster to ensure a functional democracy.
Later in Leaders' Questions, Kenny told Sinn Féin president Gerry Adams that Ireland could not follow the example of Spain and win eurozone concessions on the scale of its Budget cutbacks, as Spain was not subject to a bailout like Ireland was.
He added that he was not commenting on the status of the ongoing talks about the Anglo Irish Bank promissory notes because those discussions were "complex and very very difficult".
"I've already made it perfectly clear we're not going to raise any undue expectations here," he said.