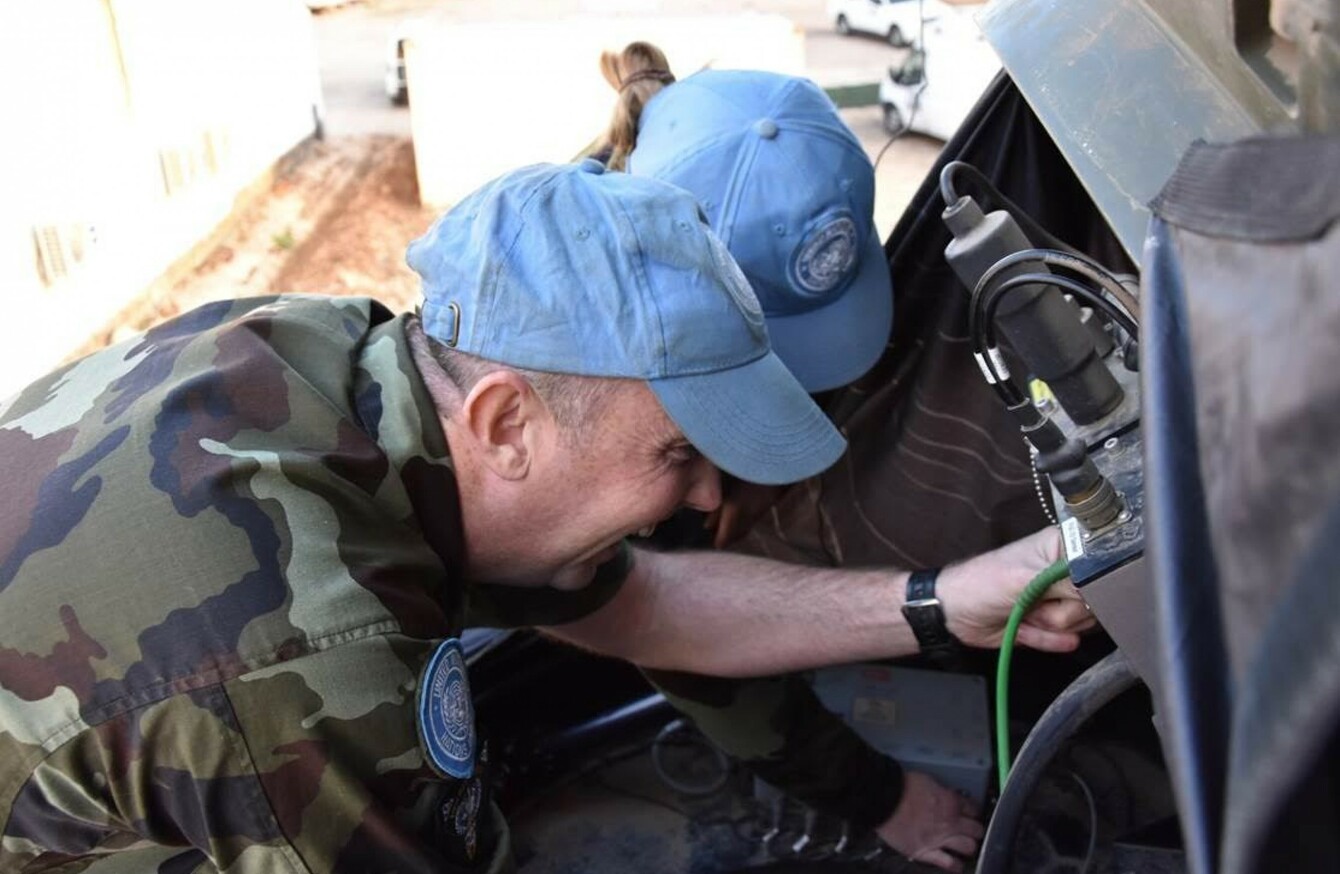 Cpl Browne and his team carry out essential maintenance.
Cpl Browne and his team carry out essential maintenance.
THIS IS THE third Christmas that Corporal Dan Browne is spending away from his home in Ballybrack, Dublin while serving overseas for the Defence Forces.
He's currently with the United Nations Disengagement Observer Force (UNDOF) in the Golan Heights. Browne told TheJournal.ie, "Christmas Day will start as any other day."
"As a member of the Communications and Information Services (CIS) Corps, I must complete the daily communications check, I test all of the equipment here and ensure our systems are in working order."
However, he added that there's a 10km charity fun run on Christmas Day and this evening the team sit down to a Christmas dinner, and the welfare committee will have something organised.
He's one of 130 Irish soldiers serving with the 54 Infantry Group who are away from home this Christmas, providing vital support to the mission.
"We do everything we can to make our camp feel like home for Christmas and there will be a great buzz among everyone from the first timers to those who are on their last trip. It's a great team to be a part of and teamwork is instrumental in the success of the mission.
It might be a little more difficult for those on their first tour of duty overseas. I have two on my team so I will keep an eye on them over the Christmas period, just to make sure they are okay.
"We have also done a Secret Santa, which will be a bit of a laugh when we all see what we have bought one another. It's all done in good spirit and helps with team bonding. It also keeps a few traditions from home alive."
He also added that the support they receive from home is great and that, "There are a few selection boxes with my name on them."
Asked what he'll miss most, Browne said, "Christmas morning, and dinner time with my family and spending time with some close friends over the whole festive period.
Although the members of the 54 Infantry Group have become like a family, I still miss home and my family. Nothing is ever going to beat Christmas day at home with your family.
"You embrace the Christmas spirit as much as you can when you are overseas, but there is a job to be done and that comes first.
"It is challenging at times, but I am extremely proud to be representing my country on an international stage, in the service of peace."