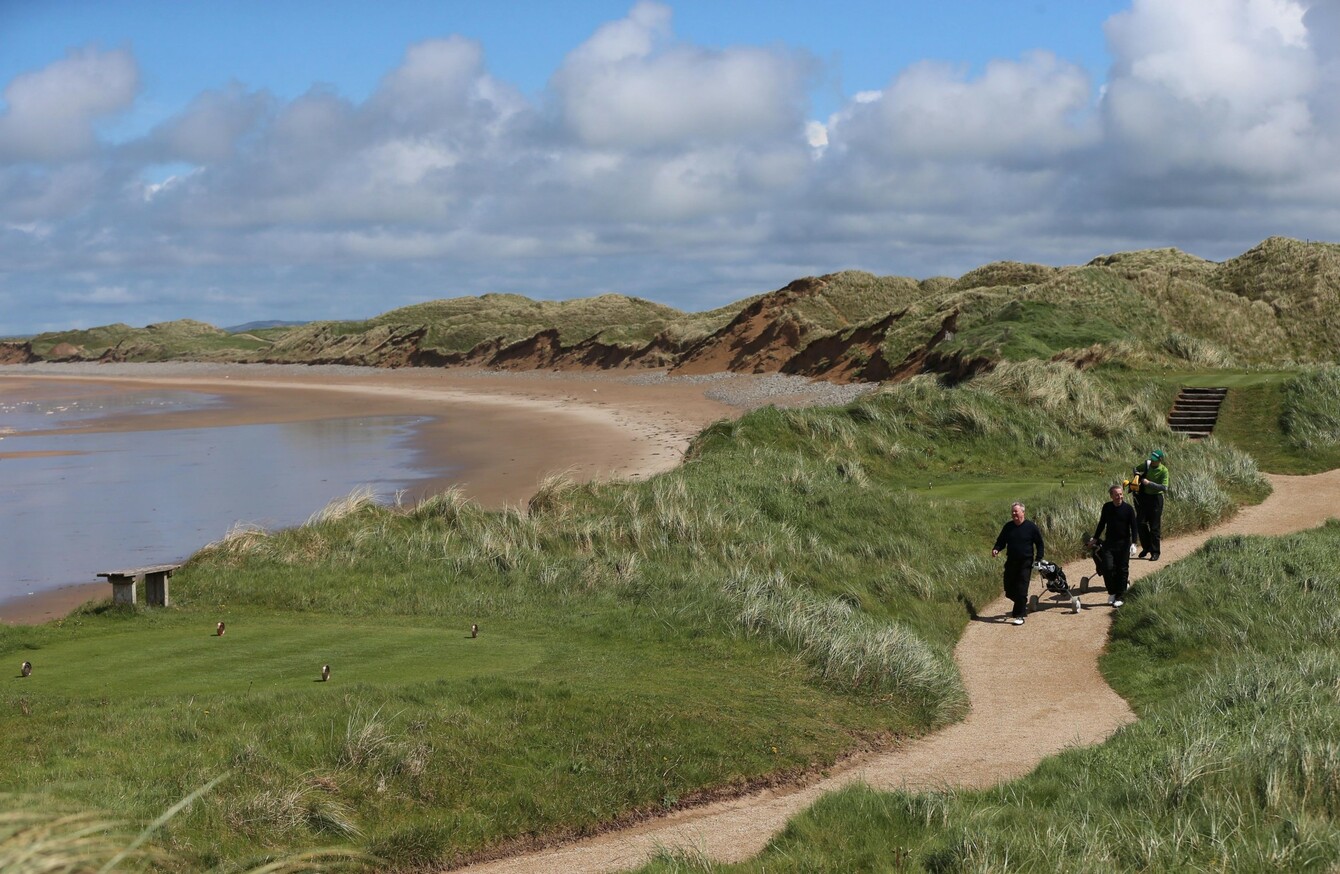 Image: Niall Carson
Image: Niall Carson
DONALD TRUMP'S FIRM has withdrawn plans to build a €10 million rock barrier along his Clare golf course – but will submit a new application for a smaller wall "at the soonest".
TIGL Enterprises Ireland Ltd applied in May of this year for a 2.8km 200,000-tonne rock barrier that would protect the golf course from erosion by sea waves.
But the proposed plans have sparked fierce opposition from groups such as An Taisce, Friends of the Irish Environment (FIE), the Save Doughmore Beach Protection Group, surfer groups and over 30 individuals living outside Doonbeg.
In a statement released this afternoon, Trump International Golf Links and Hotel said that since 2002, an estimated 15 – 20metres have been eroded from the beach front and the golf course.
All efforts to manage the erosion and readjust the golf course have failed, they say.
"Consequently, Doonbeg Golf Resort proposes to seek, at the soonest, planning permission from Clare County Council to place coastal protection at a number of locations on the seaward edge of the golf course at Doughmore Bay.
Protection would be afforded to the golf course hole numbers 1, 9 and 18. The works would be wholly within lands owned by the golf course. There would be no material effect upon the adjacent SAC areas.
The statement says that the new "coastal protection" application will stretch from around 600m to the south and 250m north of the beach.
"Metal sheet piles would be inserted into the ground on the golf course. Limestone boulders would be placed at the base of the sheet piles."
Once completed, the works would not be visible to view, being covered by sand and the cobble bank which backs the beach. Access to the beach for all users as exists today will be maintained.
The planning authority had requested that the firm submit additional information about the application for it to be considered, and if it wasn't submitted before 31 December the application would not go ahead. However the old wall application to Clare County Council has been withdrawn, in favour of a new application being submitted shortly.
Opposition
An organisation called Save the Waves, who sponsored a petition that now has more than 100,000 signatures opposed to the original wall, called it a "defining milestone for the campaign".
Director of Programmes Nick Mucha said:
"It demonstrates the power of the international community to protect our coasts. Save the Waves and its Irish partners will continue to monitor the new proposals and remain engaged to guide them towards a responsible solution, but today more than 100,000 people can celebrate the fact that the original ill-conceived sea wall proposal has been scrapped."
But there are also locals who approve of the wall being built. John O'Dea, chairman of  Doonbeg Community Development told TheJournal.ie that most of the opposition to the wall came from people who aren't from Doonbeg – and who probably have never been to the area.
"This was something that has been requested for a long time, way before Trump came here. People back him because he's the one who's going to make it happen."