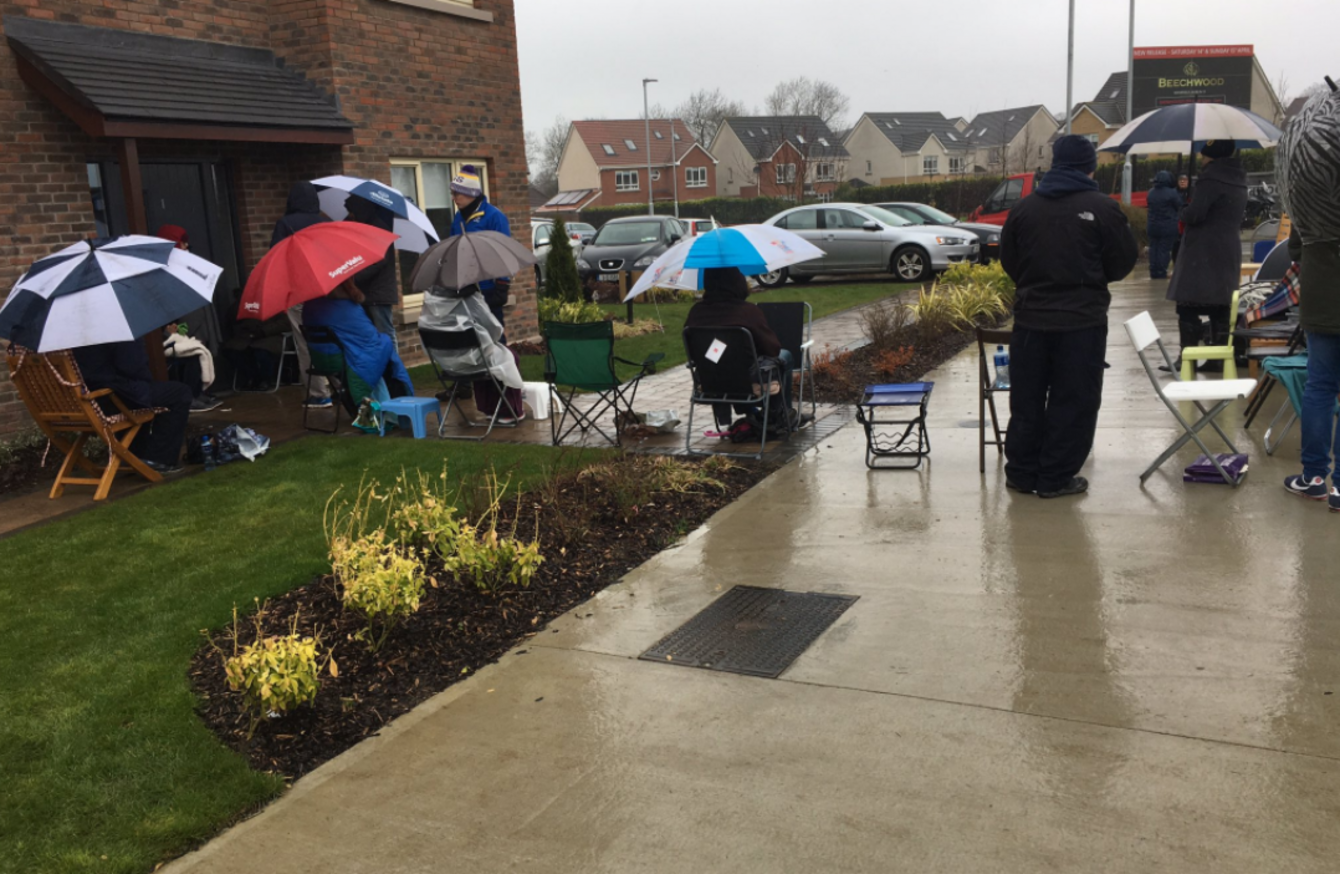 The scene yesterday at the Beechwood development.
Image: TheJournal.ie
The scene yesterday at the Beechwood development.
Image: TheJournal.ie
IT MAY SEEM like madness to some, but queuing for four days and sleeping in your car is worth it if it gets you your first family home.
That was the attitude of the hopeful homebuyers who've set up camp in a west Dublin estate this week in order to get one of the 25 houses up for grabs.
The houses in the Beechwood development just outside Clonsilla are either three or four bedroomed and are going for between €300,000 to €500,000.
A refundable deposit of €2,000 is required up front if you want to proceed, but that isn't the problem.
The issue is actually getting a place in the queue and it's what forced some of the hardy househunters out at 6 am on Monday morning – a full four days before they g0 on sale at noon on Friday.
But despite the prospect of having to wait, those who've chosen to do so say they've managed to maintain a kind of order in the growing queue.
Often when a new-build comes on the market and a queue forms, those waiting are handed a ticket to keep their place. This hasn't happened here and estate agent Kelly Walsh was making no comment as of yesterday.
But one of those who's been queuing since 5 pm on Monday said they all decided throughout that night that they'd look out for each other.
"We've been on to Kelly Walsh this morning and all of us saying we're not going to move," he explained.
"We took a system last night where we know which number everyone is, I was 15. It finished up at 17 last night and we've had four more since that."
They way it's worked out is we all stayed here last night. Some of us camped out, some of us stayed in our cars but we all kind of decided we can't leave this section. We've been flexible enough and, within reason, if you want to go off for 20 minutes, go away and get a cup of tea, no one takes the place.
It hasn't been completely hassle free.
One person who claimed to have been one of the first down arrived on the scene on Monday night, leading to some people questioning whether they weren't in fact trying to jump the queue.
Brochure
The houses themselves are described as "traditional masonry built houses" with "exceptional attention to detail" and they're available to view online.
The development's website and brochure says it's built in an "ideal location" and points to local recreational amenities and schools including the Hansfield Educate Together National and Secondary Schools.
It's no surprise therefore that young families appear to be dominating the queue.
Most of those queuing are under 40 but there were some older people there too, holding a place for their children who couldn't get time off work.
Some others were there to relieve friends for a few hours while they got some sleep.
The man we spoke to who'd been there since Monday had planned to come a day later, but when he spotted that a queue had already formed he felt he had to hop in.
"Just by pure fluke I was scheduled to be off work Thursday and Friday. I work over in Blanchardstown so I just came over to have a look and got the fright of my life basically."
I parked up 100 yards over there and basically ran straight out, spoke to the gentleman in front of me and he said he was number 14. I was coming in here expecting there to be five or six at the very worst. But the first people seemingly came here half-six yesterday morning.
"It's all family homes. We came here Friday for the open viewing, it's just mental."
- With reporting by Garreth MacNamee