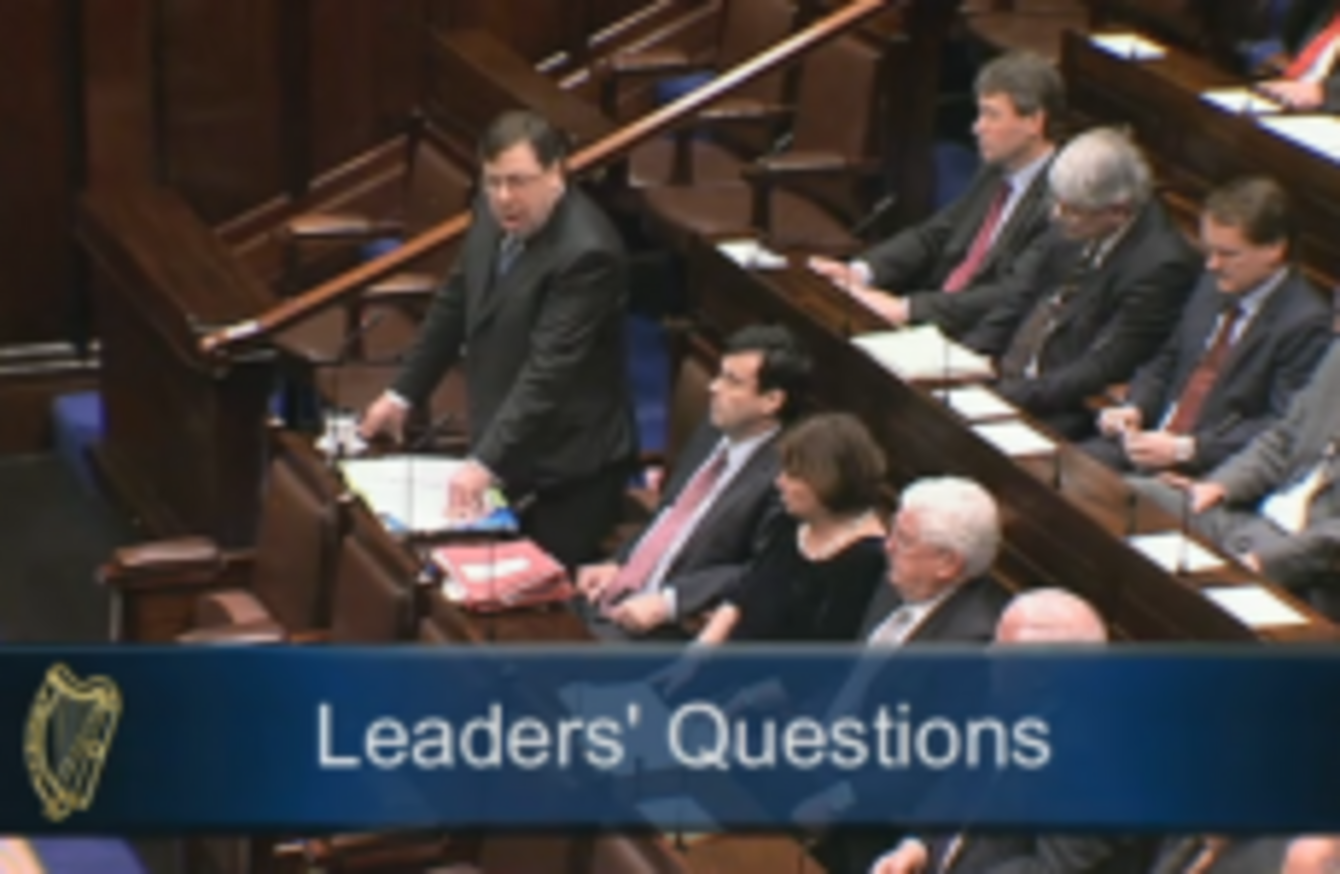 TAOISEACH BRIAN COWEN this afternoon slammed the opposition parties for spreading a "patently absurd conspiracy theory" in suggesting that the government had sought to introduce the bank guarantee scheme to assist Fianna Fáil's "friends" who borrowed from Anglo Irish Bank.
Responding to a Dáil question from Enda Kenny on the nature of his meetings and conservations with then-Anglo chairman Seán FitzPatrick in 2008 – the last of which came just weeks before the government introduced its controversial guarantee – Cowen said that the "charge behind all of this stuff is that… Fianna Fáil did something it shouldn't have on the night of the guarantee, for these people.
"I want to make it clear – as crystal clear as I can possibly make it, that every decision we made a time of great crisis was objectively based," Cowen insisted.
"Everything we did was for the purpose of seeking to protect the interests of this country."
Cowen cited the reports on the banking system produced by Central Bank governor Patrick Honohan, and by banking experts Klaus Regling and Max Watson, which both said Anglo's overexposure to the property market posed a systemic risk to the Irish economy.
"There was an objective necessity to introduce a guaratnee to the Irish banking sector, because of the systemic nature of the problem we faced. If it wasn't done, there would have been… a failure of seismic proportions for our economy," he insisted.
Acted in 'appropriate' way
Cowen had earlier asserted that any finance minister would have had a working relationship with the chairmen of the country's three biggest banks, and that when Minister for Finance himself he had "no more close a relationship with Mr FitzPatrick… as with the chairman of AIB or the chairman of Bank of Ireland."
The Taoiseach said that when he was called on St Patrick's Day 2008 by FitzPatrick to relay concerns about the fall in Anglo's share price, which he said was linked to a similar drop in the value of Halifax-Bank of Scotland shares, "I said it was a matter that would be dealt with by the Central Bank governor."
"I rang back Mr Hurley [John Hurley, then governor of the Central Bank] and told him the position, and told him to make sure that was followed up," Cowen said.
Hurley and the Financial Regulator had then met with Anglo, in the Central Bank offices, the following Friday – which that year was also Good Friday.
"That was the appropriate way a minister should handle that situation. It was suitable that it was followed up with the Financial Regulator."
Though Cowen also admitted to being at an Anglo dinner that summer, having been joined by Smurfit Kappa chief executive Gary McGann, a former director of Anglo, and "financial consultant" Alan Grey of the Central Bank, he insisted that the topic of Anglo had not been discussed.
Cowen also said that he had played golf with FitzPatrick on July 28 of that year at the invitation of his friend Fintan Drury – a school friend of Cowen's, who had been on the board of Anglo with FitzPatrick – but asserted that he had not brought up anything in relation to the bank.
"If you were to have a serious discussion on that, you'd have it in the Department of Finance offices," Cowen maintained, explaining that he was not in a position to "concoct" a story to say the bank's affairs were discussed when it wasn't.
Labour leader Eamon Gilmore said he found it unusual that Cowen and FitzPatrick could "construct some kind of Chinese Wall down the fairway" and not discuss the bank's affairs, and asked Cowen to put on the record the details of any meetings he had had with Anglo and its senior officers between January 2008 and its nationalisation in December of that year.
"Let's concentrate on what is," Gilmore said. "And what is is that the Irish people are having to pay a very big price for that mistake.
"If their banks and debts weren't tied at the hip to the state, as they were by the bank guarantee, we wouldn't be in the IMF."