Residents of Morehead City in North Carolina watch the surf at Atlantic Beach on Thursday as the first hurricane watch was issued.
Image: Chuck Burton/AP/Press Association Images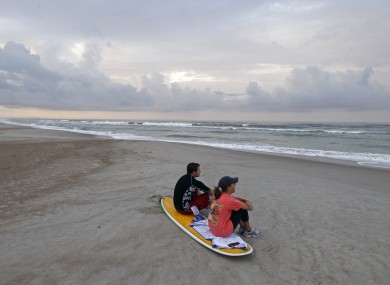 Residents of Morehead City in North Carolina watch the surf at Atlantic Beach on Thursday as the first hurricane watch was issued.
Image: Chuck Burton/AP/Press Association Images
THE US NATIONAL Hurricane Centre has issued the first hurricane watch for the Outer Banks of North Carolina as Hurricane Irene marches toward the east coast.
A tropical storm watch has also been issued for much of South Carolina's coast. North Carolina's hurricane watch extends from north of Surf City to the Virginia border. A hurricane watch means hurricane conditions are possible within 36 hours.
Early Thursday, the first hurricane of the Atlantic season has maximum sustained winds swirling at 115 miles per hour and is moving northwest near 12 miles per hour .
Its track has it possibly hitting the outer islands of North Carolina by Saturday.
Officials along the Eastern Seaboard are on alert and debating whether and when to evacuate people. Hurricane Irene could hit anywhere from North Carolina to New York this weekend, leaving officials in the path of uncertainty to make a delicate decision.
Should they tell tourists to leave during one of the last weeks of the multibillion-dollar summer season?
'Prepare for the worst'
Most were in a wait-and-see mode, holding out to get every dime before the storm's path crystalizes. North Carolina's governor told reporters not to scare people away.
"You will never endanger your tourists, but you also don't want to over inflate the sense of urgency about the storm. And so let's just hang on," North Carolina Governor Beverly Perdue said Wednesday.
At the same time she warned to "prepare for the worst."
In the Bahamas early Thursday, the head of the National Emergency Management Agency says that at least two settlements have been devastated on the southern islands of Acklins and Crooked.
Captain Stephen Russell says an official there reports that 90 per cent of the homes in the settlements have been severely damaged or destroyed. Several hundred people live on each island. No injuries have been reported.
They were among the first to be hit Wednesday as the hurricane made its way up the chain. Tourists cut their vacations short and caught the last flights out before the airport was closed.
Already hit
Irene has already hit Puerto Rico and the Dominican Republic, causing landslides and flooding homes. One woman was killed.
No warnings or watches were out for North Carolina though they were likely later Thursday. But on its Outer Banks, some tourists heeded evacuation orders for a tiny barrier island as Irene strengthened to a Category 3 storm, with winds of 115 miles per hour early Thursday.
Later in the day, that could intensify to a monstrous Category 4 hurricane with winds starting at 131 miles per hour, the National Hurricane Center says.
"We jam-packed as much fun as we could into the remainder of Tuesday," said Jessica Stanton Tice of Charleston, W.Va. She left Ocracoke Island on an early-morning ferry with her husband and toddler. "We're still going to give North Carolina our vacation business, but we're going to Asheville" in the mountains, she said.
Officials said Irene could cause flooding, power outages or worse as far north as Maine, even if the eye of the storm stays offshore. Hurricane-force winds were expected 50 miles from the center of the storm.
Predicting the path of such a huge storm can be tricky, but the National Hurricane Center uses computer models to come up with a "cone of uncertainty," a three-day forecast that has become remarkably accurate in recent years. Forecasters are still about a day away from the cone reaching the East Coast.
Calm mood
A system currently over the Great Lakes will play a large role in determining if Irene is pushed farther to the east in the next three or four days.
The mood was calm in Virginia Beach, Virginia Jimmy Capps, manager of the Breakers Resort Inn, said the 56-room hotel is about 80 percent booked for the weekend, despite a few cancellations.
"It just appears they're not quite sure what the storm is going to do," Capps said. "The thing I'm amazed at now is that we haven't had more cancellations so far. Usually when they start mentioning the Outer Banks and Cape Lookout, which we are between, the phones light up."
In nearby Norfolk, the Navy ordered the Second Fleet to prepare to move out to sea early Thursday to keep the ships safe from the storm.
In New England, some beachgoers started second-guessing vacation plans. Steven Miller, who runs a charter sport fishing company off the coast of Rhode Island, hasn't received any cancellations, but no one has been calling to schedule trips in the next few days, either.
"The hoopla beforehand could end the season," Miller said. "Everybody yanks their boats out, everybody leaves, and then they don't come back because it's so late in the season."
Sandbag demand
Sandbags were in demand in the Northeast to protect already saturated grounds from flooding. Country music star Kenny Chesney moved a Sunday concert in Foxborough, Massachusetts, up to Friday to avoid the storm.
High school football games were also rescheduled, and officials still hadn't decided whether to postpone Sunday's dedication of the Martin Luther King Jr. memorial on the National Mall. Hundreds of thousands were expected for that event.
"Tourism depends so much on the weather, which is such an unpredictable element," said Samantha Rich, a tourism extension specialist at North Carolina State University. "An extremely hot season, an extremely cold season, a hurricane — it can make or break a season, especially for small businesses."
In North Carolina's Outer Banks, where about 300,000 visitors come every week in the summer, tourism is the lifeblood of the towns that dot the sandy barrier islands. Dare County beaches are the state's top vacation destination and it ordered tourists out beginning Thursday morning.
Tourism
Tourism represents about $834 million for businesses in the county, which has 8,000 rental homes and 3,000 hotel rooms, plus campground spots.
Business owners are wary of sacrificing a weekend in August if it's not completely necessary.
"We had that occur last year, with Earl," said Veda Peters, co-owner of the Cypress House Inn in Kill Devil Hills. He was referring to the hurricane that passed off to the east, bringing little more than a night of rain and some wind gusts. "They evacuated the county, and then Labor Day weekend was gorgeous in the Outer Banks."
So far, the Cypress House Inn is fully booked for the coming weekend, but Peters already is getting calls about the weather.
"If it's safe for people to be here, we want them to be here. If it's not safe, we'll say so and we'll get you in as soon as it is," said Lee Nettles, managing director or the Outer Banks Visitors Bureau. "We have a peak summer season and we're in the midst of that."