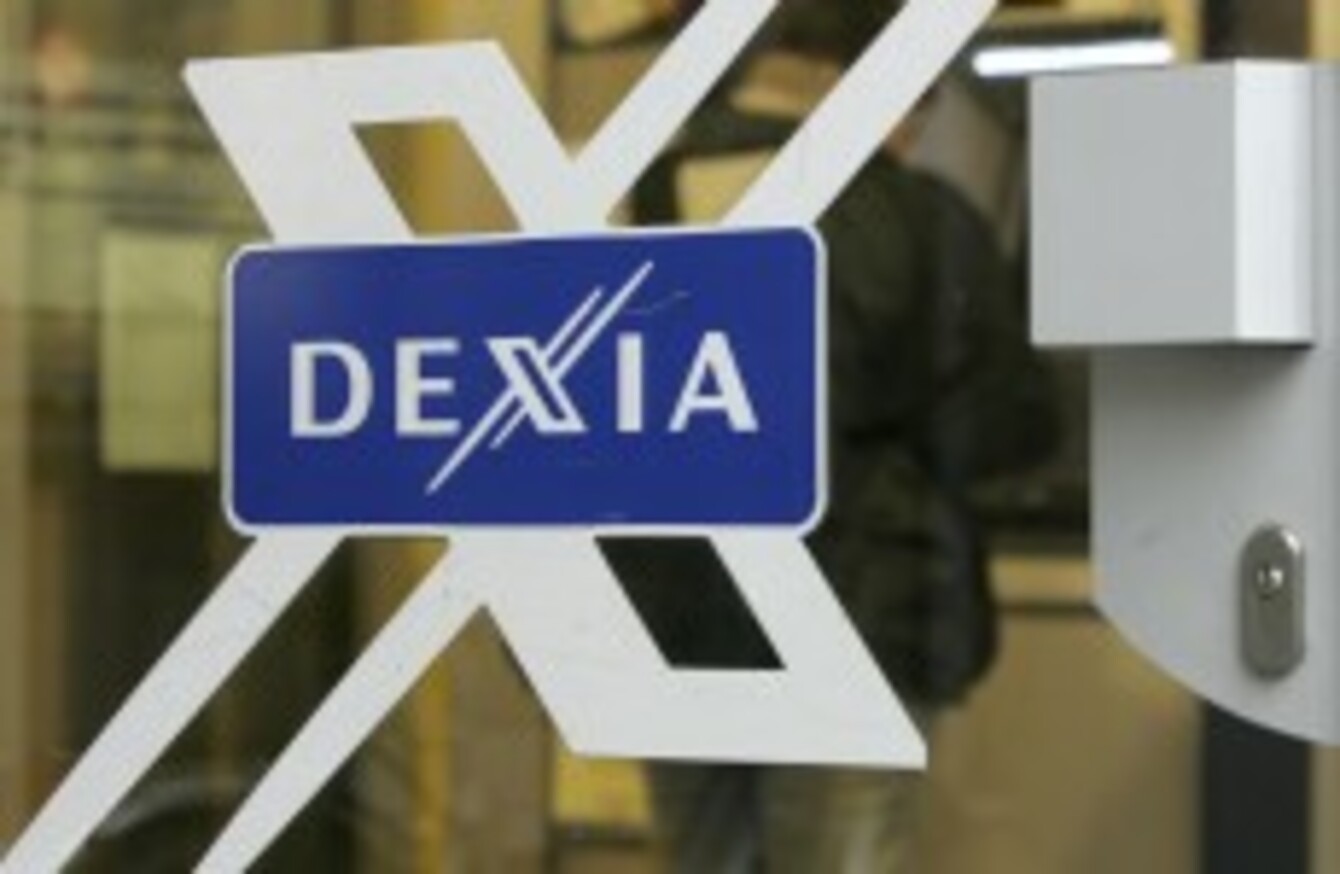 Image: Yves Logghe/AP
Image: Yves Logghe/AP
SHARES IN a continental European bank have plummeted this morning, as investors grew increasingly concerned about its survival in its current form – despite government promises to prop up the bank and insure every cent of its deposits.
The Franco-Belgian bank is at the forefront of investor concerns over its exposure to potentially bad debt from Europe's most indebted countries.
With the markets bracing for a Greek debt default soon, investors are concerned about what bonds Europe's banks are holding and banks themselves have become reluctant to lend to one another.
In Brussels, Dexia's share price fell by 22 per cent, meaning it had lost more than half a billion euros of its market value, though the losses had abated somewhat by lunchtime.
Dexia's stock began its plummet yesterday morning after Moody's warned it could be downgraded, leading the board of directors to call an emergency meeting.
In response to the growing sense of crisis surrounding the bank, the governments of Belgium and France are trying to restore calm.
Belgium's caretaker prime minister promised that his government and France's were ready to help Dexia, while the finance ministers from both countries also pledged government guarantees so bank can gets its hands on funding.
In a vaguely worded statement in the early hours of Tuesday, Dexia's board said it would resolve its "structural problems" but gave no details. There has been speculation the bank will be split up with support from the French and Belgian governments — both of which have stakes in the bank following a 2008 bailout.
"We promised to all accountholders and savers that they would not lose a eurocent in the crisis. There is no reason for that," Yves Leterme, Belgium's caretaker government, said on the VRT network.
Referring to the "tough situation of the eurozone crisis," Leterme said the Belgian government was "firmly committed" to helping Dexia without anyone losing out, adding that Belgian and French authorities were in discussions to see how they can "cooperate in solidarity as shareholders to lead Dexia through this tough time."
Breakup
Belgian newspapers reported Tuesday that the bank would be split, and that its healthy parts — Denizbank of Turkey, Dexia Asset Management, Canadian RBC-Dexia BIL joint venture and Dexia Bank Belgium — would be sold individually this year, if possible.
Revenue from the sales, along with state guarantees from France and Belgium, will be used to prop up Dexia's toxic leftovers — France's Dexia Credit Local, Italy's Crediop and Spain's Sabadelln — in a so-called "bad bank," according to the De Standaard and De Morgen newspapers.
Dexia got a government and shareholder bailout in late 2008 when it ran into trouble with its US bond insurance unit, FSA, during the subprime mortgage crisis. Holders of bonds based on those mortgages suffered heavy losses.
As a result, Belgium, France and Luxembourg said they would inject almost €6.4 billion to keep it afloat.
The bailout led to Dexia being owned 17.6 per cent by France's sovereign wealth fund, the Caisse des Depots et Consignations.
The French and Belgian governments each own another 5.7 per cent of the bank, and three Belgian regional authorities jointly hold another 5.7 percent stake.
Since the bailout, Dexia has worked to shore up its finances, and the statement it issued Tuesday said it was making progress.