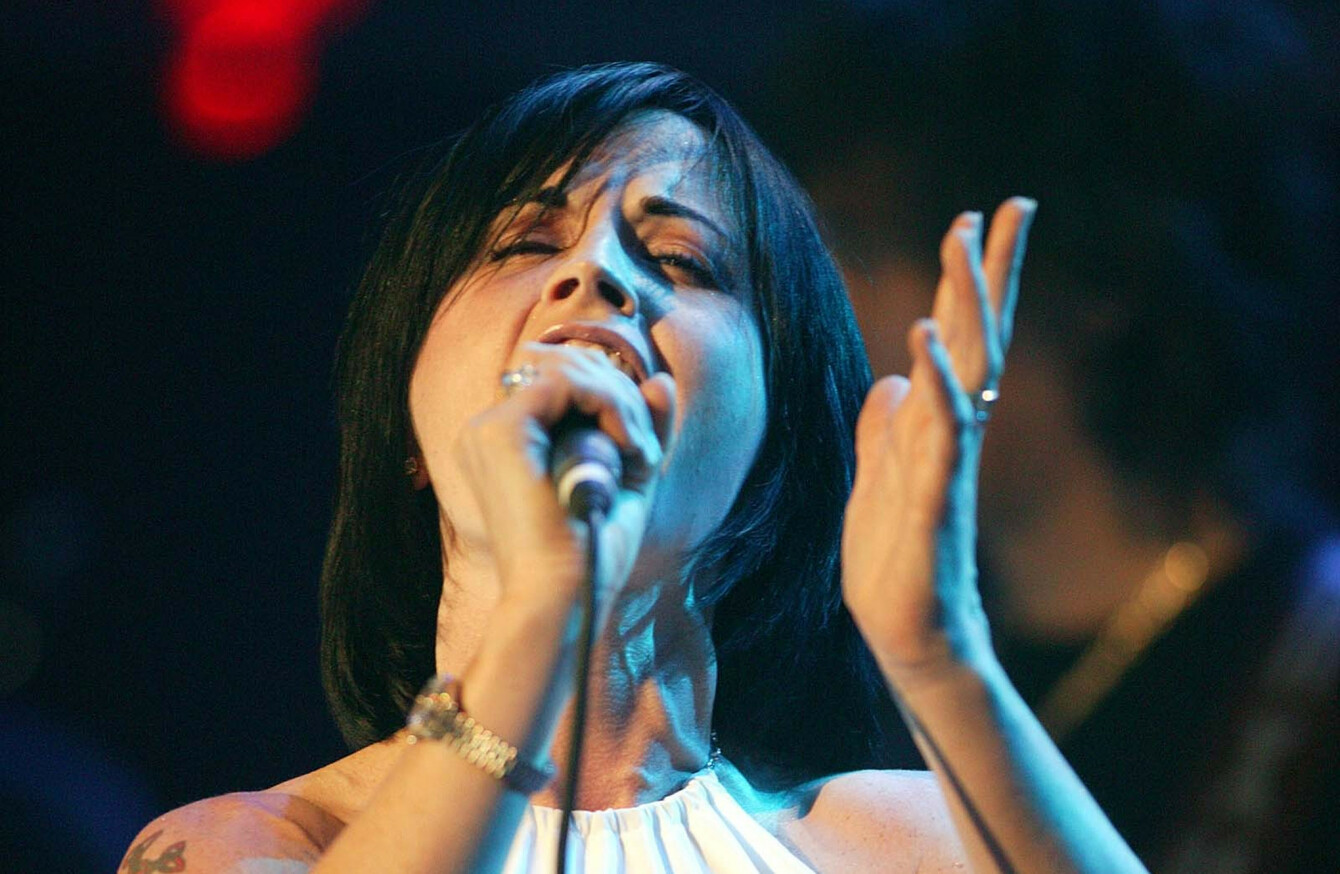 Image: EMPICS Entertainment
Image: EMPICS Entertainment
Updated at 12.14pm
POLICE IN THE UK have confirmed that they are not treating the death of The Cranberries singer Dolores O'Riordan as suspicious.
A spokesperson for London Met Police confirmed today that officers were called to hotel in Park Lane, London yesterday morning at 9.05am.
A 46-year-old woman was pronounced dead at the scene and her next of kin were informed.
The spokesperson confirmed that the death was not being treated as suspicious and and that a report was being compiled for the coroner.
The London Hilton on Park Lane confirmed "with deep regret" that an unnamed guest had "sadly passed away" at its hotel.
"Team members acted swiftly to alert the Metropolitan Police and we are co-operating fully with their investigation," a spokeswoman said.
In a statement, Father James Walton, the parish priest of Ballybricken in Limerick, said that the funeral mass arrangements for the singer had not been finalised as of yet.
A book of condolences has been opened at Limerick city and county council's headquarters and was available the council website from 10am today.
Yesterday, O'Riordan's PR agency, said the singer had died suddenly in London where she was staying while recording a short studio session.
The band who she was due to record with, Bad Wolves, released a statement on their Facebook page saying that they were "shocked and saddened" by the news of her death, just hours before she was to record vocals on its version of Zombie.
"We have always had deep respect for her as an artist and a vocalist and she was never afraid to bare her soul in her music and lyrics."
Zombie is an incredibly personal song… We always felt the rawness and honesty she projected on stage and in her recordings was something to which all bands should aspire to, regardless of genre.
Tributes
Tributes have been paid to O'Riordan following her sudden death.
At the National Concert Hall last night, musicians and celebrities assembled for a tribute gala for the former Pogues singer Shane MacGowan, who was given a lifetime achievement award by President Michael D Higgins.
But O'Riordan wasn't far from the performers' thoughts: Bono performed a few notes from the Cranberries' hit 'Linger', while Welsh singer Cerys Matthews dedicated a song to her, prompting an ovation for Dolores O'Riordan.
The Times of London and Independent UK's digital edition carry the same striking photo of O'Riordan on their front pages this morning and carried one of many of the international tributes to the famous Limerick artist.
The Guardian's photo of O'Riordan takes up half of its newly re-designed front page:
The Daily Mail also covered the story on their front page.
O'Riordan became the lead singer in The Cranberries before the Limerick band would go on to gain huge success in the early to mid 90s.
The band went on to have four US Top 20 albums, with single Linger landing at number 8 in the US. Zombie, which rose to number three in the Irish charts, remains among the band's best-known songs.
Her bandmates paid tribute to their lead singer in a tweet last night, saying that she was "an extraordinary talent".
"The world has lost a true artist today," they wrote.
English rock group Duran Duran wrote that they were "crushed" to hear of the iconic singer's sudden death, and said their thoughts were with her family.
British comedian and US presenter James Corden said on Twitter said the singer had "the most amazing voice and presence".
I once met Dolores O'Riordan when I was 15. She was kind and lovely, I got her autograph on my train ticket and it made my day. She had the most amazing voice and presence. So sorry to hear that she's passed away today.
The New York Times wrote the following about the iconic singer:
In the band, her voice – high and breathy, but far more determined than fragile – rode atop a rich wash of electric guitars.
Her unmistakable Irish accent and the Celtic inflections of her melodies gave her singing a plaintive individuality and a flinty core.
The LA Times wrote:
The [Cranberries'] songs – on which O'Riordan was chief lyricist and co-songwriter – had a Celtic-infused tunefulness. And in O'Riordan they had a charismatic lead singer with a distinctively powerful voice.
Irish tributes
Irish singer Hozier said that hearing Dolores O'Riordan's voice for the first time "threw into question what a voice could sound like in that context of rock".
President Michael D Higgins said that "Dolores O'Riordan and The Cranberries had an immense influence on rock and pop music in Ireland and internationally".
Speaking in the Dáil, Taoiseach Leo Varadkar described her as "the voice of a generation" for anyone who grew up in the 90s.
"No matter where you were in the world in recent times, it wouldn't take long before you heard a Cranberries song on the radio, even in the most far-flung places.
"She blazed a trail across the world with her unique voice and talented songwriting."
Source: TheJournal.ie/YouTube
- With reporting from AFP and Cormac Fitzgerald