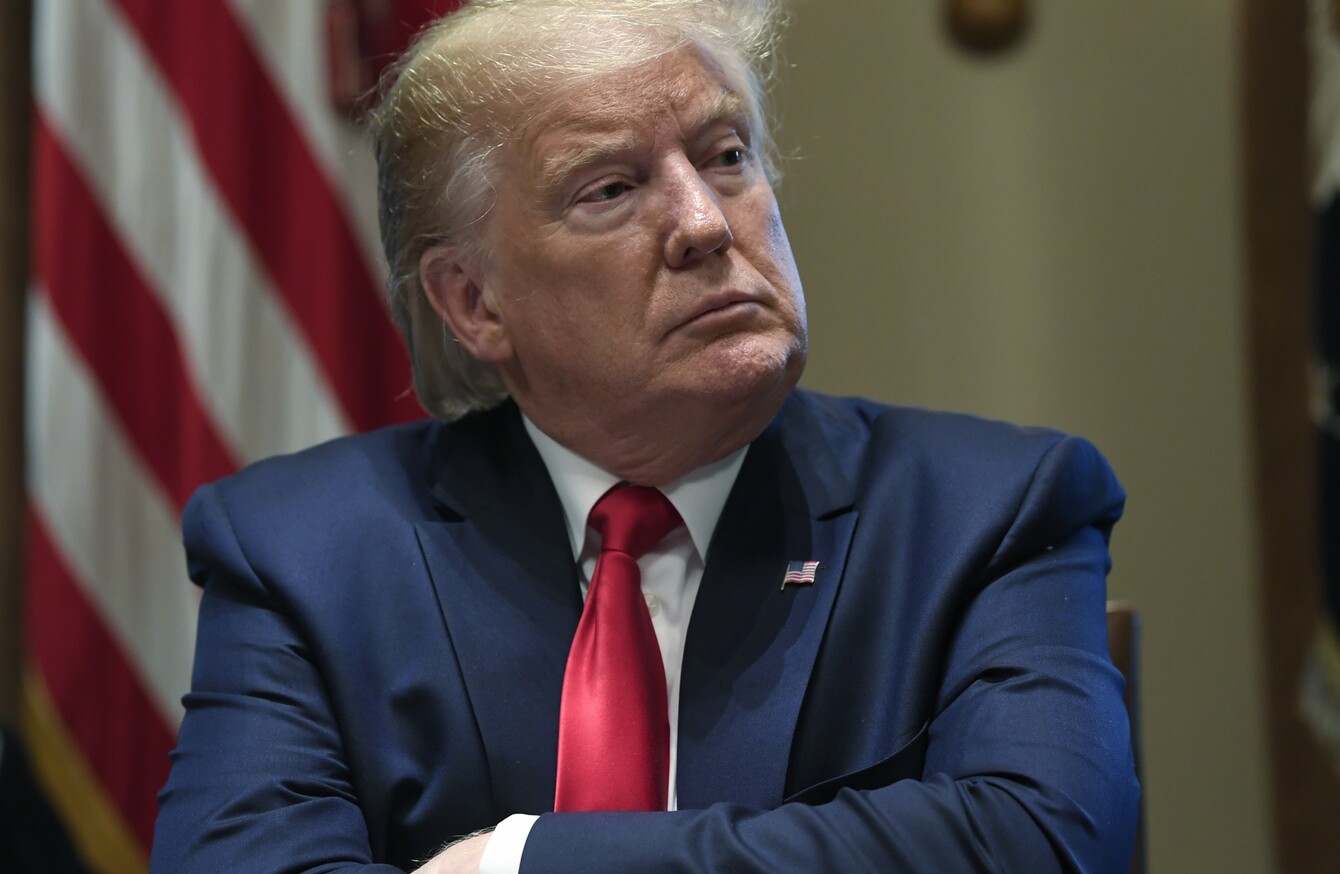 US President Donald Trump
Image: AP/PA Images
US President Donald Trump
Image: AP/PA Images
US PRESIDENT DONALD Trump has been criticised for promoting conspiracy theories as he hit out at the impeachment process against him.
Trump and other Republicans have repeatedly claimed it was Ukraine — not its neighbour Russia — who interfered in the 2016 US presidential election.
Kiev hacked Hillary Clinton's emails, not Russian operatives, the theories go, and it is Ukraine who is in possession of a Democratic National Committee server.
Former National Security Council expert Fiona Hill denounced the theories as a "fictional narrative" advanced by Russia to harm the United States.
"These fictions are harmful even if they are deployed for purely domestic political purposes," she told lawmakers during her testimony on Thursday.
However, Trump and other Republicans continued to push such theories yesterday. 
In a 57-minute phone interview on cable news programme Fox & Friends, Trump also repeated claims that officials from former president Barack Obama's administration spied on his campaign and underscored the need to keep Republicans unified against impeachment.
He called the impeachment inquiry "total nonsense" and said Democrats in the House of Representatives looked like "fools" during the hearings.
CrowdStrike
Undeterred by witnesses who warned against playing into the Russians' hands, Trump repeated a debunked conspiracy theory that Ukrainians might have hacked the Democratic National Committee's network in 2016 and framed Russia for the crime.
Trump said: "They gave the server to CrowdStrike, which is a company owned by a very wealthy Ukrainian. I still want to see that server. The FBI has never gotten that server."
Trump's claim on Ukraine being behind the 2016 election interference has been discredited by intelligence agencies and his own advisers.
CrowdStrike, an internet security firm based in California, investigated the DNC hack in June 2016 and traced it to two groups of hackers connected to a Russian intelligence service — not Ukraine. The company's co-founder Dmitri Alperovitch is a Russian-born US citizen who immigrated as a child and graduated from the Georgia Institute of Technology.
Tactical 
Responding to Trump's comments, analysts noted that conspiracy theories have prospered online for decades but are now part of the mainstream political conversation.
Joseph Uscinski, an associate professor of political science at the University of Miami, said other presidents, notably Richard Nixon, have flirted with conspiracy theories but never referenced them so openly.
"Trump seems to be just the opposite, where he's just very forward with these theories and he uses them to motivate people who are sort of outside of the party mainstream." 
"He also uses the conspiracy theories to deflect criticism," Uscinski told AFP.
Conspiracy theories are not new. Polls regularly indicate that a majority Americans believe Lee Harvey Oswald was not the only shooter in the November 1963 assassination of President John F Kennedy.
Eric Oliver, professor of political science at the University of Chicago, argues that conspiracy theories have spread more widely since the rise of the Christian right in the 1970s.
"These are people often times who have a very intuitionist worldview and by that they sort of really draw on their gut feelings as a guide to what's going on. 
"They are also entertaining a lot of supernatural beliefs and apocalyptic beliefs and this type of thinking coincides well within a conspiratorial viewpoint," he said.
Oliver said fact-checking, which has become very popular in recent years owing to the large amount of information disseminated online, fails to have any impact on Americans with strong beliefs. 
"When people often encounter facts that are inconvenient to their prior beliefs, they just simply dismiss the facts and they think about something else," he said. 
Experts have warned about the long-term damage that the popularity and visibility of dubious theories could have on US democracy. 
"Where we see democracies are in trouble is when rational discourse gets undermined by demagogues and conspiracy theories," Oliver said. 
Uscinski worries that Trump may base some of his decisions on false theories or indirectly push others to act on them if he doesn't.
Until recently Oliver thought Trump just propagated conspiracy theories for political ends but his repeated calls for Ukraine to investigate Joe Biden has made him think otherwise.
"The president himself seems to be a genuine conspiracy theorist," he said.
#Open journalism No news is bad news Support The Journal

Your contributions will help us continue to deliver the stories that are important to you

Support us now
'I want a trial' 
In the Fox interview, Trump also said he did not expect to be impeached. But he added that if the House did vote to impeach him, he would welcome a trial in the Republican-led Senate.
"Frankly, I want a trial," he said.
A trial, he said, would give Republicans a chance to question representative Adam Schiff, who led the hearings as chairman of the House intelligence committee.
Procedures for a Senate trial are still being worked out, but Republicans may well be hesitant to adopt Trump's idea of turning a member of Congress into a witness.
"I want to see Adam Schiff testify about the whistleblower, who is a fake whistleblower," the president said, adding that he knows the identity of the whistleblower whose formal complaint launched the impeachment inquiry.
Contains reporting from Associated Press