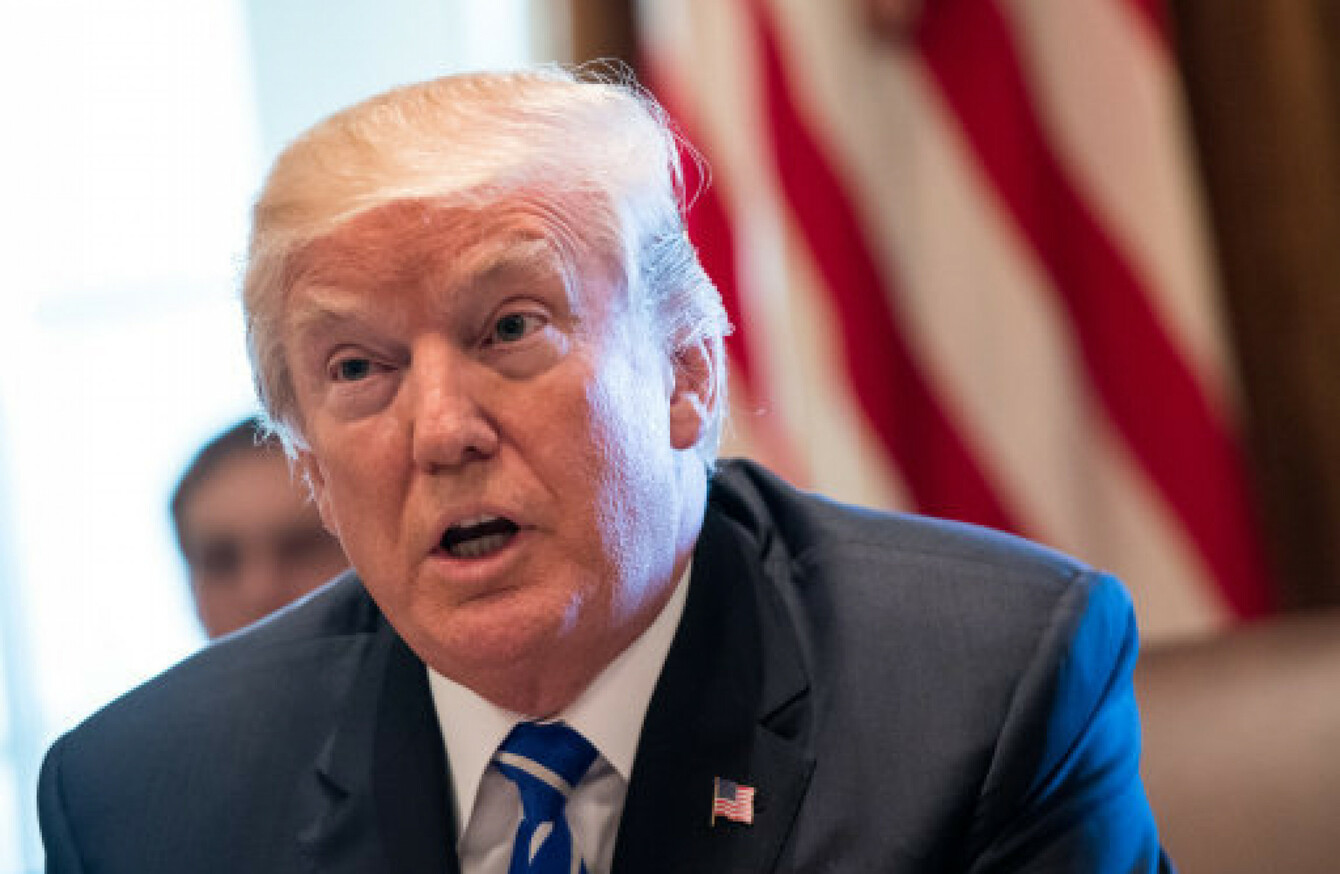 US President Donald Trump speaks to the media in the White House.
Image: SIPA USA/PA Images
US President Donald Trump speaks to the media in the White House.
Image: SIPA USA/PA Images
PRESIDENT DONALD TRUMP has declared North Korea a state sponsor of terrorism, returning Kim Jong-Un's nuclear-armed pariah regime to a short blacklist of targeted US foes.
"Should have happened a long time ago. Should have happened years ago," Trump declared, announcing the designation at the start of a White House cabinet meeting.
North Korea is already under a wide array of United States and United Nations sanctions, and what is at this stage a largely-symbolic terror designation will not have much immediate economic impact in itself.
But US officials see the designation as a way of ratcheting up pressure on Pyongyang and especially on other states that may be failing to fully enforce the sanctions already in place.
The designation of state sponsor of terror was removed from North Korea by President George W. Bush in 2008. North Korea was named among the 'axis of evil' countries allegedly supporting terror that were named by Bush in his 2002 State of the Union address.
"In addition to threatening the world by nuclear devastation, North Korea repeatedly supported acts of international terrorism including assassinations on foreign soil," Trump said.
In February, Kim's potential rival and elder brother Kim Jong-Nam died after he was sprayed with a nerve agent in Kuala Lumpur airport, in an assassination blamed on Pyongyang.
Tortured in custody
US officials, speaking on condition of anonymity, said that other murders have been linked to North Korea, but the State Department said information about them "remains classified."
"As we take this action today, our thoughts turn to Otto Warmbier and others affected by North Korean oppression," Trump continued, underlining the legal case for the designation.
US student Warmbier died this year aged only 22 after he was repatriated from detention in North Korea already in a coma. US officials allege he was tortured in custody.
Trump warned that, in addition to the terror designation, Washington is preparing yet another round of sanctions to force Pyongyang to give up its nuclear missile program.
"Tomorrow, the Treasury Department will be announcing an additional sanction — and a very large one — on North Korea," he said.
This will be going on over the next two weeks and it will be the highest level of sanctions. The North Korean regime must be lawful and end its unlawful nuclear ballistic missile development and cease all support for international terrorism, which it is not doing.
While no details of new Treasury sanctions were released, the State Department said the terror designation would "penalise persons and countries engaging in certain trade with the DPRK."
And "when a country designated as a State Sponsor of Terror carries out acts of terrorism, US victims of such attacks would be able to sue to seek relief in US courts."
The White House has declared it will not tolerate Kim's regime testing or deploying an intercontinental ballistic missile capable of carrying a nuclear warhead to US cities.
Source: CNN/YouTube
Experts believe Pyongyang is within months of such a threshold, having carried out six nuclear tests since 2006 and test-fired several types of missiles, including multi-stage rockets.
Kim's government insists it will defy international sanctions to develop a capability it believes is essential to defending itself from the threat of US and South Korean invasion.
Washington is also pressuring the North's key trade partner and traditional ally China to turn up the sanctions pressure and force Kim to come to the table to discuss his disarmament.
#Open journalism No news is bad news Support The Journal

Your contributions will help us continue to deliver the stories that are important to you

Support us now
Assassinations on foreign soil
Until North Korea's designation, the only three countries still on the state sponsor list were Iran, Syria and Sudan — and Sudan has begun cooperating with US counterterrorism efforts and can now expect to be removed at some point.
Some have argued that whatever military threat North Korea poses to the United States and its allies Japan and South Korea, its actions do not meet the standard "repeatedly provided support for acts of international terrorism."
But Trump, who was reportedly moved to fury by Warmbier's death, has listened to more hawkish voices, who point to a murky but allegedly extensive pattern of aggression.
"Today's designation is long overdue as North Korea continued its sponsorship of terrorism," argued Anthony Ruggiero, a sanctions expert at the Federation for Defense of Democracies think tank and former State and Treasury department official.
"A few years ago after North Korea's cyber hack of Sony Pictures, it threatened a 9/11 style attack against US movie theaters," he said, adding that Kim Jong-Nam's assassination was only the "most visible example" of overseas repression.
The State Department said Secretary of State Rex Tillerson had advised Trump to make the designation after a "thorough and ongoing review of information and intelligence from a variety of sources."
"The Secretary of State determined that the government of the DPRK has repeatedly provided support for acts of international terrorism, as the DPRK has been implicated in assassinations on foreign soil," a senior official said.
Following the decision, she said, Washington will renew its efforts to persuade hold-out countries to cut all ties with Kim's regime and force him to negotiate.
© – AFP 2017 with reporting by Rónán Duffy