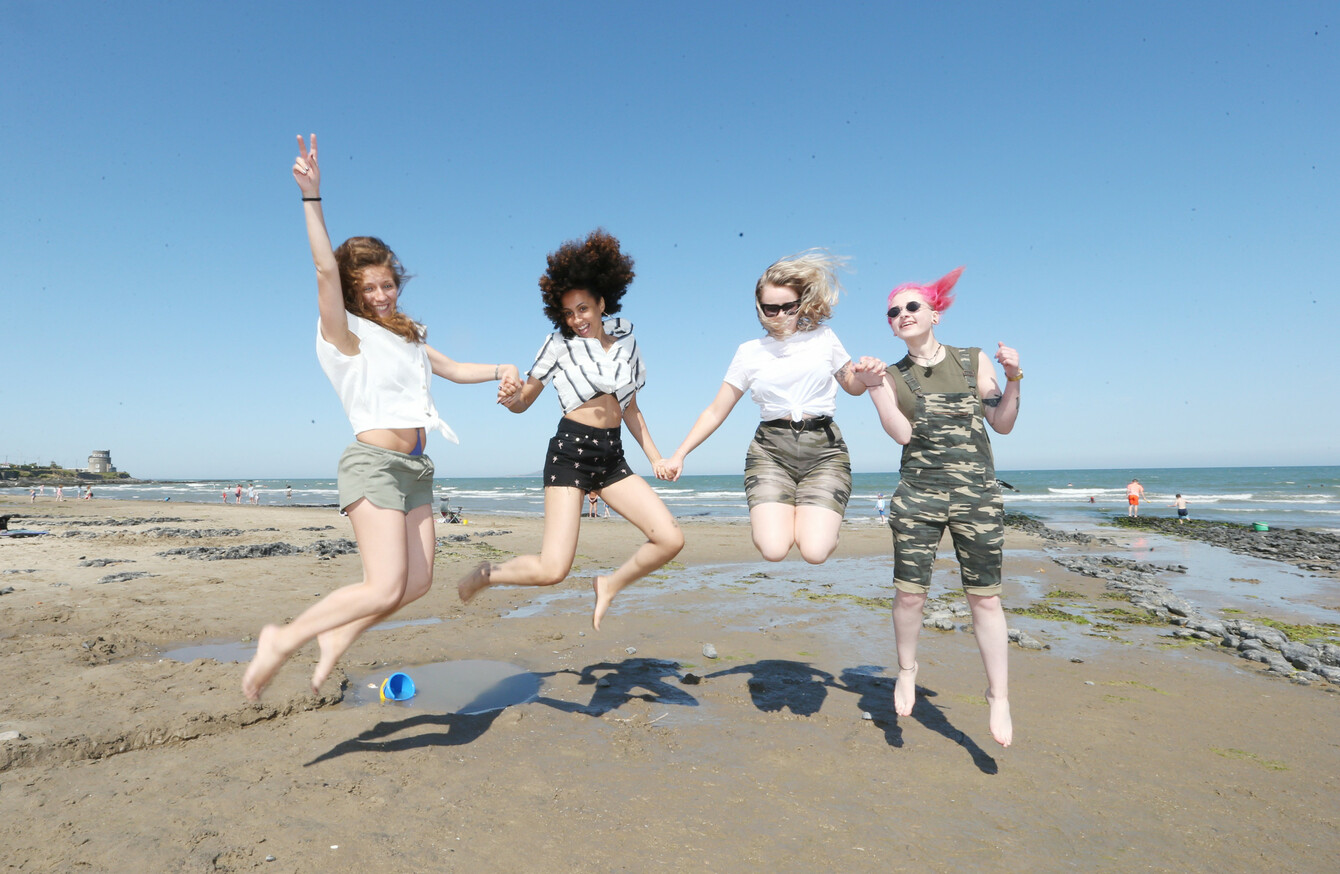 Jumping for joy on Portmarnock Beach yesterday.
Image: RollingNews.ie
Jumping for joy on Portmarnock Beach yesterday.
Image: RollingNews.ie
MET ÉIREANN HAS said that its indications suggest that the dry, hot and settled weather will persist well into next week, as the country is set to enjoy the sun again today.
A drought warning remains in place across the country until Friday, with temperatures set to range between highs of 22 and 27 degrees today, with the chance of it being slightly warmer again in Munster.
No rain is forecast as it's set to be dry and mostly clear tonight into tomorrow, with the forecast predicting a high of 28 degrees tomorrow.
The weather will take a slight turn on Thursday with temperatures only(!) reaching as high as 25 degrees, with the chance of cloudier, hazier conditions during the afternoon.
Friday will see a return to dry, warm and sunny conditions with temperatures in the low to mid-twenties and the weekend will be largely the same, with the chance of an odd light shower.
The Greater Dublin region is currently subject to a hosepipe ban due to the demands on supply for Irish Water and the effects of the drought conditions.
This means activities such as watering gardens and washing cars are banned. The ban is set to stay in place until 31 July, although it may need to be extended.
Irish Water has warned that further bans across the country could be announced in the coming week.
The HSE issued a special advisory yesterday on how to stay healthy during the water restrictions as supplies are reduced in dozens of areas.
The advisory included a warning about the importance of hydration for young children and the elderly. It noted that tea, coffee and alcohol are best avoided as they can add to dehydration.
"While many continue to enjoy the hot weather, it can have a significant effect on people's health," the HSE's Assistant National Director for Public Health and Child Health, Dr Kevin Kelleher, said.
Those with a serious chronic illness, older people, babies and young children are especially at risk from the consequences of overheating or heat exhaustion.
With reporting from Cliodhna Russell, Ceimin Burke