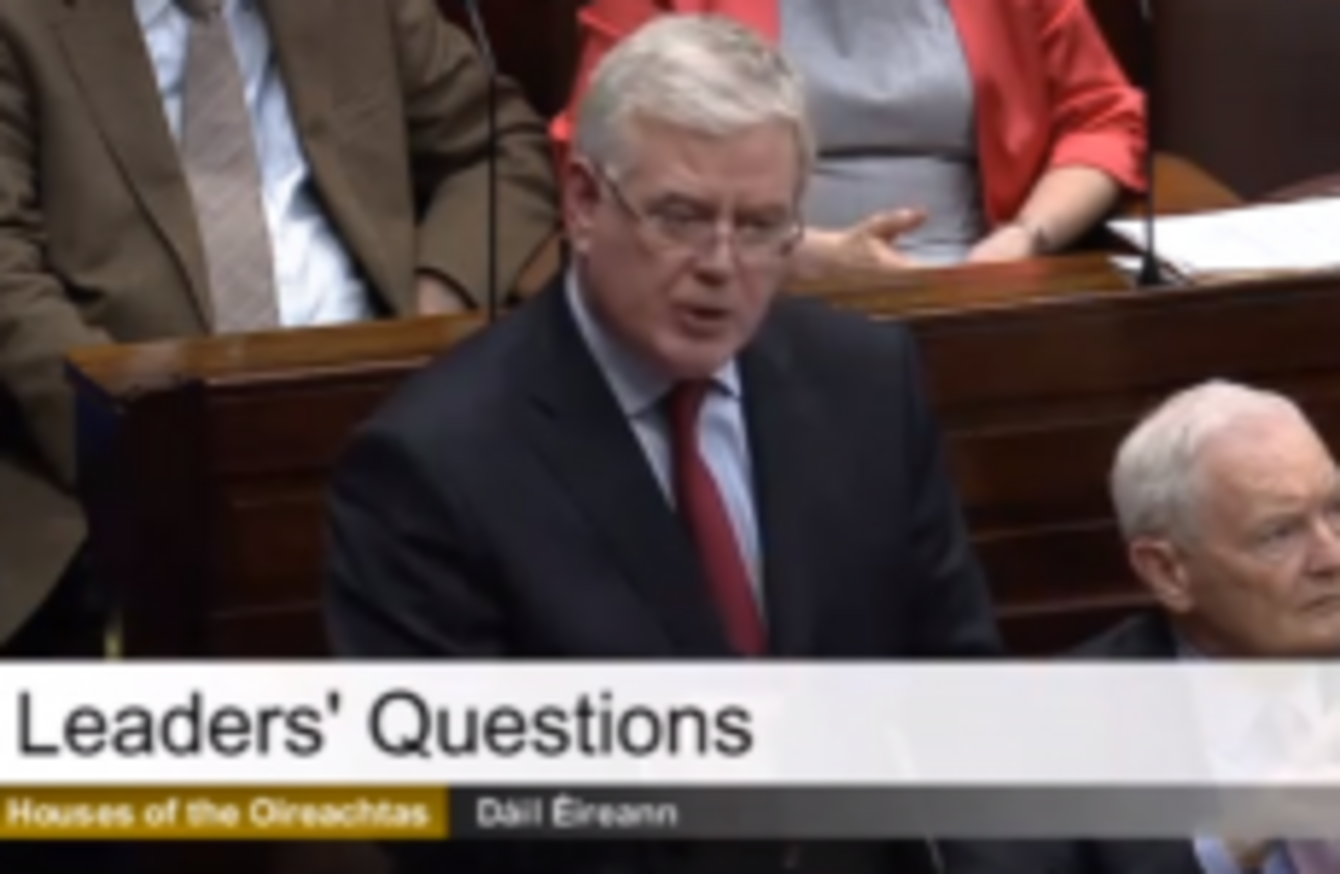 Eamon Gilmore in the Dáil this afternoon
Image: Screengrab via Oireachtas TV
Eamon Gilmore in the Dáil this afternoon
Image: Screengrab via Oireachtas TV
TÁNAISTE EAMON GILMORE has insisted that the controversy about certain health agencies using charitable donations to top-up salaries of executives "will be dealt with" and "is being dealt with".
Speaking at Leaders' Questions in the Dáil this afternoon, Gilmore said that it is important that the public's confidence in donating to charity is not undermined by the revelations that have emerged at the Central Remedial Clinic in Dublin over the past week.
Sinn Féin's Gerry Adams called for an independent inquiry into the matter and said that "culture of privilege" is "continuing on your watch" noting the government's own breach of pay caps for certain advisors.
"The problem is being addressed," Gilmore, standing in for the Taoiseach, said adding that it is "important" confidence "in those charitable organisations is not undermined" by the controversy.
He said the HSE's attempts to find out what is going on in so-called Section 38 health agencies came on foot of a HIQA inquiry in Tallaght last year to ensure that government pay policy is being applied consistently.
"It will be dealt with, it is being dealt with," he said adding "that exercise will be continued until it's completed". He also rejected calls for "some kind of a big, full blown inquiry, some kind of public inquiry".
Medical cards and mortgage arrears
Fianna Fáil's Micheál Martin again raised the issue of medical cards and again called on the government to acknowledge there had been a change in policy.
Gilmore said the number of people who have medical cards and the number of people who have access to free GP care is the highest it's ever been in the history of the State and insisted there has been no change in policy.
The Tánaiste said Martin's claims are "simply not true" and said that one in every eight euro is spent on people with disabilities, more than at the height of the boom.
"There is a not a change in policy, you've said this now a number of times and it's part of the distortion you plan to go on with," he said.
Independent TD Seamus Healy raised the issue of mortgage arrears and claimed some 30,000 families faced losing their homes in the crisis. Gilmore said there was no single solution to the problem.
"We want every family and every household in this country who are in mortgage difficulties to have those difficulties resolved," Gilmore said, later adding: "Every single case of mortgage arrears difficulties has to be resolved and it has to be resolved on a case-by-case basis."