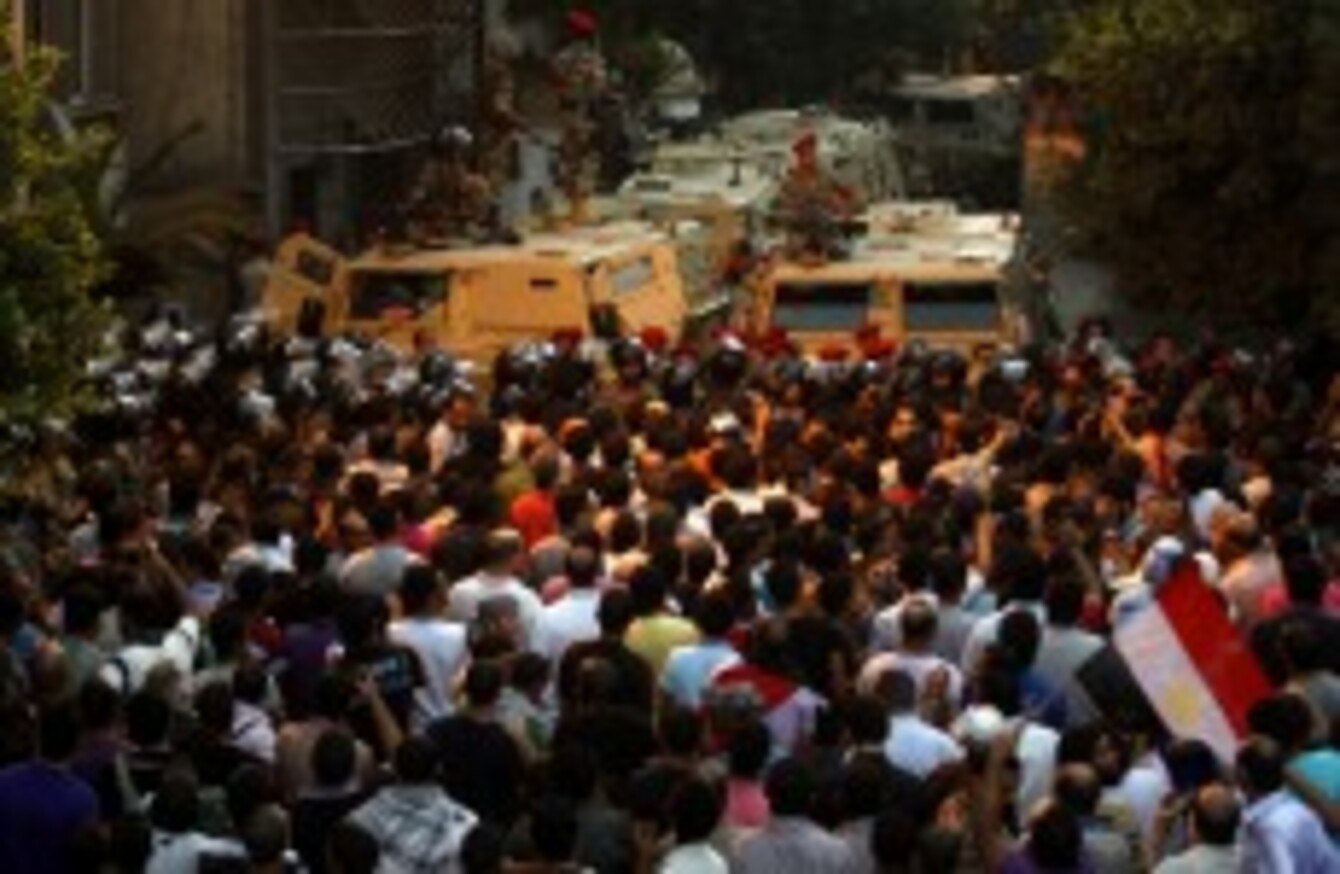 Egyptian protesters gather in front of the Israeli embassy in Cairo, demanding the expulsion of Israel's ambassador.
Image: Khalil Hamra/AP
Egyptian protesters gather in front of the Israeli embassy in Cairo, demanding the expulsion of Israel's ambassador.
Image: Khalil Hamra/AP
EGYPT HAS RECALLED its ambassador from Israel in protest at the deaths of at least three Egyptian troops killed in a shootout between Israeli soldiers and Palestinian militants who had launched a deadly attack on Israel from Egyptian soil.
The Egyptian cabinet – appointed by the ruling military council that took over power after Mubarak's departure – revised an earlier statement saying the envoy, Yasser Reda, would be summoned for consultation — something that would have signaled a lower-level spat.
"The Egyptian ambassador to Israel will be withdrawn until we are notified about the results of an investigation by the Israeli authorities," the Cabinet statement said, demanding an immediate probe.
It said Egypt would take all measures and send reinforcements to protect its borders and "to respond to any Israeli military activity at the Egyptian borders."
The decision escalates tensions between the neighbouring countries, whose 1979 peace treaty is being tested by the fall of Egypt's longtime autocratic leader, Hosni Mubarak.
Egypt's interim government accuses Israel of violating that treaty, and said the envoy would be withdrawn until Israel concludes its investigation into the Egyptian security forces' deaths.
Israel will likely see the recall as a worrisome sign that Egypt's new leaders will be more responsive to public opinion about the Jewish state, which remains overwhelmingly unpopular because of its conflict with the Palestinians.
Israeli Foreign Ministry spokesman Yigal Palmor said the Israeli government was holding consultations on the Egyptian move, but would not comment further.
Israel says Gaza militants armed with guns, explosives, mortars and an anti-tank missile, killed eight Israelis in a roadside ambush on Thursday after infiltrating Israel through Sinai.
The Egyptian troops were killed as Israeli soldiers went after suspected Palestinian militants involved in Thursday's deadly attack.
Israel has offered conflicting accounts about how the Egyptians were killed and the Israeli military has promised an investigation. But the Egyptian Cabinet, in a strongly worded statement, held Israel "politically and legally responsible for this incident," saying lax security on its side allowed the ambush to take place.
The ambush also has threatened to stoke the Middle Eastern conflict as retaliatory violence between Israel and Gaza militants spiked. Israeli airstrikes killed at least 12 Palestinians, most of them militants, Friday in Gaza, and nine Israelis were wounded by Palestinian rockets fired into southern Israel.
Today, one of those rockets struck three Palestinians who were illegally residing in Israel, injuring two of them seriously, police said.
The withdrawal marks the first time since 2000 that Egypt has withdrawn its ambassador to Israel. The move came as crowds gathered at Israel's embassy in Cairo, demanding that the Israeli ambassador be expelled over the attacks.