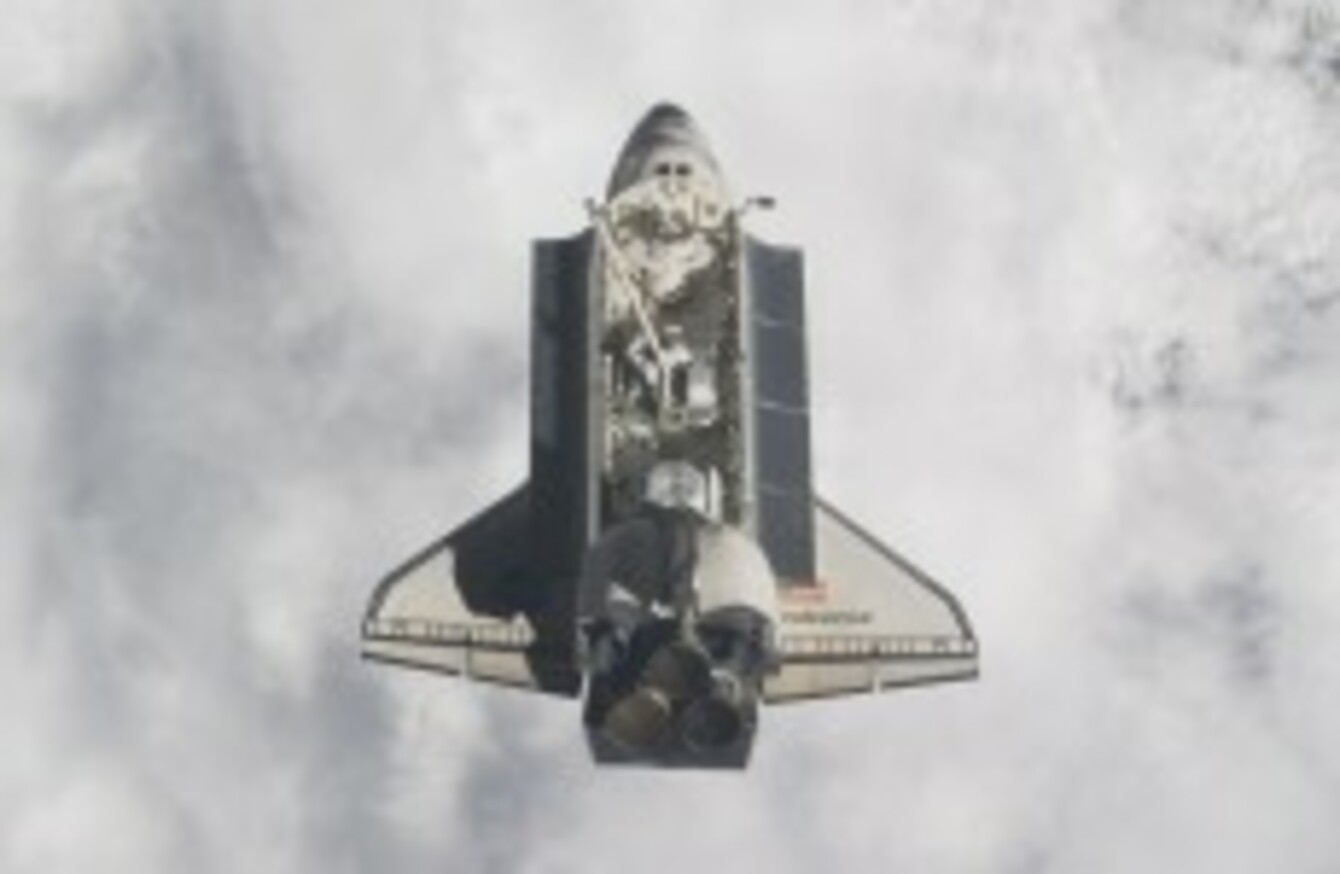 Image: /AP/Press Association Images
Image: /AP/Press Association Images
A SPACEWALK BY two Endeavour astronauts has been cut short by NASA today after a fault was detected in their equipment.
The astronauts were nearly five hours into a routine six-and-a-half- hour spacewalk at the International Space Station when mission controllers noticed that Gregory Chamitoff's spacesuit sensor wasn't working. NASA monitors the levels of carbon dioxide – expelled when you breathe -to make sure they're not too high.
NASA says that while the levels were likely to be fine, they weren't taking any chances, especially as Chamitoff and his spacewalking partner Drew Feustel were about to embark on a 45-minute task installing an antenna on the ISS. The pair had already spent several hours carrying out some 'routine chores' – well, as routine as you can get when you're strolling in space.
Astronaut Greg Chamitoff at the experiment shuttle bay of Endeavour, before the spacewalk was cut short.  Image: /AP/Press Association Images
Mission accomplished
Yesterday Endeavour's astronauts accomplished the number one objective on their mission, installing a €2 billion cosmic ray detector on the International Space Station to scan the invisible universe for years to come.
They used a pair of robot arms to remove the Alpha Magnetic Spectrometer from the shuttle, then hoist it onto the station. It marked the grand finale for America's role in the construction of the orbiting outpost, which began 13 years ago. The instrument is the most expensive piece of equipment at the space station. It will search for antimatter and dark matter for the rest of the life of the station, and will hopefully explain how the cosmos originated.
Shuttle commander Mark Kelly – whose wife Arizona congresswoman Gabrielle Giffords underwent skull surgery after being shot in January – said he held his breath as the spectrometer was latched down. He said he was hoping to speak to his wife using the space station's Internet phone.
NASA engineers have been examining damage to the body of Endeavour, which is the last shuttle to blast off as part of America's space programme. The damage was spotted in photos the space station crew snapped before Endeavour docked on Wednesday. Engineers are concerned about damage to the heat shield and another space walk is scheduled for Saturday to take a closer look.
However Kelly says he's not particularly concerned though. He says on his 2006 shuttle flight, similar damage was detected and later cleared for re-entry.
Endeavour astronauts take a stroll in space

-
Additional reporting by AP