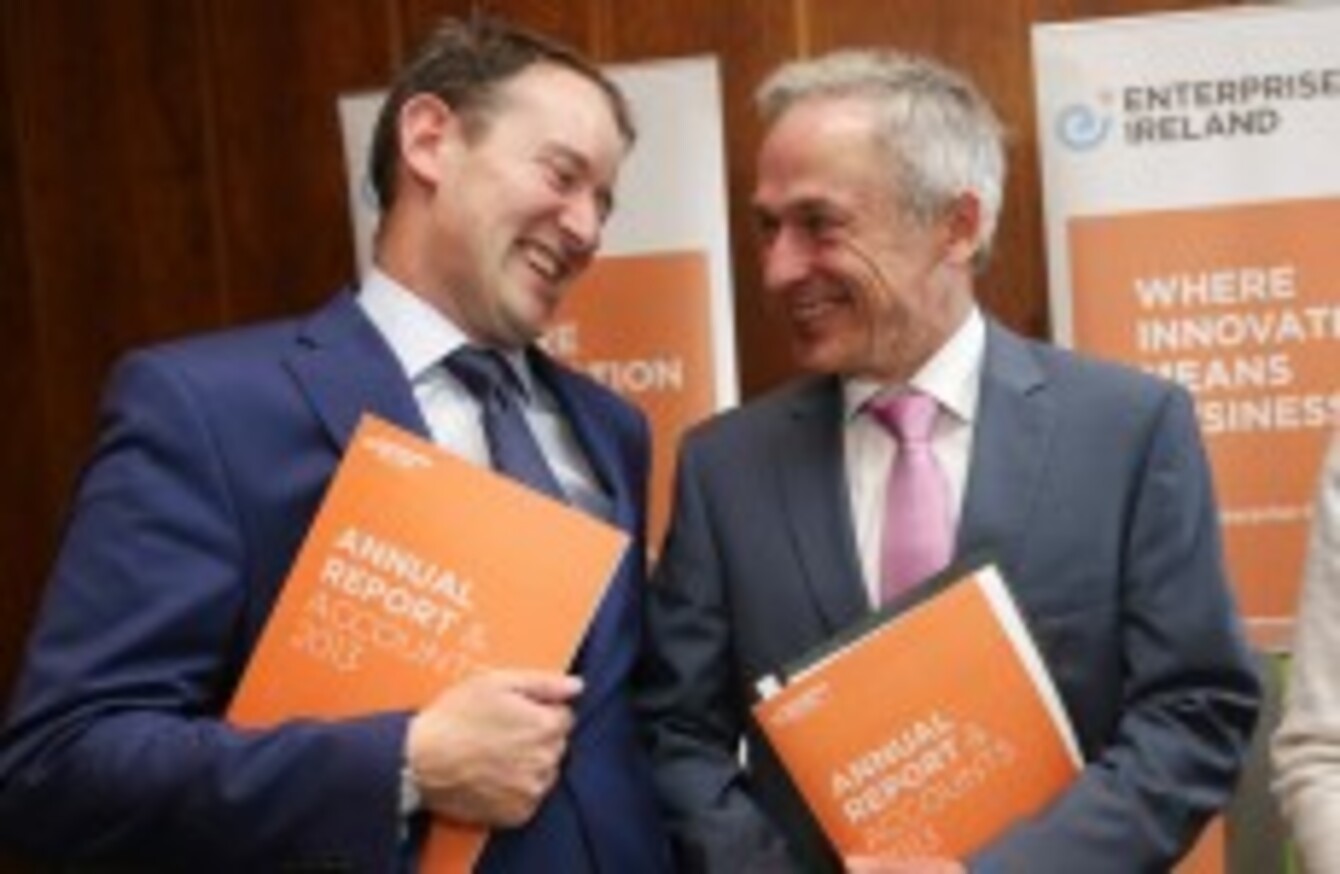 Richard Bruton and Sean Sherlock at the launch of EI's 2013 report this week.
Image: Laura Hutton/Photocall Ireland
Richard Bruton and Sean Sherlock at the launch of EI's 2013 report this week.
Image: Laura Hutton/Photocall Ireland
INVESTMENT LOSSES AT the State's export development agency more than quadrupled last year to €16.8 million, company accounts released this week reveal.
The same figure for 2012 was €3.8 million.
The vast majority of the loss was attributed to investor companies that were in liquidation or receivership, accounting for €10.67 million of the total.
The remaining losses were accrued when investor companies were sold for a lesser valuation than had been the case when EI originally sank funds into the outfit.
Total losses on shares acquired in client companies added up to €18.7 million, but the blow was somewhat softened by a €1.8 million profit on the company's seed and venture capital funds, although this was down from €6.1 million in 2012.
At the end of 2013, the agency had just over €152 million in shares across client companies, and €117.8 million in seed and venture capital funds.
The state agency has a mandate to invest and support jobs in early-stage companies.
Picking a winner
Enterprise Ireland chief executive Julie Sinnamon defended losses at the agency during the week, saying that "if we could at the very start pick the companies that weren't going to make it, it would be a terrific situation".
She argued that the percentage of losses and write-offs in the EI equity portfolio relative to the norms of the start-up sector were in fact very low.
As a development agency we have to accept that there will always be a level of failure in start-ups.
Director linked companies
A total of €27.2 million was approved last year in supports to companies that have links to one of Enterprise Ireland's board members, compared to just €5.2 million in 2012.
In a note accompanying the financial statements for the year, EI state that "in cases of potential conflict of interest, board members did not receive board documentation on the proposed transaction nor did the members participate in or attend discussions relating to the matters."
Financial support actually paid out to the companies during the year only came to €271,000, compared to €3.5 million for 2012.
The Enterprise Ireland board is headed up by former KPMG managing partner Terence O'Rourke, who received a fee of €8,022 for his board membership in 2013.
The highest fee paid to a board member was €12,427 to Hugh Cooney, who also retired from the board last year.
Incoming chief executive Julie Sinnamon was paid €25,354 for four months' work, having taken up the post at the end of August.
Outgoing chief executive Frank Ryan was paid €158,102 in 2013, and received a company car allowance of €11,585.
Last year was a record year for Enterprise Ireland, with client companies achieving €17.1 billion in export sales.