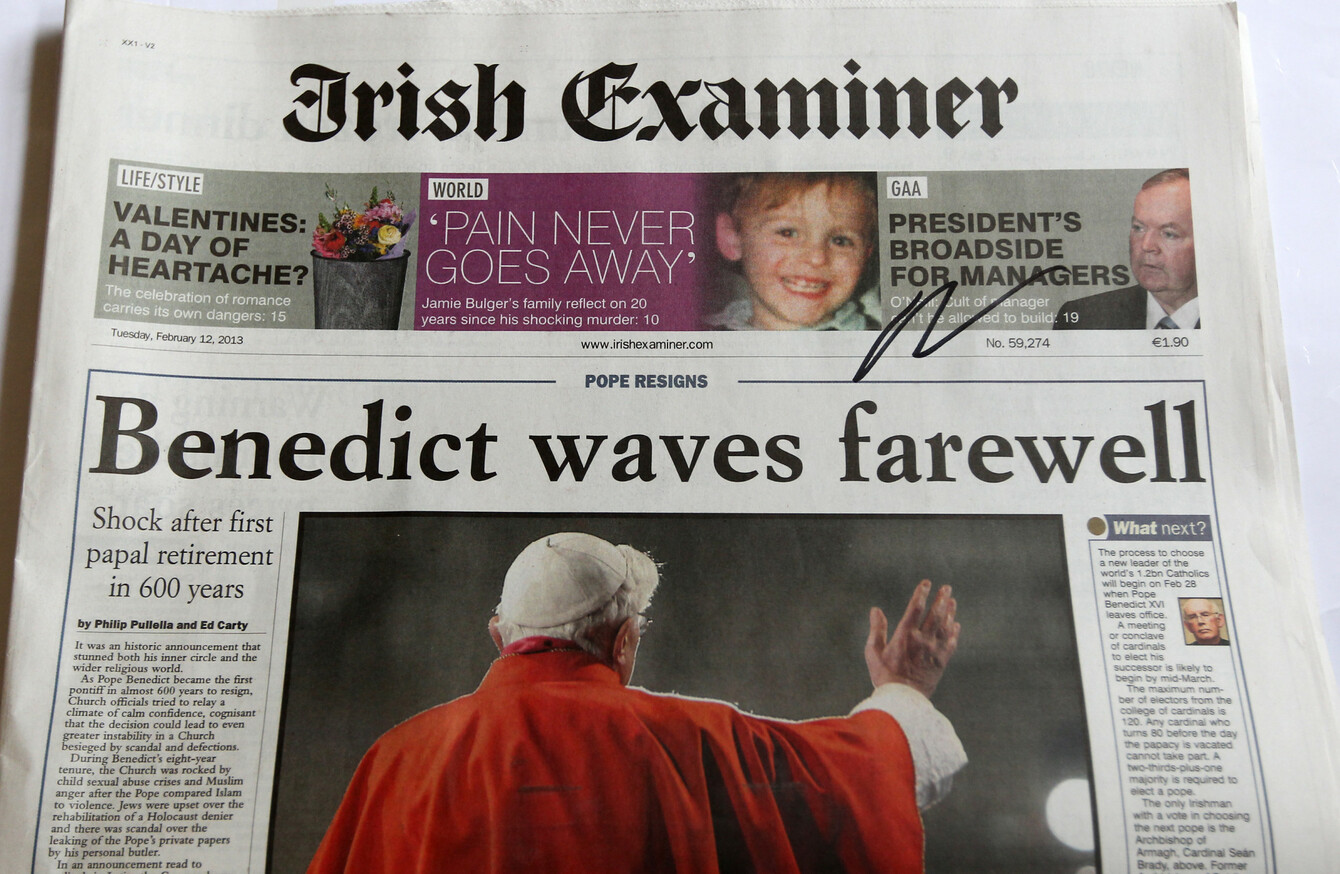 Image: Sam Boal/Photocall Ireland
Image: Sam Boal/Photocall Ireland
THE IRISH EXAMINER and Evening Echo newspapers will not be published tomorrow for what has been suggested could be the first time in 98 years.
The Examiner tweeted from its official account this afternoon that the print edition would not be in shops "due to weather conditions and the risk to staff and distributors of doing so".
It added that "digital services continue as normal with print services resuming as on Saturday".
Irish Examiner sports editor Tony Leen confirmed that the Evening Echo print edition would also be absent tomorrow.
Some locals in Cork claimed that a number of editions of the paper did not run in the aftermath of the burning of Cork in December 1920.
The massive blaze decimated a number of major buildings in Cork city. They had been set alight by the British Army's Black and Tans auxiliary regiment.
Their action was seen as revenge for the shooting of 12 auxiliaries by the IRA earlier in the evening during the War of Independence. According to Cork City Council's account of the blaze:
In one of the worst atrocities committed during the War of Independence British forces deliberately set fire to several blocks of buildings along the east and south sides of Saint Patrick's Street during Saturday night 11 December 1920 and the following Sunday morning. The City Hall and the Carnegie Library were also completely destroyed by fire.
A Cork historian has taken issue with the claim that it's the first time since the 1920 blaze that the Examiner has not hit the streets.
The Irish Times confirmed last December that it would be taking over the company that publishes The Irish Examiner and Evening Echo. The Landmark Media group also consisted of seven other local titles: the Waterford News & Star, the Western People, the four Nationalist titles and the Roscommon Herald.