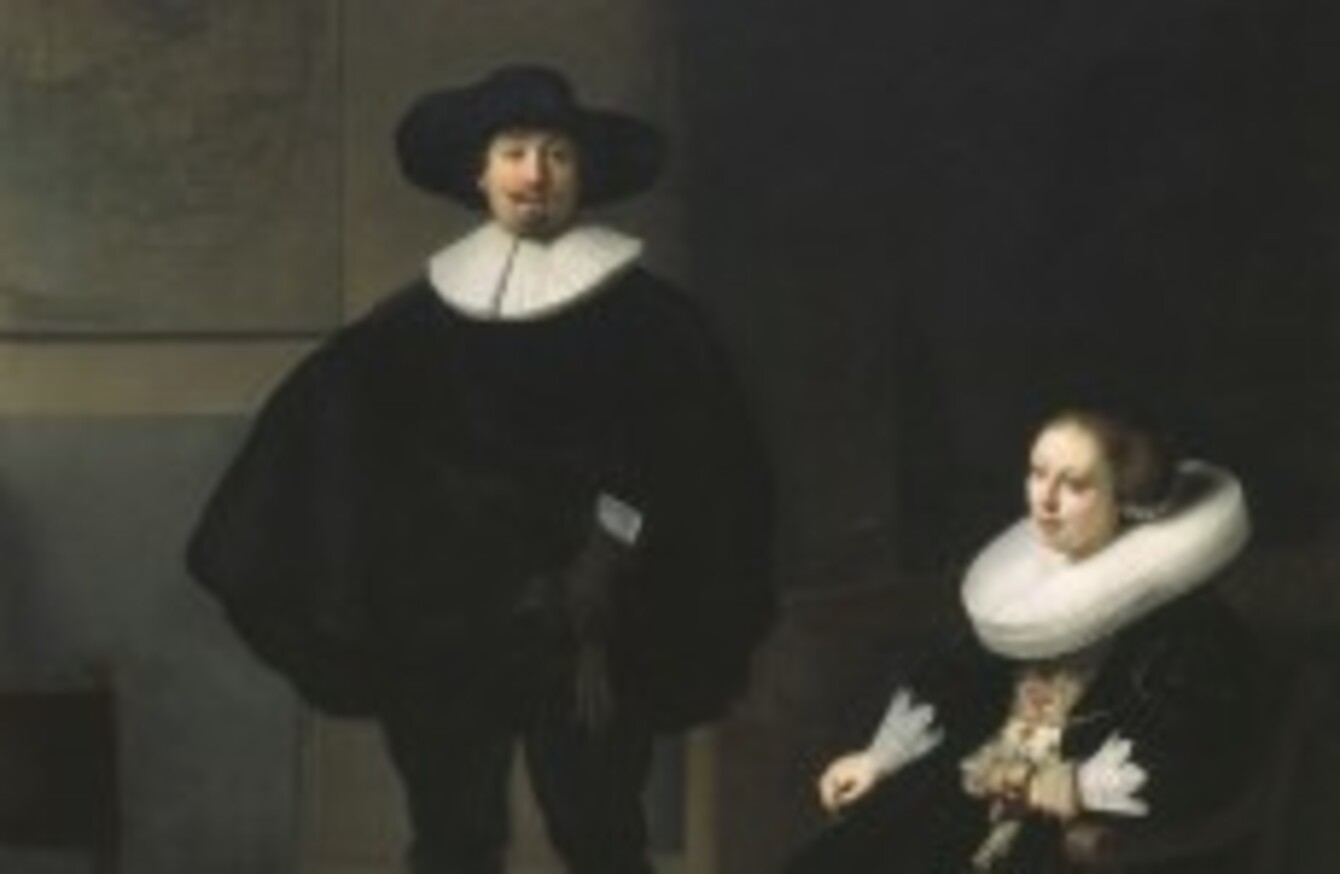 Rembrandt's 'A Lady and Gentleman in Black' - one of the paintings stolen in the heist
Image: FBI
Rembrandt's 'A Lady and Gentleman in Black' - one of the paintings stolen in the heist
Image: FBI
TWENTY-THREE YEARS AFTER one of the biggest art heists ever in the US, a reward of $5 million – around €3.8 million – is being offered for the return of the 13 artworks stolen in the robbery.
The artworks, which include paintings by Rembrandt and Vermeer – were taken from a Boston museum in 1990.
This week, the FBI said it had made "significant progress" in the hunt for the paintings and that it believes it now knows the identity of the thieves. However it has not been able to trace the location of any of the pieces.
"With considerable developments in the investigation over the last couple of years, it's likely over time someone has seen the art hanging on a wall, placed above a mantel[piece], or stored in an attic," said FBI special agent Geoff Kelly, who is the head of the investigation.
On 18 March 1990, two men dressed as police officers entered the Gardner Museum in Boston where they overpowered security guards before stealing the 13 artworks.
The FBI says it has discovered that the artworks were moved to Connecticut and Philadelphia in the years after the theft from the Boston museum, and some of the art was offered for sale  - "but we haven't identified where the art is right now," said FBI special agent Richard DesLauriers.
The thieves are believed to be members of a criminal organisation based on the east coast of America, the FBI said at a press conference this week.
The $5 million reward is being offered for information that leads directly to the recovery of all of the objects in good condition.
#Open journalism No news is bad news Support The Journal

Your contributions will help us continue to deliver the stories that are important to you

Support us now
"Over the past three years, I have visited the museum several times, and each time I entered the Dutch Room and saw the empty frames I was reminded of the enormous impact of this theft," said US Attorney Carmen Ortiz.
"I do remain optimistic that one day soon the paintings will be returned to their rightful place."
Self-Portrait by Rembrandt

La Sortie de Pesage by Degas

Landscape with an Obelisk (1638) by Govaert Flinck

Chez Tortoni (1878-1880) by Manet

A Lady and Gentleman in Black (1633) by Rembrandt

The Concert (1658 - 1660) by Vermeer)

The Storm on the Sea of Galilee (1633) by Rembrandt